Caring Couple: Longtime BrightStar Care Franchisees Flourish
Jeff Tews and Susan Rather were married for just a year when they entered a new venture as franchisees in the home care field. The pair, who met on a Multiple Sclerosis charity cycling ride, make quite a team. Together they own five BrightStar Care locations through their Madison, Wisc.-based company, which consistently performs at the top of the brand's franchise chain.
"We knew we had great communication, but we sure didn't want to mess anything up," says Rather. "We went in with eyes wide open. The advice we got from other couples was to clearly define who is going to do what. Over the years, we have melded that a bit."
Tews, after 33 years in the banking and telecom industries, was seeking a change of pace from the corporate world. Rather, a medical technologist and lab manager at the local Veterans Administration hospital, wasn't looking for a new job when she accompanied him on a 2006 discovery trip to BrightStar headquarters in Gurnee, Ill. As they began to study the BrightStar franchise model, which called for hiring a branch manager with skills that matched her own, her mindset began to change. On the drive home from their second trip to Gurnee, they decided to launch the business together.
Thanks to their passion for the home care business, the future looks bright for the couple--who expect to be the first franchisee of the new BrightStar Senior Living concept when the company begins franchising its assisted living and memory care facilities.
"It is a great opportunity to be able to have that continuous living option available for our families and our clients when they can no longer stay at home," says Tews. No matter how their next chapter unfolds, you can bet the journey will be taken together.
Names: Jeff Tews and Susan Rather
Title: Owners
Company: BrightStar Care
No. of units: Five (4 in Wisconsin, 1 in Minneapolis)
Age: Jeff 62, Susan 53
Family: Two adult children, 2 cats
Years in franchising: 7.5
Years in current position: 7.5
Personal
First job:
Jeff: My dad owned and operated gas stations. When I was about 13, I pumped gas and trained the 17- and 18-year-olds who came to work there. That's when I first began to acquire and learn management skills.
Susan: I worked in a hospital kitchen in the dietary line and prepared food and trays for distribution. I was there all through high school, and it's when I was introduced to the field of healthcare. My appreciation and understanding of healthcare grew from there.
Formative influences/events:
Jeff: After 33 years of corporate experience I got to a career change opportunity at U.S. Bank that gave me time to stop and reflect about what to do with the next phase of my career. During my time at U.S. Bank, I traveled a lot and wanted more control over company culture and employee engagement than I had in other jobs, and I was really not interested in a weekly travel schedule any longer. During this time, I met with a franchise broker who helped me realize that I didn't want to invent a brand myself. A personal experience of being a distant caregiver to my mother, who at the time had mid-range Alzheimer's, led me toward in-home care as a business opportunity. I clearly understood the family issues that can exist and the frustrations of someone trying to find quality care, so I decided to invest in BrightStar Care.
Key accomplishments:
1) As owners of BrightStar Care, we have built a wonderful employee-engaged culture where our full-time staff of 33 are thinking and solving problems like franchise owners, and talking to customers in a way where they're acting like owners as well. 2) By instilling this culture of employees acting like owners, it makes our job easier. 3) We currently have 2,500 shifts per week being coordinated across five offices. 4) We have had the #1 franchise since we started keeping track and have been Franchisees of the Year two times. 5) Jeff is currently a member of the IFA board and Executive Committee, and also serves as chair of the Franchisee Forum.
Biggest mistake:
We view "mistakes" as opportunities for learning and improvement. We can't say we can think of one at the moment.
Smartest mistake:
When looking to change careers, the question "What about franchising?" After talking with a franchise broker, it was clear that he enjoyed and excelled at taking existing systems and making them better.
Decision you wish you could do over:
We entered into a contract that at first glance appeared to be a good decision, and ended up learning it wasn't a proper fit or match. The contract didn't align with our business's core mission and values, and it detracted from the customer-centric focus we've made an effort to emphasize.
Work week: Our work weeks are very different.
Jeff: I continue to hold on to the finances. I spend some time each day working on bonus plans, financial planning, financial forecasting, and tracking results. I'm the numbers guy from a financial perspective. I also spend time talking to difficult customers or taking a new customer and going on a living room visit and immersing myself with the work itself occasionally.
Susan: Our days are spent outside the office traveling to other offices and networking. I am not engaged in the day-to-day field staff and management, but rather being there as an advisor to the staff we have. I look at operational numbers a lot and provide data feedback to our staff: what we're billing, how many shifts we have open, how many we have filled. I oversee the business dashboard and walk the employees through that every week so they can see how the things they do affect the business.
Favorite fun activities:
Aside from cycling and traveling, the actual planning we do for the adventures we take is fun. We have as much fun planning as we do venturing out on our excursions, which are also usually off the beaten path.
Exercise/workout:
Jeff: We both enjoy cycling. It's something we're passionate about doing for our own pleasure, but also for our health. Additionally, I like to walk to the gym that's close to our home and work out there.
Susan: As Jeff said, we enjoy cycling very much and it's a big contribution to our health and exercise regimen. I also find enjoyment in running and doing yoga.
Favorite tech toys:
Jeff: Recently I've been enjoying our Apple TV and plunking down with my iPad to watch movies and view photos on our TV. I enjoy the ability to order movies with Apple TV. It's quite convenient.
Susan: I'd have to say it's my Fitbit. At the end of each week, it provides me with a report card of my results. Jeff has one too, so there's sort of an unspoken competition between us each week.
What are you reading?
Jeff: At the moment, I'm reading two books. One I would call my "work" book, and that is Gino Wickman's book, Traction. I've really embraced it and included the entire team as well, through our very own book club. The other book I'm reading for fun is a part of Spencer Quinn's series of Chet and Bernie mystery novels. They are books that tell stories from a dog's perspective and lead the reader through the journeys they go on.
Susan: My "work" book at the moment is Conscious Capitalism by the founder of Whole Foods, John Mackey. The book I'm reading for personal pleasure is Top Secret Twenty-One, part of the Stephanie Plum series by Janet Evanovich.
Do you have a favorite quote?
Jeff: A fellow I once worked with didn't have patience for people who complained, and when they would say, "It's not fair!" he would respond with, "Fair is a place you take a pig." That's a quote I admire and one that makes me laugh.
Susan: "There is no try. Only do or not do." That's a quote from Yoda in the second "Star Wars" movie.
Best advice you ever got:
Susan: From my father after I went through an ethical challenge. He told me to look into the mirror and reflect on my personal integrity.
Jeff: My former boss helped me realize that, often, there are many solutions that can work, but the best solution is the one the team embraces. That's something that's always stuck with me and that I incorporate into our business.
What gets you out of bed in the morning?
Susan: The cats crying!
Jeff: I absolutely love this work. I'm excited about the way my brain processes information overnight, and when I wake up in the morning it gives me clarity, which I always jot down before getting up.
Last vacation:
This summer we traveled by car to Montana for four weeks and cycled for 11 days through Yellowstone and Grand Teton National Parks. The experience was unlike any other. Being exposed in the environment while cycling through the park with the risk of meeting a grizzly was intense, but worthwhile. It was amazing and we saw the parks through a unique lens. Also during our four-week vacation, we spent 7 days cycling for the National MS Society through their fundraising bike ride.
Person I'd most like to have lunch with: Jeff:
My dad. He passed away 22 years ago, and since then my perspective has changed so much and is very different. I'd love to be able to sit down with him and share that.
What's your passion in business?
The rewarding sense of helping families and creating great jobs. There are very few places where you'll be able to make the kind of decisions and influence the direction of the business like you can do here.
How do you balance life and work?
As a husband-and-wife team, we can go home at night and continue to work and talk about it and it does not feel like work. Our work is our passion, and to have our business do well and have happy employees is all that matters. We work hard at taking time off, and we can do that by empowering the employees to take ownership. We've taken a number of long bike rides. We took another one for a month this summer, and while we were away we checked in every day and watched our emails.
Management
Business philosophy:
We believe in employee empowerment, engagement, and transparency. Our employees see all of our numbers and have their own numbers. We did a book club with 9 or 10 key employees. We found that with Susan's weekly dashboard feedback and the empowerment we provide to our employees, we are in a good place. We have areas where we can improve, but our management method/style is one of employee ownership and engagement. We have a flat organization. No promotion opportunities.
Management method or style:
See above.
Greatest challenge:
Field staff engagement. We have a great handle on our management team or full-time staff team, but we have 500 caregivers (nurses and CNAs). Keeping them understanding the mission and their role is the biggest challenge we have. Getting them to understand why they're in the home, why it's important to be on time and provide good care is also a challenge.
How do others describe you?
Susan: I think as positive, and that I have the ability to work through details and processes, which makes Jeff and me a great match, supplementing each other where the other might not thrive.
Jeff: I would say as more driven than I know and more intense than I want to come across. Also, they would say I'm a visionary who's also compassionate.

How I give my team room to innovate and experiment:

Jeff: I think this goes back to my best advice and encouraging participation among the team and decisions. We've cultivated a culture that allows room for mistakes. One thing we picked up from Shelly Sun (BrightStar co-founder) is the concept of "1.3.1": (1), a clear definition of the problem; (3), three options for solving the problem; and (1), one recommendation for the best solution out of the three options.
Susan: I've engaged the team in strategic planning for the past 6 years and have included them in helping contribute to the vision we have for 3 years from now. I'd like to engage them in more of that planning and in the steps it takes to get to the vision.

One thing I'm looking to do better:
We'd like to implement some of the teachings we've learned in Gino Wickman's book Traction by having and holding regular accountability to the commitments we make.

What I need from vendors:

Jeff: I speak with many vendors, and something that's very important to me is that they need to have the patience and commitment to truly understand our business and what we need, rather than just trying to sell me on the product. I need vendors to take the time to understand what we really need.
Susan: A couple of years ago, we switched to a smaller bank because of the steps they took to understand what we needed from them and how they could help and elevate our business. Since then, we've seen so much more success in our business, and it's due to the fact that their focus was there as well as their understanding and commitment.

How do you hire and fire?
Hiring is done through a group interview process, and the key stakeholders are always involved, whether it's individuals from management or other teams. If they will be working directly with the new hire, they also will be involved in the hiring process. We use the entire team's input. Also during our hiring process, we really spend a lot of time talking about our culture and putting ourselves on display. We are looking for an individual who is a cultural match with characteristics that include a compassionate spirit and an eagerness to learn and be there. The firing process involves individuals who don't demonstrate the company's culture, and who don't show compassion with their peers and subordinates. Many times, it's the individuals who fire themselves.

How do you train and retain?
We train our staff in the office and with a mentor or peer. BrightStar corporate provides us with tools integrated through our intranet system to help our staff in the training process. New employees could spend up to two months at our office before they take a week of "boot camp" training. For retention, we give a lot of autonomy to our employees and provide our staff with a full benefits package. So many people have created their own paths and determined the value of their work. Therefore they either capture it or they don't.

Fastest way into my doghouse:

Jeff: If you don't take accountability for your actions.
Susan: When people don't respect or value their field staff.

How close are you to operations?
Jeff: I am out of the day-to-day scheduling, hiring work, and operations, but still on a close basis with the general manager level. I am very much in touch with daily issues that occur--problem-solving, looking for new opportunities, representing the business on a broader scale--and I am out there in the community promoting the business.

What are the two most important things you rely on from your franchisor?
With 2,500 shifts a week and 500 caregivers and 450 clients, if we don't have a good business system we're in big trouble. The most important thing we get from BrightStar corporate is a great business system. The system and support is the first thing, followed closely by the national account relationships. The way the franchisor facilitates best practices from across the country from our fellow franchisees is also vitally important. We have a great web presence that would be costly for us to do and maintain on our own.

Have you changed your marketing strategy in response to the economy? How?
We thrived during the down economy. We had 60 percent growth in 2008 and 40 percent growth in 2009. Our marketing strategy is one-on-one trust-building with referral sources and we really haven't changed that.

How is social media affecting your business?
I don't know if it is affecting us positively or negatively because it is hard for us to measure that. The base of our business is a trusting relationship with a referral source. The decision process around home care is a trust decision. We're recognizing that people will validate you on social media and web pages and the comments they're making about you. I believe these people are still going to go to those they trust and ask, "Who should we use?"

How do you deal with problem employees?
We strongly believe that it's important to set clear expectations from the start. From there, if the employee fails to meet those expectations, we then have to determine if we need to have a conversation about retraining or if it is behavioral. We can then make a decision on what to do. This is my favorite part about owning my own business. We're fair, and we're quick.

Bottom Line

Annual revenue:
$9 million.

Growth meter: How do you measure your growth?
In different ways: 1) top-line revenue; 2) number of clients and client hours served; and 3) how many clients do we serve and what are we doing relative to top-line revenue--and as a franchisee, bottom-line revenue. Top- and bottom-line revenue need to stay in balance.

Vision meter: Where do you want to be in 5 years?
We're going to be the first franchisees with the new BrightStar venture of assisted living and memory care communities--BrightStar Senior Living. We hope that in 5 years we have a strong support of the model where providing care for clients in their homes builds trust so that when people are no longer safe or satisfied in their home and want to move to a community, they choose BrightStar Senior Living. We have a thriving continuum of care.
10 years? As crazy as it may sound, we still want to be engaged in the business at the general manager level.

How is the current economy affecting you, your employees, your customers?
We have seen a tighter market on employees, but it is not just the economy driving this trend. The growing number of seniors, the amount of care needed, and the increasing demand for caregivers is probably bigger than anything to do with the economy.

How do you forecast for your business?
We look at past results and historical data, but it is very hard to determine how much a market can take. The numbers are so overwhelming about what's going to happen to the number of people needing care in the coming year. The need for care will provide incredible opportunities, so there's no good way to forecast what kinds of innovations and changes may need to take place. There are changes on the horizon, but we will cross that bridge when we get there.

Is capital getting easier to access? Why/why not?
We haven't had a need for capital. We have a strong relationship with the bank for A/R funding and we haven't had a problem with our steady financial history. It has not been a problem for us.

Where do you find capital for expansion?
From the business and from local banks.

Have you used private equity, local banks, national banks, other institutions? Why/why not?
We have used local banks based on relationship management and our relationship with the local banker.

Are you experiencing economic growth in your market?
We've experienced phenomenal growth. We started in late 2006 and were in the business for about 2 years before the economic downturn happened. However, we've only seen increases each year, regardless of the status of the economic downturn.

What did you change or do differently during the economic downturn that you are continuing to do?
Our reputation has been strong since we've opened, and the economic downturn didn't really strike retirement plans or seniors in the market. There has been, and continues to be, a demand for in-home care, especially with the Baby Boomer population entering the market. That contributes to our ability to overcome the challenges.

How are you handling rising employee costs (payroll, healthcare, etc.)?
To make our health insurance premium "affordable," we have set up a Health Reimbursement Account (HRA) through which we will fund the first $500 of an employee's $1,000 deductible.

What are you doing to take care of your employees?
We provide them with a high degree of autonomy and decision-making with their customers and employees, which gives them a high-sense of ownership. Our branch managers have P&L accountability. We offer paid time off for full-time field employees, and we are trying to provide a 401(k) to field employees who work more than 20 hours. We even gave one employee a raise just to get her into a 401(k). We offer many continuing education opportunities and a scholarship program for everyone. We also send out gift cards and birthday cards to all staff that includes a $10 to $25 gift card.

How do you reward/recognize top-performing employees?
We have a self-funded bonus plan for full-time staff. This includes revenue, gross profit, and individual goal components. We also have a field employee "Big 10" program to recognize employees who have extraordinary customer service. (This is related to getting a 10 on a Press Ganey score.)

What kind of exit strategy do you have in place?
Our exit strategy is more of a migration process to continue enabling managers to take on take parts of our business and work. It may mean that somewhere along the line we get a general manager, but we don't have an exit strategy.

Published: December 1st, 2014
Share this Feature
Recommended Reading:
Comments:
comments powered by

Disqus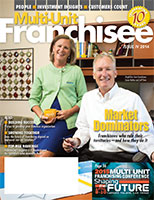 Multi-Unit Franchisee Magazine: Issue 4, 2014
Founded in 2011 in Tokyo, RAKKAN Ramen specializes in authentic Japanese ramen made with a 100% plant-based broth. With a wide range of conventional...
Cash Required:
$200,000
The Joint® Chiropractic is reinventing chiropractic care. Our vision is to become the largest, most respected provider of chiropractic services...
Cash Required:
$100,000