Challenge the Pros: New Media and Marketing in the Franchisee Recruitment Process
What new media and new marketing channels are
you using in the franchisee recruitment process?
Bret Franson
Director of Franchising
The Gents Place
Over the course of the past year, The Gents Place has been heavily involved in marketing our franchise opportunity through a number of avenues, including social media marketing, public relations, open house events, and franchise expos--all designed to leverage our personal networks and entice growth.
With the first 10 license agreements awarded in six months to four strategic partners, plus several additional agreements in the pipeline we anticipate to execute in the next 60 days, The Gents Place is certainly experiencing steady growth to support the success of our marketing efforts--and we have the numbers to prove it.
To break it down into categories, we have found great success with our social media and public relations efforts, working with trusted strategic partners to help us achieve our goals. With social media, we have refined our strategy to include a targeted search for candidates who are both interested in and qualified to franchise our concept. Despite social media marketing consuming a significant portion of our spend, we have had tremendous success at a low cost of acquisition for our new franchise agreements.
The biggest challenge here has been identifying the imagery and message pairings potential candidates will respond to by entering the website and requesting more information. It's also extremely important to market where your audience exists, finding the social platforms these potential candidates use. For The Gents Place, we've found the most success with Facebook and LinkedIn.
Public relations and the undeniable star power of Emmitt Smith is proving to be a powerhouse. Many of the candidates we are recruiting are either familiar with The Gents Place before we talk, or they become acclimated during the recruitment process by accessing the numerous published articles secured by our PR partner. Having Emmitt Smith as a co-owner brings attention to the brand, and our PR team works to leverage this partnership, securing great publicity for the brand. (Another big challenge is to not stand and stare in awe when Emmitt walks in to do an interview.)
Another element that's not to be understated is the power of trade shows, which have been a fantastic resource for us. The Gents Place showcased at the Multi-Unit Franchising Conference for the first time in late April. As a result, we have many licenses in the works to be awarded to experienced multi-unit franchisees. The biggest challenge here is finding ways to stand out, be new and fresh as well as have an experienced support team and systems. Through our relationship with The Elevated Brands and Massage Heights, we more than meet that need.
What we have found to be true is that if you have proven success and remain a trusted brand, then your personal network wants to be involved with what you are doing. The Gents Place has had much success in this space as well. My friends, family members and co-workers mean a lot to me and I believe in our system and so do they. I have been involved in a family business all my life, so working with our personal networks doesn't present many challenges.
Doug Bostick
Senior Vice President Operations and Sales
Fazoli's
As America's largest fast casual Italian franchise, Fazoli's recently celebrated a record-setting fiscal year with the signing of franchise agreements to develop 30 new restaurants with 13 new and current franchise groups. Consequently, the company saw a 550 percent increase in new franchise agreements over the previous fiscal year. We have achieved 17 consecutive quarters of same-store sales growth. Aside from Fazoli's continued brand refresh efforts--including the removal of all artificial ingredients from our food menu and a new restaurant design--we can attribute this accelerated growth to our latest franchisee recruitment media and marketing initiatives.
This year, we moved completely away from print advertising and allocated additional funds toward the digital marketing space. This includes Facebook's Lead Generation and YouTube ads, and the results have been significant. In fact, we have found this approach to be both more successful and cost-effective in driving qualified leads. Through YouTube advertising, we have also been able to target those people who are actively looking for franchise opportunities. Currently, our YouTube ads boast a nearly 30 percent view rate--approximately double the current industry standard of around 15 percent.
Digital marketing is constantly evolving, innovating, and expanding and we decided it would be an injustice to our brand, franchisees, and fans not to use these platforms. Through our internal operations team's tireless efforts, and working hand-in-hand with our dedicated digital and public relations partners, these initiatives have made all the difference in the world and we look forward to continued success for the rest of the fiscal year.
Published: October 29th, 2017
Share this Feature
Recommended Reading:
Comments:
comments powered by

Disqus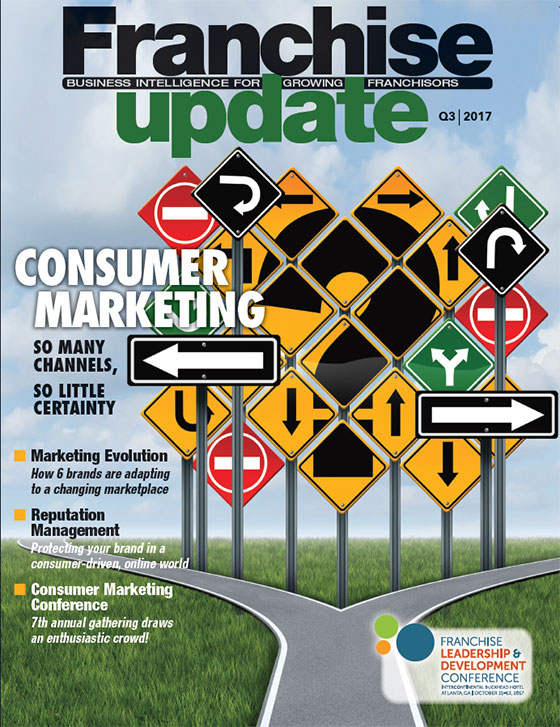 Franchise Update Magazine: Issue 3, 2017
June 18-20, 2024 Marketing-Operations-Technology. Be a part of this ground-breaking new space for ideas, inspiration and networking for Franchise...
April 25 - April 28, 2023, Caesars Forum, LV. The Multi-Unit Franchising Conference is the premier annual event for the country's leading...