Challenge the Pros: Working with Franchise Brokers and Consultants
Do you work with franchise brokers and consultants?
Why/why not? What has your experience been?
Tom Monaghan
Chief Development Officer
Philly Pretzel Factory
I have been working with franchise brokers and consultants since they arrived on the scene more than 30 years ago. They have been a major catalyst for the growth of the entire franchise industry, and of course the brands I have been honored to help grow.
Franchise brokers and consultants are a true extension of our franchise development team. They have sourced, educated, and advocated for some of our best franchise owners. As the franchisor, we put in a lot of work to educate the franchise brokers and consultants on the ideal candidate profile for our brand.
We also invest in building productive relationships with the individual franchise brokers and consultants and their networks. Understanding our ideal profile, combined with strong communication between all parties, clearly accelerates the franchise award process and creates great results.
There is no doubt that franchise brokers and consultants have led to increasing the initial franchise fees across virtually the entire industry. Yet it appears to have had little impact on candidates' ability to afford the right franchise concept. The use of franchise brokers and consultants requires a significant investment of time and money. However, I believe that franchise brokers and consultants should be a part of every franchise company's new franchisee recruitment strategy. As the caliber and roster of franchise brokers and consultants grows, we at Philly Pretzel Factory are excited to work with them to recruit more great "Pretzel Mayors" to build our brand.
Richard Leveille
Vice President of Franchise Development
Floor Coverings International
I believe in using franchise consultants to drive quality referrals. This has been part of Floor Coverings International for many years. Having done it many ways, when developing our strategy several years ago, we could not overlook the fact that our experience of the cost of a traditional lead generation program versus a broker strategy netted a similar result. In fact, the results of a strong broker strategy seemed to lean a bit more positive.
Today we generally end up with 80 percent of our franchisees through broker referrals from the major networks. The interesting dynamic is that the role of the franchise development representative changes quite a bit. The job now requires that the representative be responsible for their own lead generation, as a relationship based on trust and integrity must be developed between the broker and company representative.
A good concept is a must, but brokers simply will not refer their precious candidates to a representative who they don't trust can lead them through a respectful sales process and ultimately award the franchise, earning them a referral commission. Yes, it's a bit of a love-hate relationship as the fees are high, but executed effectively this approach can drive very high-quality candidates.
Floor Coverings International is a very solid business but is often overlooked as its "curb appeal" might not be as strong as a branded product with more consumer appeal. Brokers, with their consultative process and client trust, can explain with firsthand knowledge how "sexy" a business like ours can be, therefore filling the sales funnel with the right candidates. It's definitely working as our growth is strong!
Published: April 28th, 2018
Share this Feature
Recommended Reading:
Comments:
comments powered by

Disqus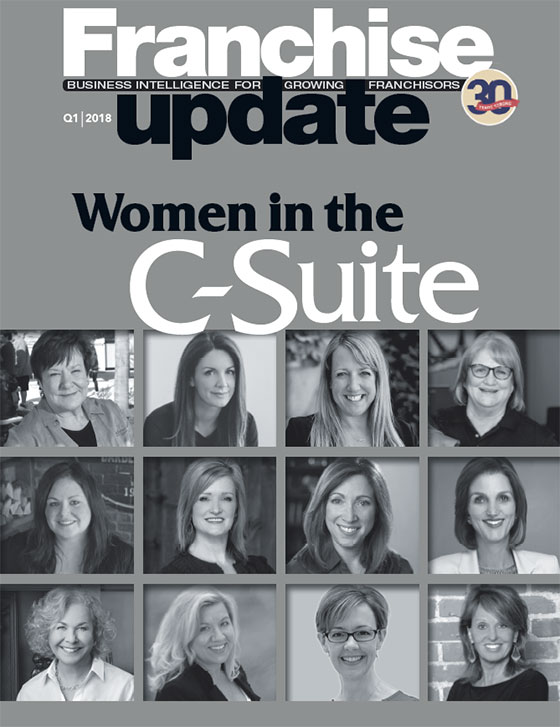 Franchise Update Magazine: Issue 1, 2018
Slick Marketers is reinventing franchise marketing with a hyper-customized and ultra-localized marketing approach with measurable results and growth...
Clayton Kendall provides franchise communities nationwide with comprehensive branded merchandise programs leading to greater brand exposure,...