How Franchise Development Firms Are Helping Emerging Brands Grow
While most new concepts never make it, hope springs eternal in the heart of the entrepreneur--which is partly the reason for the growth of franchise development ("frandev") firms.
For those starting from scratch, these companies provide services that can include determining if their concept is suitable for franchising, building a model for the business, helping the founders write the FDD, generating leads, qualifying prospects, and training and coaching the fledgling franchise on everything from how to publicize their brand to attract prospects, to how to build an infrastructure to support their hoped-for growth.
For emerging brands, frandev firms can offer more advanced services to help them accelerate their system growth. Note: There is no one-size-fits-all definition for what constitutes an "emerging" brand. One popular number is 100 or more units, but how do you compare 100 sandwich shops with 100 hotels? "There's nothing magical about getting to 100," says FRANdata CEO Darrell Johnson.
One approach to determining what constitutes an emerging brand is a term he calls recurring revenue self-sufficiency. This is a franchise brand's ability to support its franchisees as promised through income from royalties and corporate locations (if any) -- without having to sell additional franchises. In other words, it may have nothing to do with the number of franchised locations in a system.
East Coast Wings + Grill, for example, has been around for more than 20 years and has just 34 units. Yet it is a mature system that had average unit EBIDTA of 19.1 percent, average unit net sales of $1,688,354, and a 2.33-to-1 return on first year sales to investment in 2016. One huge reason is the brand's relentless focus on unit-level profitability.
"New franchise startups are not yet emerging brands," noted Steve Olson in the Franchise Grade report. Olson, author of the best-selling book, Grow to Greatness: How To Build a World-Class Franchise System--Faster, is CEO of Olson & Associates and a franchise consultant who works with both emerging and established franchise brands.
Olson, who collaborated on the Franchise Grade study, offered these four pieces of advice in the report:
Is your brand "franchisable"? Does it possess the attributes to grow rather than being a fad? Is it truly scalable?
Does your business have a minimum five operating locations and show profitability?
Recognize that it can take several years of growth for you as the franchisor to realize substantial returns on your investment.
Once you launch a franchise company you'll be living in the franchise business, not in the business you built.
New brands matter
Franchise Elevator PR, a spinoff from Fishman Public Relations, is a frandev firm that works exclusively with emerging brands. The company, says Managing Partner Mike Misetic, helps these smaller franchises drive growth by providing them with PR services that are more affordable than at a larger PR firm -- and, he adds, those brands don't yet need all the services a larger PR firm provides.
Also, he says, it's more interesting to work directly with the entrepreneurs and founders and see their concept grow. "Franchising is an industry of emerging brands," he says.
This thought is echoed by Robert Cresanti, CEO of the IFA, in the Franchise Grade study, where he said that emerging brands "will continue to fuel sustainable growth, competition, and innovation, all of which are essential in addressing and resolving concerns and challenges facing the business model."
Ed Teixeira, COO of Franchise Grade and author of the report, wrote: "Since 70 percent of franchises have 100 or less units, emerging franchises account for a critical component of the franchise industry."
Misetic's clients, which include ZIPS Dry Cleaners, Oxi Fresh Carpet Cleaning, CREAM, and Coyote Ugly, have prospered from his company's services, which range from PR for franchise lead generation, consumer brand awareness, and grand openings to media training to help founders learn to tell their brand's story more effectively to speed growth. "Everybody has a story to tell, but when is the right time to tell it?" he says. "They're busy working on the business. Our job is to discover those stories and pick the right time to tell it."
He also holds events, especially for food brands, where he invites social media "influencers" to sample the offerings and post their (hopefully ecstatically positive) opinions and photos online.
Collaborating for success
Misetic says he sometimes collaborates with other frandev firms. One is MSA Worldwide, which works with both new and established franchisors, providing services as varied as designing and developing franchise systems for newbies to high-level strategic planning for some of the world's largest franchise brands. For instance, MSA sent Misetic a new client that needed PR help.
He also works with frandev company RainTree, which currently works with about 20 brands, "half of them emerging and half more established," says CEO Brent Dowling. RainTree recently began working with Jamba Juice on lead development to "re-energize" the 25-year-old brand to bring in new franchisees to add to its more than 800 locations worldwide. Other clients include British Swim School, Kono Pizza, Anago Cleaning Systems, and Teriyaki Madness.
As a kind of one-stop outsourced development shop, "Our role is to create the marketing material, generate the leads, turn them into prospects, close the deal, and get confirmation from the potential franchisee that they're ready," says Dowling. "Then the franchisor decides if they'll accept them." They'll even handle the signing for some brands, though others prefer to do it themselves, he says.
Before accepting a new brand as a client, says Dowling, RainTree has three basic criteria:
Does it have the infrastructure to support the leads his company will bring in? If not, "that kills it for us," he says. "It's important they understand what it means to grow a franchise."
Is the concept well differentiated from what already exists? A perfect example is new client Urban Float, which hopes to popularize the benefits of sensory deprivation flotation tanks as a way to reduce stress and pain and increase mental and emotional health.
Does the company have an appetite for growth? "We're not like frandev firms that demand retainers or a percentage of royalties. We take a chunk of the franchise fee, so we need to do a certain amount of deals to stay in the black," he says. That's usually around 10 or more, he says, with some companies seeking up to 100 deals a year.
"We're trying to create high-growth franchisors, and like them to focus on and support the new franchisees 100 percent. So we take care of everything," Dowling says. "It's cool when they're emerging, because every franchisee is a big deal."
Advice from the pros
In 2017, Franchise Grade published a two-part report called "An Analysis of Emerging Franchises." Part one presented an overview of startup and emerging franchises (defined in the report as up 100 locations) over a 10-year period, beginning in 2007, with suggestions on how to meet specific challenges. Part two provided additional data, including commentary and advice from franchisors and frandev experts.
One key reason for the study, according to the report: "Emerging franchise systems account for many investment opportunities for prospective franchisees. Finding ways to support and accelerate the growth of these franchises will help achieve higher overall franchise industry growth."
So in the spirit of supporting that growth, we present advice from the report for new franchisors from two more frandev veterans.
Lori Kiser, CEO of The Decide Group

Work out the bugs by operating 3-10 profitable locations in multiple markets.
Expand locally then regionally, building a strong presence in markets close to headquarters (where you have a lot of support in place) before expanding nationally.
Understand that when you become a franchisor, you are operating two businesses -- the actual operating business and then a franchise system.
Hire experts in both categories.

Kiser offers one more piece of advice worth repeating: "Undercapitalization is the biggest challenge for most startup businesses and emerging franchisors are no different."

Gary Occhiogrosso, Managing Partner, Franchise Growth Solutions

Have a written strategic development plan.
Find franchisees with the same core values as the franchisor.
Be properly financed to fund the plan.
Focus on unit economics to ensure successful franchisees and great validation.
Create a strong digital presence, using SEO and SEM to drive interested parties to the franchise website.
Build a company store in a new market and sell it once the market is penetrated.
Review and if necessary improve the results of the business model.
Seek professional coaching from people who have "been there, done that."
Published: March 5th, 2018
Share this Feature
Recommended Reading:
Comments:
comments powered by

Disqus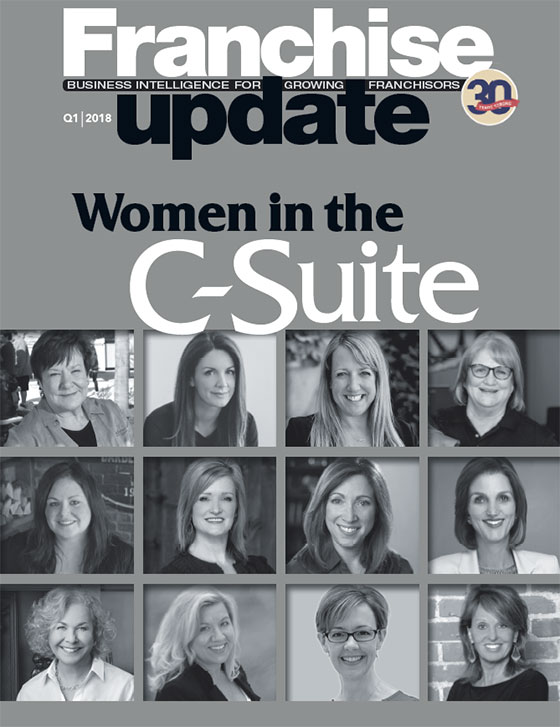 Franchise Update Magazine: Issue 1, 2018
More than 15 years of passion and fascination with the franchise system. Thanks to having met many Franchisees, today I can help new ones and those...
Prisma has reinvented the marketing supply chain with an end-to-end solution that makes it easy to design, customize, order, download, print, kit,...