CMO Roundtable: Marketing Collaboration in the Sales and Development Process
Does your marketing department collaborate in the sales and development process?
Shelley Young
Vice President of Marketing
Freddy's Frozen Custard & Steakburgers
Absolutely. Because marketing is one of those areas fortunate enough to interact with so many different aspects of the Freddy's family, our marketing team is constantly in communication with our owners, operations teams, franchisee groups, and many other areas of the company. When it comes time to collaborate on an upcoming menu item or promotion, each team brings their specific strengths, talents, and unique perspectives--decades of knowledge from many different backgrounds to help grow the brand. Regardless of the project, our shared goal is that our guests consistently enjoy a delicious meal with unmatched hospitality, and the successful collaboration of our teams is what makes this possible.
When planning our limited-time offers and annual promotions, we begin by digging into the analytics from previous years to determine which items our guests favored and why. Those menu items and promotions are initially discussed with our cross-functional development team to be sure we are meeting our guests' expectations and also returning their favorites. Then, we look to the many experts in our office as well as to our outside partners to help guide us in considering new ideas and ways to refresh previously successful promotions.
Of course, we always remember to consider the operational impact of these decisions. Since the operations team is at the table from the beginning, getting their input into the process is key. We never want to run a promotion that will cause a negative impact operationally. Operations and marketing should always work side-by-side, and when making decisions that will affect the way the business runs we all ensure that our guests and team members remain our top priority.
Because our franchisees are our Freddy's family out in markets across the country, their input is also extremely valuable in our decision-making process. We review our marketing initiatives with various members of our franchisee community and our franchisee marketing committee members. Their guidance on how our promotion and campaign ideas will affect the entire system is invaluable and helps shape our final product.
In the end, we include every part of the business in the conversation and maintain open communication to ensure the best impact. We are all part of the Freddy's family, which means working collaboratively, taking into account all ideas and feedback, protecting the brand, and most important, ensuring that our guests always have the best Freddy's experience.
Jason Anello
Chief Marketing Officer
Aurify Brands & Melt Shop
Absolutely. As we've grown from one location in New York City to eight across three states, and now as we begin to franchise, it's crucial that the marketing team works collaboratively with the sales and development teams. This ensures the brand is communicated to our customers in a consistent manner.
When Melt Shop launched its franchise development efforts in 2017, we underwent a rigorous process to translate our consumer messaging into something that would appeal to and resonate with our target multi-unit operator both domestically and internationally. Given that our development team is looking to expand across the U.S. and international markets like Mexico, South America, Canada, Western Europe, Asia, and the Middle East--nearly every corner of the globe--as a marketing team we needed to make sure our efforts to franchise in these regions wouldn't be all for naught. On the surface, a market can seem like the perfect fit for us, but when we do deeper dives into demographics and consumer behavior, we're able to eliminate some markets while adding others. It requires ongoing collaboration between marketing and franchise sales.
We've also had to recognize that until this point all of our restaurants have been corporate owned. As we begin to open franchised locations, our local store marketing and branding will need to be consistent with what we've had success with in our existing markets (New York, Pennsylvania, and Minnesota). We've needed to work with our development and sales teams to translate this to potential franchisees during the recruitment process. Understanding our proven strategies for choosing excellent real estate sites, executing grand openings, attracting customers, advertising, etc., is all critical to being a successful Melt Shop franchisee.
Finally, Melt Shop is only one of six concepts under the Aurify Brands umbrella, which brings with it its own challenges and need for additional collaboration. While each brand is individually unique, from a marketing standpoint we needed to ensure that Melt Shop stays differentiated so our prospective franchisees understand why the brand is well-positioned for growth through franchising.
Published: April 21st, 2018
Share this Feature
Recommended Reading:
Comments:
comments powered by

Disqus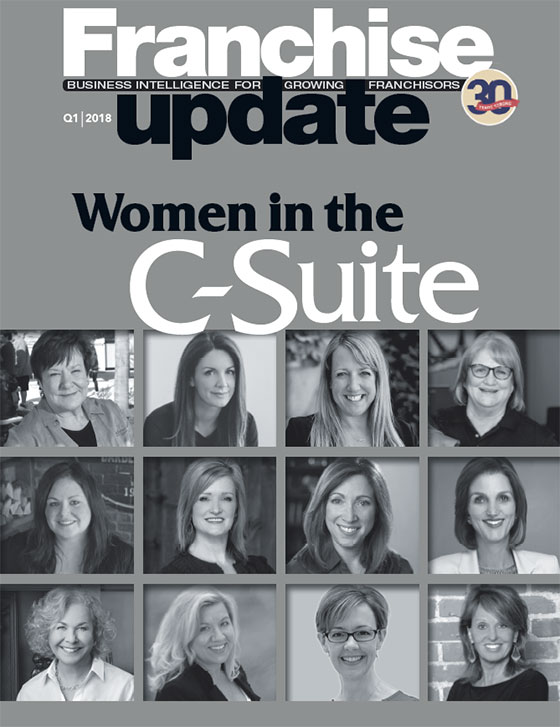 Franchise Update Magazine: Issue 1, 2018
Conferences
InterContinental, Atlanta
OCT 18-20TH, 2023
Tiger Pistol, the world's leading collaborative advertising platform, connects the power of brands with the knowledge and credibility of their...
The Hungarian Franchise Association was founded in 1991 as an interest representation organization of the franchise business community.