CMO Roundtable: Measuring The Effectiveness Of Your Brand's Consumer Marketing Efforts
What are some of the ways you measure the effectiveness of your brand's consumer marketing efforts?
Jason Smylie
CMO
Capriotti's Sandwich Shop
One of the most widely influential business thinkers, Peter Drucker, once said, "What gets measured, gets managed."
This sage advice applies to every field, but often is tricky for marketers. Many people are under the assumption that marketing is an intangible field where results are esoteric and unidentifiable. With so many variables affecting customer traffic, how are we to know whether it is a marketing campaign that is making a difference or something as simple as a sunny day? Operators too often analyze a marketing campaign's success by how it felt, rather than looking at data. This is a dangerous line of thinking that leads to undisciplined planning, missed opportunities, and wasteful spending.
Assumptions may be necessary to measure some marketing efforts. A successful marketer takes a myriad of factors into consideration and presents an honest assessment of a return on investment for each of their campaigns. Some important questions to consider are:
What were last year's sales compared with the period you are analyzing?
What else is going on that might be affecting sales?
How might operations be affecting your marketing efforts?
Was the promotion executed as planned?
Have all costs been considered? What hidden costs may have been overlooked?
At Capriotti's, we look at different measures, depending on the market dynamics. In newer markets we measure trial, market penetration, and overall customer satisfaction. Our guests are randomly surveyed and asked if they've been to Capriotti's before. It is vital to know our trial rates when we are running promotions to bring new customers into our shops. We also ask questions about customer satisfaction to see if there are opportunities to improve our guest service and taste of food, especially for a new shop.
In our more developed markets, we track frequency (visits per month) and transaction size to see if our promotions and programs change our customers' behavior. Most important, we measure ROI for each of our promotions by analyzing sales lift compared with costs.
In this day and age it is also vital to measure social media marketing efforts. We focus primarily on social media channels such as Facebook and Twitter to listen for chatter about our programs, and to analyze key metrics such as fan growth and engagement. We integrate all our marketing campaigns into social media and, where possible, measure the incremental sales that are a direct result of our efforts online.
Douglas J. Poppen
Director of Marketing
Bojangles' Restaurants
Bojangles' has one of the highest average unit (sales) volumes in the quick-serve restaurant industry, driven by strength across all three primary day parts. We have a large number of very loyal customers, but the breakfast customer on Monday can be very different than the lunch customer on Sunday. So we've profiled each of our customer "segments" to understand how and why they behave, and are working to incorporate these segment views into all our measurement efforts.
In terms of what we measure, we try to understand within a given geographic area the degree to which consumers are aware of Bojangles', have tried Bojangles' (ever or recently), and their frequency of recent visits. We also measure how all our paid, earned, and owned media is affecting these trial and frequency rates. To that end, we evaluate the effectiveness of our broadcast media investments and allocations, the engagement rates and direct and indirect sales impacts of digital and social media, and the impressions and media value generated by various partnership marketing and PR efforts, including the annual Bojangles' Southern 500, a NASCAR Sprint Cup race we began sponsoring in 2012.
We measure these things in a variety of ways using a combination of proven methods and emerging tools. Syndicated research sources help us understand our share of restaurant units and advertising spending in each metro area where we operate, as well as the media consumption habits and social interests of our target customers in these areas.
We also have relationships with a small number of marketing services firms that assist us with monitoring and optimizing new product development opportunities, existing product pricing, local rating and review sites, and our customer care channels. Additionally, we are testing several new methods for monitoring and engaging in the increasing number of outlets consumers have to express themselves through social media. And we use internal or proprietary systems to evaluate the results of promotional events, limited time offers, and product or pricing tests.
In 2013, Bojangles' began to implement a new point-of-sale system that will make our direct and loyalty marketing efforts more effective, and more important, more customer-friendly. Coinciding with that deployment is the launch of our first-ever guest satisfaction survey program, where we will allow customers to tell us about their most recent visit in exchange for a compelling incentive to return.
Bojangles' is far from conquering the "big data" challenge, but our ability to generate unique insights and use data and knowledge to make decisions has never been greater.
Published: March 6th, 2014
Share this Feature
Recommended Reading:
Comments:
comments powered by

Disqus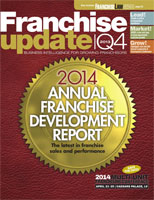 Franchise Update Magazine: Issue 4, 2013
Bring Order to Your Business. All-in-one management, print, and design solutions at your fingertips, on one platform
From lead generation to increasing sales, Hot Dish Advertising is the pro at getting your message in front of those who matter most--consumers...