CMO Roundtable: Staging A Successful New Store Grand Opening
"How do you stage a successful new store grand opening, soup to nuts?"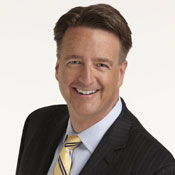 David Buckley
Chief Marketing Officer
Sears Hometown and Outlet Stores
The first step to a successful franchisee grand opening is disciplined advance planning. Our planning begins with a review of our cadence for chain-wide promotional offers to select a date where we will have the most attractive offers in the marketplace. A successful grand opening is built upon a solid promotional offer. Once we have selected a date for our grand opening, we will execute multiple grand openings on the same date to drive operational efficiencies. This allows us to increase the effectiveness of our budgeted investment for the event. With advance planning we are also able to leverage our existing media, versioning the advertising to support grand opening markets.
With the national support media and promotions finalized, focus turns to building local awareness and hype. Franchisees are provided with a complete grand opening signing package that includes interior signing, exterior banners, and adversails. To prepare locally for the event, the franchisee plays an important role in engaging with the community. As the grand opening may be the franchisee's first retail store in our business, their district sales manager plays a significant role in building a local action plan to ensure a successful event. To aid the franchisee in promoting the event, we have developed an online portal allowing the franchisee to customize a wide variety of local marketing assets. The assets to be activated locally are selected by the franchisee and include ROP templates, EDDM (Every Door Direct Mail), local flyers, real estate signs and door hangers.
Digital advertising and social media also play an important role in a successful grand opening. Pre-opening, we ensure data is correct and that the location is properly represented in more than 30 different major websites including Google, Yelp, Yahoo, Superpages, MapQuest, and Yellowbook. As the event approaches, promotional messaging is posted to each of the sites that have that capability. For social exposure, each store launches with a Facebook page, whichthe franchisee is encouraged to use to engage fans with pictures and stories from their journey of building their store.
The final piece to kicking off a strong grand opening includes a local radio station remote broadcast. Partnering with a radio station builds awareness through the associated radio commercials and promotional mentions, and the radio station also builds some excitement on the day of the event. Great radio partners will help make the event come alive with high-visibility tents and vans, as well as activities and giveaways throughout the day.
For our business, the successful event combines advance planning, strong traditional and digital integration, local excitement, and most important... franchisee engagement.
---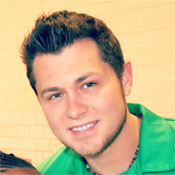 Christopher Jackson
Director of Marketing and Branding
College Hunks Hauling Junk and College Hunks Moving
Franchisees are out on a limb when it comes to launching a new location. They've often invested an incredible amount of their personal savings and aren't yet sure how exactly they're going to earn it back. It's natural for even the most confident entrepreneur to experience some level of ambiguity and anxiety.
A large piece of this puzzle is the marketing and branding. I liken the launch to throwing a party. If your franchisee doesn't have the invitations posted in the right places, no one is going to show up. "Will people buy?" is often the question that causes any rational new owner to lose sleep. The franchisor (specifically the marketing team) must be cognizant of this and work hard to help the new team member overcome it.
Consequently, it's essential to make sure the franchisee and the franchisor are on the same page prior to launch. That means a lot of back-and-forth phone calls and emails and plenty of in-person meetings and training sessions. This should be an ongoing process to make sure that both parties share the same expectations at every stage.
Among the in-person training sessions, there should be a full day of marketing training and a full day of sales training. You need to break down the recommended grand opening marketing budgets and explain the best way to use that budget to maximize brand exposure and generate leads in the local territory. How much should be spent on print ads compared with online marketing? What works best for your brand? It's helpful to create marketing buckets to show the ideal budget split so the franchisee has a reference sheet to check with often.
Meanwhile, the press release is an important part of the process that can't be overlooked. It's an announcement to the world that your company is growing, evolving, and making forward progress. More than that, though, it lets the masses get a glimpse into who the new franchisee is. If written correctly, it should convey the fact that the new owner is not unlike the interested prospect who may be reading it, deciding whether or not to become the next new franchisee to climb out on that limb and go through this process with you.
Published: January 30th, 2013
Share this Feature
Recommended Reading:
Comments:
comments powered by

Disqus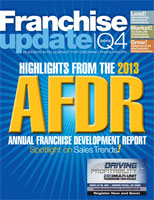 Franchise Update Magazine: Issue 4, 2012
Conferences
InterContinental, Atlanta
OCT 18-20TH, 2023
April 25 - April 28, 2023, Caesars Forum, LV. The Multi-Unit Franchising Conference is the premier annual event for the country's leading...
Hub by Thryv is an end-to-end client experience platform custom-built for franchises. Its ready-to-use business apps help franchisees view their...