Community Come Together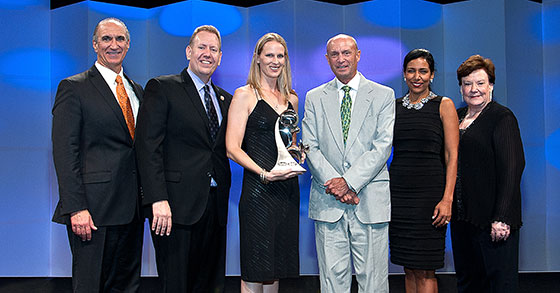 There are two Checkers franchisees who believe that operating a business means being involved and giving back to the community. That's what partners Bruce Keehn and Andrew Lynn have been doing for

years.

In 1996, when race riots ensued after a white police officer shot a 28-year-old black man in Paterson, N.J., news footage showed Checkers bags atop police cars, where Keehn and his people had placed them. In 2012, when Hurricane Sandy struck New Jersey, their staff could be found everywhere giving away free Checkers food, even though one of their own restaurants had been hit hard.

"Everything that has happened in this area in the past 20 years, we've been there," says Keehn, who spent years at Burger King corporate before becoming a Checkers franchisee. "We're blessed to have been accepted into this community and we take every opportunity to support it and have an impact."

Lynn--an active board member of the Checkers/Rally's Employee Relief Fund since it was established in 2005--and Keehn have an ironclad philosophy about the way they give, says Keehn. "Andrew and I feel that we want to help the community, so we never say no, no matter what the business pressures are. But we've never written a check, because if we did it once we'd have to do it for everybody. We give away free food and thousands of Checkers t-shirts."

The longtime friends come from very different backgrounds. Keehn came from a New Jersey restaurant family and worked while going to college. Lynn comes from "old money," lives in Bellleair, Fla., where he has a real estate business. But both share a passion for people and for Checkers.

"We're diehard franchisees for Checkers. Andrew didn't know anything about fast food when we started, so he went to Checkers' management training program and loved it. He's on the Franchise Advisory Council and stays on top of things, and is on his local hospital board of directors. He volunteers at the hospital five days a week," says Keehn. "Before we became co-franchisees, I'd always worked for somebody else, but Andrew's been so supportive of our family, and through this relationship my wife and I have been able to take care of our children and enjoy our three grandchildren."

Family members are an important part of the company. Keehn's wife, Lisa, a Burger King "star" for 20 years, is director of operations, and daughter Staci, currently director of education and development, is being groomed to take over the company. "I'm getting Staci ready to take the business to the next level and to help our people become successful," he says. "I'm going to enjoy myself--like I'm doing today, pushing the stroller in the mall with my grandchildren."

Name: Bruce Keehn and Andrew Lynn
Title: Keehn: COO, managing member; Lynn, president, managing member, Best Burger Management, Sea Girt, N.J.
No. of units: Checkers Drive-In, 7
Age: Keehn, 60; Lynn, 65
Family: Keehn: wife Lisa, daughter Staci, son Bruce who does the landscaping for all the restaurants, daughter Evelyn, entering graduate school
Years in franchising: 40
Years in current position: 20

Published: November 20th, 2014
Share this Feature
Recommended Reading:
Comments:
comments powered by

Disqus
Conferences
Hotel Savoyen, Vienna, Austria
JAN 28-29TH, 2020
Franchise with award-winning Glory Days Grill®! With 23 years of proven growth and performance, Glory Days Grill® has won AWARDS for Best American...
Cash Required:
$750,000
We are the nation's leading hard discount grocery chain designed for independent retailers. Our business model is focused on empowering our Retail...
Cash Required:
$300,000