Conference Calling!: Franchise Consumer Marketing Conference Board Sets Agenda
Consumer marketing has emerged as a sizzling-hot topic in franchise circles. Reaching customers efficiently and cost-effectively is front and center right now. Strategies and tools are rapidly changing and those brands not keeping up will undoubtedly suffer at the hands of their competition.
Staying on top of consumer marketing means pursuing the latest consumer trends and news, social media, branding, public relations, customer acquisition, retention, and loyalty, direct and online marketing, technologies that drive performance, and greater market and consumer intelligence.
It was with these ideas in mind that Franchise Update Media Group began planning the first Franchise Consumer Marketing Conference and recruited an advisory board of marketing pros to steer the direction and content of the conference. Board members bring a wealth of franchise and consumer marketing knowledge and experience to the table and have been key participants in the conference's planning process over the past few months.
The Advisory Board is composed of franchise marketing executives representing the service, retail, and food sectors. Their rich, diverse marketing backgrounds and insightful contributions have helped create an engaging conference agenda. Franchise presidents, CMOs, and marketing directors who attend the conference will benefit from a one-of-a-kind industry forum where they can share best practices in consumer marketing, discuss key trends, issues, and strategies, and network with other experienced marketing executives.
The inaugural 2011 Franchise Consumer Marketing Advisory Board consists of:
Susan Boresow, Chief Marketing Officer at Massage Envy. Boresow has been with Massage Envy since last October. Previously, she was Vice President of Marketing at Pump It Up Management, parent of Pump It Up and Bounce U brands. Her background also includes marketing-management stints at Cold Stone Creamery, Godfather's Pizza, and Mr. Goodcent's Pasta and Subs, as well as at McDonald's as Senior Regional Marketing Manager.
John Dillon, Vice President of Marketing and Product Development at Denny's. He has held marketing leadership positions with several organizations, including 10 years in multiple leadership roles with Yum! Brands and Pizza Hut. Before joining Denny's in 2007, he was Vice President of Marketing for the NBA's Houston Rockets.
Keith Gerson, President and COO of Sopra Brands. Gerson was previously President and COO at PuroSystems. He has served as Vice President of Sales, Marketing and Development for AlphaGraphics, Senior Vice President of Worldwide Franchising and Licensing for Mrs. Fields Original Cookies, Executive Vice President of Sales and Marketing at Chem-Dry, and was responsible for operations at Jack in the Box in the Pacific Northwest (see page TK).
Rich Hope, Marketing Director at Jersey Mike's. He has extensive experience on the agency side, having owned his own ad agency for 22 years. He has worked with the Jersey Mike's account since 1992, when the franchise had only 30 stores, and became Jersey Mike's CMO last August.
Terri Miller, Vice President of Marketing and Communications at Great Clips. Miller joined Great Clips in 2000 following of variety of agency and corporate marketing positions (see Q&A, page TK).
Wendy Odell Magus, Vice President of Marketing for Kiddie Academy. Before joining Kiddie Academy in 2008, she was Senior Director of Marketing at Sylvan Learning. She has spent the majority of her career focused on marketing child-centric businesses, both in her current position and at Sylvan, Disney, and Kennedy Krieger Institute.
Jeff Rinke, Vice President of Marketing at Hungry Howie's Pizza. Rinke oversees the marketing communications including branding, advertising, public relations, market research, and website design and content. He has been with Hungry Howie's since 1987, where he served as Director of Operations and was appointed to his current position in 1996.
Linda Shaub, Vice President of Marketing for Interim HealthCare. Shaub has more than 30 years of experience in all aspects of marketing and has led Interim in the successful integration of new marketing channels over the last 11 years. Before joining Interim, she was General Manager of an advertising agency in South Florida.
Ed Waller, co-founder and Vice President of CRM at CertaPro Painters. Waller oversees a centralized customer service department, all marketing activity, and the IT infrastructure. While he has been involved with all elements of the organization, including franchise marketing, his core interest and skill set keeps him focused on consumer marketing (see page TK).
Franchise Update Media Group's premiere Franchise Consumer Marketing Conference will be held June 14-15 at San Francisco's Omni Hotel. Details at www.franchiseconsumermarketing.com.
Published: May 25th, 2011
Share this Feature
Recommended Reading:
Comments:
comments powered by

Disqus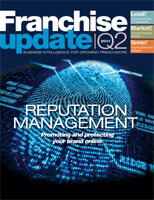 Franchise Update Magazine: Issue 2, 2011
Prisma has reinvented the marketing supply chain with an end-to-end solution that makes it easy to design, customize, order, download, print, kit,...
Atmosphere TV is the world's leading cable alternative, providing free streaming TV for businesses.