Count on Him: Army Experience Provides The Skills To Build A Franchise
John Smythe says he was a typical 21-year-old when he was drafted into the U.S. Army in 1965. "I was just kind of rolling through life and not really giving it that much thought," says the 62-year-old veteran today. The Army was a good experience for him, and where he learned the skills and philosophies he's using today as a CMIT Solutions franchisee in Everett, Wash.

Smythe, who was raised in the Bronx, N.Y., spent two years with a helicopter unit in Germany. "I learned in the service that others depend upon you. You have to be reliable," he says. He also points to the organizational skills he picked up in the service. "I've been able to use those throughout my life, and especially now in franchising," he says.

After returning to the U.S. in 1967, Smythe attended college in New York. After graduating, he became a stockbroker, a bookstore operator, and was involved in building and operating a nightclub. In the mid-1980s, he met and married his wife, Sue. Within a few years, the two were looking for a change of scenery. They visited the Pacific Northwest and were sold. "We'd heard how rainy the weather was here, but all we saw was sunshine," he says.

A couple of years ago, the couple decided to do something to supplement their pensions and Social Security for their retirement years. "I started looking around and really liked what I saw with the franchise model," says Smythe. They checked under the hood of a few concepts before decidingto sign on with CMIT Solutions (in part because of Sue's background in information technology), which offers IT-related services and products to small and mid-sized businesses.

They opened for business in July 2006 and today serve more than 100 clients in a territory north of Seattle. Like many other small-business owners, Smythe says finding talented and reliable employees is a challenge. "We stumbled a little in the beginning finding good techs, but now we have two great full-time techs and a couple of backups."
Smythe says it's been satisfying to work with clients, helping them resolve their computer and technical issues. "We give customers peace of mind," he says. "And they often give us referrals."

As a manager, Smythe says, he likes to empower employees. "I don't like to micromanage. I want employees to do things on their own. That's something I learned in the Army. People are counting on you--just get it done."

Entering 2009, Smythe says their days are busy. He spends about 70 percent of his time on appointments with existing and potential customers doing "networking, presentations, proposals, and I keep the books as well."

Looking ahead, he sees a very strong market for IT support. While he would consider adding more territory, for now he'd like to move their home-based operation into an office, grow his client base, and add staff. "And of course, if we grow, we have to focus even more on keeping up the quality of service that we provide. That's what will make us successful."
Recognized for Service
VetFran program offers financial incentives to vets

VetFran (the Veterans Transition Franchise Initiative), an IFA-sponsored program since 2002, was created in 1991 by Don Dwyer, Sr., as a tool to help veterans returning from the Persian Gulf War achieve ownership of a franchise business. To this day, it continues to offer basic financial incentives to honorably discharged U.S. veterans.

A survey conducted late last year of 352 franchise companies that participate in the VetFran program found 1,224 veterans have become franchisees since 2002 by taking advantage of financial incentives, typically discounts off the initial franchise fee, which in some cases can lower up-front costs by thousands of dollars. And the study found another 200 veterans had entered into negotiations to acquire a franchise using the VetFran discounts.

The VetFran program not only links veterans with participating companies through its website, but also offers comprehensive information to aid prospective franchisees in investigating a franchise before purchasing. Veterans have access to a free, online course, "Franchising Basics: Introduction to Franchising," which describes how franchising works, lists key questions to ask and reviews the laws and regulations that apply, in addition to a variety of articles and research studies that profile the growing industry.

Veterans may also attend, at no charge, IFA-sponsored trade shows in Washington, D.C., Los Angeles, and Miami that feature seminars that address veterans' questions about purchasing a franchise.

"Franchise systems looking to meet the challenges of the current economic environment should especially reach out to veterans who, through training, know the importance of focusing intently on their mission and meeting obstacles head-on," says IFA President Matthew Shay, who noted the association's close working relationship with the U.S. Dept. of Veterans Affairs and the SBA. He says the IFA also plans to step up its efforts in the coming year to work with Congress on expanding veteran's educational benefits to include franchise training.
Top 10 Franchises Popular with Veterans
Franchise                                 VetFran Sales

The UPS Store.................................145

Matco Tools...................................126

Meineke Car Care Centers.......................48

PostNet International Franchise Corp...........41

Aire Serv Heating & Air Conditioning...........37

CruiseOne......................................33

Sport Clips....................................31

Maui Wowi Hawaiian Coffees & Smoothies.........29

Dunkin' Donuts.................................27

Mr. Electric...................................26

Mr. Rooter.....................................26

Source: IFA/VetFran
Special Force
RecruitMilitary brings franchisors and veterans together

Drew Myers knows the military. After graduation from Indiana University, Myers survived boot camp, training, and spent seven years in the Marine Corps.
"When I was discharged in 1993, I started a contingency company that helped place transitioning vets into sales jobs," says Myers. "That was an occupation I saw that military guys were good at."

His rapidly growing business moved beyond just sales, and he began working with other employee-seeking companies that had benefited from hiring former military personnel, courtesy of Myers. Today, RecruitMilitary, based in Cincinnati, has 56 employees, two dozen regular franchise clients, produces a magazine called
Search & Employ (with a 32,000-plus circulation at more than 200 military bases worldwide), conducts more than 100 career fairs each year (usually in places like NFL stadiums), and maintains an online job board kept busy by 400,000 military job seekers.

"We work directly with all kinds of companies, but certainly franchisors are important clients to us," he says. "We work closely with each of our clients to tailor programs that help them find just the right former military people to take on their franchise." Myers says they have access to military records and can determine what kind of soldier a person was, how quickly they advanced, and any awards or recognition they received.

"Standard operating procedure is how the military works and how franchising works, so it's a beautiful match," says Myers.

Myers says that over the past six to eight months the tightening credit market has been tough on business--making it harder for vets to get needed financing in some cases. Otherwise, he says his main obstacle has been generating awareness among veterans that franchising is a viable option for them. "They don't know what they don't know," he says. His mission today is to provide ways to help them find out.
Published: February 23rd, 2009
Share this Feature
Recommended Reading:
Comments:
comments powered by

Disqus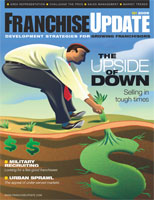 Franchise Update Magazine: Issue 1, 2009
Conferences
InterContinental, Atlanta
OCT 18-20TH, 2023
Bring Order to Your Business. All-in-one management, print, and design solutions at your fingertips, on one platform
In 2022 Empower Brands emerged when Lynx Franchising and Outdoor Living Brands united. Empower consists of JAN-PRO, Intelligent Office, FRSTeam,...