Countering Organized Retail Theft: Reducing Economy-Related
The economy hasn't been the only problem wreaking havoc across the nation. Most cities are also reporting a disturbing trend of crime increases that experts tie to rising unemployment and a pattern of thefts called organized retail crime (a.k.a. organized retail theft).

Beyond the convenience store "beer runs" and juvenile candy grabs, prosecutors and retailers alike are feeling the impact of retail theft groups targeting specific merchandise--not for personal use, but for resale through household sales, community swap meets, flea markets, or most commonly, over the Internet through one of the large online auction sites or community resale forums.

The FBI estimates that organized retail theft may hit $30 billion annually. One large California-based grocer says organized retail theft account for 80 percent of their losses, reducing their bottom line by an estimated $100 million. The expense ultimately gets passed on to consumers. The FBI has joined forces with the National Retail Federation, Food Marketing Institute, and Retail Industry Leaders Association to form the Law Enforcement Retail Partnership Network (LERPnet.com), whose purpose is to identify trends and share information among law enforcement and retailers in an effort to track and thwart these large, sophisticated groups, which may haul off anywhere from $5 to $10,000 in merchandise every time they leave a store.

Retailers can protect themselves from these organized groups.

First, recognize that you're vulnerable. If you don't think your merchandise would be attractive to an organized theft group, then why do you sell it? Of course it has value! Especially when the cost of acquisition is minimal.

Shoplifters, or "boosters" as they're often known in the trade, get instructions from a boss or a "fence" for what kind of merchandise to steal and may receive up to 30 cents on the dollar for the products they steal. They're rarely "window shopping" and often enter a store knowing exactly which articles and brands they'll target.

With recent tax increases, tobacco products are generally on the short list, with carton cigarette prices topping $50 in most cities and more in higher-taxed Northeastern states. Cold and flu products are always potential theft targets--and don't forget the popularity of ephedrine products among the "tweaker" crowd manufacturing crystal methamphetamine.

Second, don't make it easy for thieves by putting high-dollar merchandise near the door while your register is in the back. For some thieves, that's just advertising for a "snatch and grab." Position your checkout counter forward of the middle section of the store so you can visually observe customers, provide good customer service, and still keep a reasonable watch on your merchandise.

Third, invest in security equipment. A good alarm system doesn't have to be expensive. Door contacts, motion sensors, and a control panel that communicates with an alarm-monitoring station over phone lines will generally be sufficient. Add "panic" or robbery features only if your business risk warrants it. In most cases, carrying your cell phone or having a conveniently placed landline phone is all you need to call police when needed.

The cost of CCTV systems has declined significantly as the technology has advanced. A small retail store can generally be covered with a handful of cameras tied to a digital video recorder locked away in a storage cabinet or manager's office. Focus one camera on the front door (and if you have a rear door, another one there), close enough so a suspect can be readily identified. Another camera on the checkout counter focused on the point-of-sale register and the safe, one in the back room on the exit door, and additional cameras as needed on the general sales floor are all you really need.

A good public-view monitor, mounted either just inside the front door near the door cameras or adjacent to the sales counter, also can be a solid deterrent--and lets customers and thieves know you have a security system in use. Some units have built-in cameras and can also run advertisements.

Finally, be smart about greeting customers when they come into your store. Eye contact and a pleasant greeting can be strong deterrents to someone bent on seeking anonymity as a shoplifter. Many retailers have cut staffing to control payroll during a tough economy--but when you're not recording a transaction, make sure you're out on the sales floor. Create a good balance between providing exceptional customer service and theft deterrence.

Should a theft occur, police and loss prevention experts generally caution against using force or pursuing theft suspects, especially outside the store. Laws vary across the country, and a conversation with local law enforcement will afford better insights. Likewise, most law enforcement agencies discourage weapons in the workplace and advise shopkeepers and retailers to try to verbally address and prevent shoplifting. Be a good witness, notify police, and rely on your security system to provide good evidence.

Be smart, be safe, and be profitable and successful by using the right business tools to protect your bottom line.

Rollie Trayte is a Scottsdale, Ariz.-based security consultant and former director of loss prevention for ConocoPhillips/Circle K stores.

Gary Widman is president of Lekson Visual Communications, a supplier of security products and services (http://leksonvisual.com/).
Published: October 13th, 2009
Share this Feature
Recommended Reading:
Comments:
comments powered by

Disqus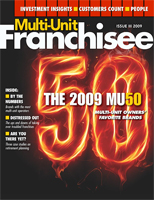 Multi-Unit Franchisee Magazine: Issue 3, 2009
Make your mark on the billion-dollar esports industry while making a positive impact as a franchise owner!
Cash Required:
$50,000
Briggs Home Care® offers a one-of-a-kind franchise opportunity to build a successful and rewarding home care business. Invest in our home care...
Cash Required:
$50,000