Courting the Empire Builders
What does it take to sell multiunit operators?

When you see Dunkin' Donuts, Choice Hotels, and Supercuts landing the big deals, the question is, "Why can't I?"

How can you attract these mega franchisees? How do they shop for additional concepts? What turns them on? What scares them off?

Here's how eight members of Franchise Update Media Group's multiunit advisory board--an elite group representing more than 25 franchise brands and 1,000 operating franchises--answered these critical buying questions, telling us what works for them.
A "one size fits all" mentality doesn't work. Multiunit pros are devoting serious capital and resources to build out their markets. Structure a multiunit agreement recognizing that these are experienced operators. Consider allowances that reasonably address the larger business relationship this "partnership" will create.
Experienced franchisees read--and understand--your UFOC/FDD. There's no use trying to dance around contractual items and conditions that have open interpretations. Tell it straight and clarify it in writing. Mature buyers quickly pick up on restrictions and procedures not typical in other franchise documents. They also applaud the more favorable elements you offer.
Sophisticated buyers scare easily from agreements that heavily favor the franchisor. Multiunit operators seek healthy and balanced relationships. Be prepared. You may get away with non-reciprocal indemnification with franchisee neophytes, but you can hit concrete walls when you deal with these buyers.
ROI is key to the decision. If the business doesn't fit their requirements or work within their infrastructure, experienced operators will pass. Be prepared to address this so these buyers can build a pro forma to properly assess your opportunity. If your franchise can't produce the returns they seek, don't waste time pursuing them.
Decisions are based on logic. They are driven by your business model, not the emotions that can lure single-unit buyers. They want earnings claims from you and multiple-unit franchisees. They'll seek out your top producers, who can openly share key metrics and performance factors to evaluate your brand.
Demonstrate your commitment to multiunit development. Do you consistently market in publications, shows, and other venues that multiunit pros frequent? Do they read and hear success stories about your multiunit partners? Is your brand name recognized enough in their world to make their "check them out" list?
Multiunit conferences require a different recruiting approach. Networking at these events produces the best results. Unlike at public franchise exhibitions, don't expect herds of enthusiastic attendees completing your inquiry forms. Experienced operators are lower key, analytical, and cautious. They know that they're recruitment targets and move under the radar screen. Stay away from canned sales pitches.
The investigation process is much longer. Be patient if you're new to selling this market. The significant investment by the franchisee and franchisor requires a different recruitment process. Timing, competing concepts, business analysis, and negotiations will affect closing times. Certainly no 90-day deals here.
Multi-brand owners may want "test" locations first. This step makes sense for large deals with experienced operators. Both franchisee and franchisor want to ensure a successful launch. The franchisee has agreed on commitments to roll out the market expansion based on satisfying initial performance levels for both parties.


Be prepared if you want to sell the multiunit market. It may be ideal for your concept, perhaps not. But one principle is clear: understanding the buying habits of experienced franchise operators provides a better path for your recruitment success.*

*53% of franchisors surveyed in Franchise Update's Lead Generation & Sales Compensation Survey have franchisees who own brands from other systems.
Published: June 23rd, 2008
Share this Feature
Recommended Reading:
Comments:
comments powered by

Disqus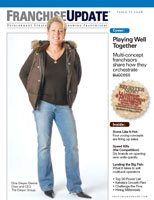 Franchise Update Magazine: Issue 2, 2008
BoeFly drives growth by delivering financially qualified candidates increasing lead-to-franchisee conversion, and helping franchisees secure...
From lead generation to increasing sales, Hot Dish Advertising is the pro at getting your message in front of those who matter most--consumers...