Crafting a Strategy for the Times: Area Representation Delivers The Resources For Continued Growth
Reading newspapers, listening to the radio, or watching TV today is like drinking from a fire hydrant. Here are some recent headlines:
Economy Weakens as Deeper Job Cuts Materialize
Manufacturing Shrinks Most in 26 Years
U.S. Slips into a Recession
Jobless Claims Skyrocket
World Markets Slump on Economic Fears

In a discussion with several franchise executives recently, the question surfaced, "How can we expand in this market?" I quipped that I was excited about franchise growth in the next few years. I explained that the rules have changed and that smart franchise companies will capitalize on the current economic climate and trends. When my optimism was challenged, I shared why I feel this way.
Why be optimistic?
In times of great upheaval come opportunities. There were plenty of millionaires minted in the decade that followed the Great Depression. While it is true that the Crash of 1929 brought unprecedented misery and economic hardship to many, during the same period opportunities were created for the agile and fearless. The worst course of action in times of uncertainty is to become paralyzed and not craft a vision for the current reality.

While caution should be exercised in managerial decisions, it is unwise to ignore the obvious. Many people--out of necessity--will have to consider starting a new business, purchasing an existing business, or following the more prudent path of franchising as a route to a new career because their jobs have, literally, disappeared-- and not just temporarily. And while the days of freely tapping home equity and 401(k) plans are gone, many individuals still have the financial resources and/or the ability (courtesy of the U.S. Treasury) to qualify for the recapitalization of existing SBA loan programs to fund their startup.

The biggest challenge for emerging franchisors in these uncertain, yet dynamic, economic times is how to fund their franchise expansion. Franchise companies face several challenges in today's economic environment:
Lead costs are above historical averages.
The cost of providing a high level of franchise support is not getting any less expensive.
Choosing the wrong franchisees can greatly increase costs.

For these reasons, area representation is emerging as an attractive growth strategy for newer franchisors who lack the ability to fund an aggressive franchisee recruitment program and build the infrastructure required for ensuring successful franchisees.

An inverse revenue paradigm exists: high training and support costs are incurred before revenue materializes to offset these costs, thereby creating enormous financial pressure on growing franchise systems. The inability to invest in operational support in the first two years of new franchisee operations is the leading cause of franchisee failures, which in turn cripples the future franchisee validation necessary for recruiting new franchisees. This dynamic creates a death spiral.

Area representation can help alleviate the cost burdens newer franchisors struggle to fund. This can be accomplished by assigning to an area representative (AR) the key responsibilities and costs for providing these functions. With an AR strategy in place:
The bulk of the franchisee recruiting costs are funded by an AR. Several ways are available to structure AR agreements to ensure there is adequate funding (a discussion is warranted on this topic in a future article). If this is done properly, it will revolutionize recruiting.
The resources associated with providing a high-quality support system are delivered and managed by a qualified AR. Not only is this more cost-efficient for the franchisor (because the costs of building a support infrastructure and managing recruiting locally are borne by the AR), but the quality of support to franchisees can be higher.

The key to success in enabling this growth strategy is in understanding the basic operating principles of area representation, including how to recruit and manage ARs, as well as how to properly structure AR agreements. The three mistakes most franchisors make in structuring an AR program are:
Assuming that an AR is the same type of candidate as a franchisee, only with more capital. Some of the most successful ARs I have known over the years are those who did not necessarily have the best balance sheet, but rather an adequate one; however, they had the core talent, enthusiasm, and skills necessary to succeed.
Creating a development schedule that is too aggressive. This will drive ARs to choose franchisees based on meeting a timetable, rather than on purely on their qualifications, which leads to a lower quality of franchisees.
Assuming that an AR can do both recruiting and operations. I have never, never seen this structure work over the long term.

There are many other things to consider in designing a franchise growth strategy for these challenging economic times, but having 50 to 75 qualified ARs creates funding for recruiting and capital for implementing the franchisor's operating system. This can ultimately fuel profitable growth for emerging franchise systems, something they could not have come close to replicating internally.

Marvin L. Storm is Managing Director of Blackstone Hathaway, which specializes in using area representatives as a franchise growth strategy. He can be reached at 925-376-2900 x201 or mstorm@blackstonehathaway.com.
Published: March 30th, 2009
Share this Feature
Recommended Reading:
Comments:
comments powered by

Disqus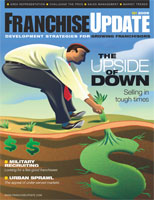 Franchise Update Magazine: Issue 1, 2009
More than 15 years of passion and fascination with the franchise system. Thanks to having met many Franchisees, today I can help new ones and those...
Support your multi-location brands and empower users. OneTouchPoint integrates localized marketing services and comprehensive brand management...