Crystal Ball Gazing: Investment strategies for 2021
"The most reliable way to predict the future is to create it." —Abraham Lincoln
We have always hated Wall Street's year-end ritual of pulling together predictions for what is likely to transpire in the coming 12 months. It seems similar to New Year's resolutions—a useful process for organizing thoughts, but seldom with any lasting impact or truth. This notion was well summed up in one of the best memes we saw recently: "WORST PURCHASE EVER—a 2020 planner."
Recall that as 2020 kicked off, markets were hitting new highs while the unemployment rate was plumbing multi-decade lows. Confidence (consumer, business, investor) was high and the economy was hinting at a continuation of the longest economic expansion in recent memory. Business owners were looking forward to reasonable growth and low inflation. No one we know was looking for a global pandemic leading to government leaders around the world pulling the "emergency brake" on virtually all economic activity, in turn producing the sharpest recession ever recorded.
Surprisingly, despite the dire economic statistics throughout the summer and early fall, markets rapidly found a bottom, staging a rebound that carried them to new highs by year-end. Solid markets and low interest rates prompted a feeding frenzy as a record dollar amount of IPOs were floated and M&A activity escalated. All this, even as the number of Covid-19 cases soared through year-end. Altogether, 2020 was a predictor's nightmare. On the other hand, for those with a diversified portfolio, well-defined investment objectives, an ability to rebalance actively, and a rock-solid stomach, the year provided many opportunities.
As 2021 starts, despite an aversion to prediction, we do think it makes sense to spend some time thinking about what might be the longer-term impacts of what 2020 has wrought. Below, we've outlined 1) what could go right; 2) what could go wrong; and 3) how an investor could adapt and craft a resilient plan. The lists are meant to be illustrative, not all-inclusive, and hopefully will spark some insights and soul-searching relative to your own situation.
WHAT COULD GO RIGHT
The Fed has communicated on numerous occasions that it intends to remain accommodative for an extended period. Further, it has stated unequivocally that it has many tools at its fingertips to fulfill this objective. The adage "Don't fight the Fed" seems to be ringing loud and clear on Wall Street.
Covid-19 vaccines could continue to roll out seamlessly with herd immunity taking hold around the globe.
Consumer confidence could continue to ramp up as businesses reopen, activities resume, and life creeps back toward a new normal.
The creative destruction caused by the pandemic could spread, spawning new and innovative business models as working, shopping, recreational, and living arrangements change.
Previously "comfy" middle managers shed from larger companies could start an innovation boom, much like that witnessed after the late-1980s LBO craze (setting the stage for the 1995–2000 stock market boom).
Thousands of workers could continue to take advantage of retraining offers to launch new careers in the 21st century's most promising fields.
Relocations to more rural and lower-cost locales could keep the housing business strong.
Travel and hospitality could resume, perhaps even enjoying a surge from pent-up demand as all those postponed marriages, graduations, and other life events are celebrated.
Businesses that pivoted business models, supply chains, and corporate structures could continue to prosper as the recession cleared the decks and accelerated many trends already in play (telemedicine, online shopping, WFH, online education).
A split Congress could stymie any efforts to raise corporate or individual taxes.
A new administration could initiate job-creating projects in such areas as infrastructure, green energy, battery technology, space travel, and medical technology.
The reshoring trend could continue to accelerate, benefiting many locales and small tangential businesses.
WHAT COULD GO WRONG
The incoming administration could move to raise corporate taxes and/or increase regulation.
The Fed could withdraw fiscal support too early—or too late, allowing inflation to creep into the system and take hold.
There could be glitches in vaccine rollouts, or in sustaining immunity even after inoculation.
The inequities exposed throughout the system, from access to technology, capital, resources, jobs, etc., keeping businesses on their toes in learning how best to adapt and respond.
WHAT TO DO ABOUT IT
Have clearly defined investment objectives that include ranges for broad asset classes.
Consider making "cash and equivalents" one of your asset classes, even though yields on it are essentially nonexistent.
Maintain a diversified portfolio.
Rebalance regularly. Many firms will put this on autopilot for you, or set calendar reminders. Revisit between scheduled dates if markets move sharply up or down.
Invest globally. Demographics, trade flows, lower valuations, and expanding markets all augur well for global economic and market activity.
Read broadly for perspective, but turn off the daily market feeds.
Resist the urge to check balances multiple times a day, or week, or even month, especially when markets are volatile. Such checks can lead to undue worry and an inclination to "Do something! Anything!" when markets move sharply. Numerous studies point to lower returns for the most active traders.
In a similar vein, be wary of online trading apps that "gamify" trading. There is a difference between trading and investing. Be a long-term investor!
Carol M. Schleif, CFA, is a senior investment, communications, and business strategy executive. Previously, she was deputy chief investment officer at Abbot Downing, which provides products and services through Wells Fargo Bank. She welcomes your questions and comments at carolschleif20@gmail.com.
Published: May 22nd, 2021
Share this Feature
Recommended Reading:
Comments:
comments powered by

Disqus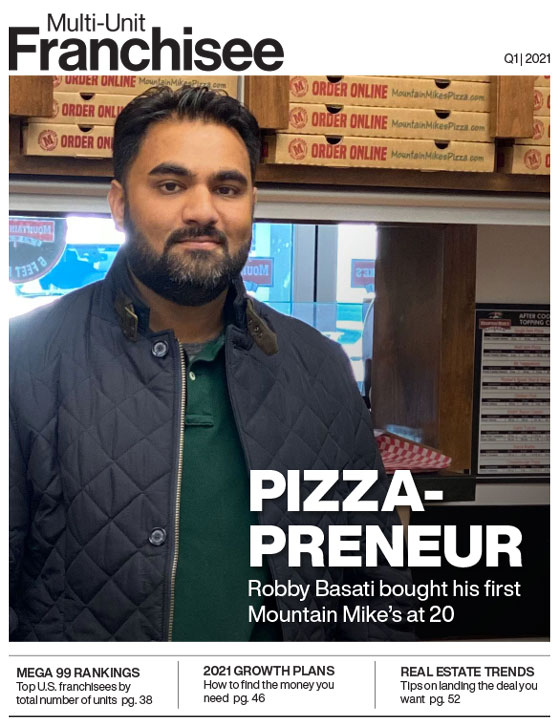 Multi-Unit Franchisee Magazine: Issue 1, 2021
If you are looking for a business that is meaningful and fulfilling, you should take a closer look at Bruster's® Real Ice Cream Franchise!
Cash Required:
$125,000
Established in 2011, Wing It On! is the only authentic, Buffalo-inspired chicken wing experience in the fast-casual wing game. We know the details...
Cash Required:
$150,000