Custom-er Driven: Your Brand is Built By What's Being Said Online
Today's customers are omnipotent. It really is the consumer--customer or guest, however you name them--who owns your brand. They make the rules now. Then they sit in judgment and deliver the verdict to their friends and family, often with their opinions amplified on Facebook, Twitter, YouTube, and Yelp!
The actual experiences customers have every day in your franchise and company-owned locations create your brand as much as anything you do from the marketing department at headquarters. Sure, you can craft communications that attract customers and reflect the brand you aspire to be. But the voice of the customer is authentic. It's real. People ultimately believe what they experience--and they believe what their friends say about your brand.
When the franchisor marketing team succeeds in bringing customers to your brand, who are then disenchanted with a mediocre experience, nobody wins. The danger of creating brand detractors can hardly be overstated.
On the other hand, likelihood to recommend, which drives same-store sales growth, is determined by a positive customer experience. The data from SMG's Benchmark Database of 70 million customer experience metrics for multi-unit retail and restaurant firms confirms that as intent to recommend increases, same-store sales increase. This clear relationship to same-store sales growth is why the customer experience is inextricably linked to both marketing and operations.
Dunkin' Donuts is a great example of a brand that gets this. At the 2011 Service Management Forum, Dunkin's CMO and marketing champion John Costello made the comment, "Improving the customer experience has been an important part of my career and it's an important part of what we're doing at Dunkin' today." (Full disclosure: My company, SMG, hosts the Service Management Forum for multi-unit executives.)
In searching for the keys to customer satisfaction and loyalty, Costello says a winning strategy is to focus on your most loyal fans. In particular, find ways to engage with your most passionate customers.
I spoke with Mitch Cohen, a multi-unit Dunkin' franchisee, about how deeply customers identify with the brand. Someone backed a car into one of his New York locations, causing serious damage. While Mitch calmly cleaned up the mess, a regular customer went on a rant: "It ticks me off that someone would back their car into MY Dunkin' Donuts!" (The actual language was slightly more colorful.)
Dunkin' leverages extreme customer affinity for the brand by inviting their fans to upload a picture of themselves enjoying their favorite Dunkin' food or beverage. The incentive? A chance to be recognized on Facebook as Dunkin's Fan of the Week. More than 3 million fans share their love for Dunkin' on Facebook.
Dunkin's results square with SMG research that proves customers who are highly satisfied with their experience are the most likely to recommend. "In fact, they are three times more likely to recommend than other customers." This comes from Shelly Blair, the operations services manager at Qdoba Mexican Grill, which has grown from 19 restaurants in 1998 to more than 500 locations today. By consistently delivering a rewarding customer experience, Qdoba has earned a high percentage of loyal customers, which accounts for its sustained profitable growth.
Qdoba CMO Karen Guido said, "It's easy to identify which of our customers are true brand advocates. We ask them on our customer survey, 'How likely are you to recommend Qdoba to a friend?' Only those who are 'highly likely to recommend' are truly loyal."
Qdoba discovered the right time to ask customers to recommend is at the very end of their survey. Those customers have just been answering questions about their most recent experience at Qdoba. So Qdoba makes it easy for customers who are "highly likely to recommend" to join their loyalty program, engage on their website, and recommend Qdoba to their friends--directly from the customer survey.
A number of franchise brands within the SMG Benchmark Database have been early to adopt this marketing process. To date, these brands have engaged more than 723,000 unique respondents directly from the final page of their customer surveys. The number is growing dramatically, and more than 100,000 loyal customers each month are recommending or engaging with their loyalty programs and websites. (If you'd like to read the research on how others have successfully implemented this approach, please email me or go directly to www.smg.com to request the white paper, "Connecting with Customers Beyond the Survey.")
As much as the world has changed and gotten more sophisticated technologically, in other ways it is getting simpler and strategies are getting back to the basics. Deliver on your brand promises and your customers will build your brand. You just have to make it easy for them to do that.
Jack Mackey is vice president of Service Management Group (SMG), a leading customer experience analytics agency that improves performance for franchise and multi-unit firms. You can reach him at jmackey@smg.com.
Published: June 20th, 2011
Share this Feature
Recommended Reading:
Comments:
comments powered by

Disqus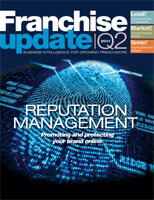 Franchise Update Magazine: Issue 2, 2011
Conferences
InterContinental, Atlanta
OCT 18-20TH, 2023
Oct. 18-20, Atlanta, GA. An exclusive event for franchisor CEOs, Presidents, COOs, CDOs and Franchise Development Executives.
Clayton Kendall provides franchise communities nationwide with comprehensive branded merchandise programs leading to greater brand exposure,...