Damage Control: Crisis Management Takes Planning, Managing, And Communicating
"What seems to have changed is a couple of yahoos in a pizza joint sticking cheese up their nose can threaten a global brand."
That comment, attributed to a Nightline reporter in 2009, neatly summarizes a growing problem facing franchise brands in 2012: how to manage their brand's reputation--both online and off--in the 24/7 crucible of news, online reviews, and social media.
"He's right, that's exactly what can happen," says Rhonda Sanderson, president of Sanderson & Associates in Chicago. "From the top of the food chain to the bottom of the food chain, what control do you have hiring $9 an hour kids?"
No matter how good your training is, controlling the behavior of all your front-line staff all the time simply is not possible. And for most customers, their only exposure to and experience of your brand is your front-line staff. That's one big reason franchisors should have damage control policies in place--before a potentially disastrous event occurs that affects the reputation of their brand. And that's one of the reasons they hire PR firms.
"Our job," says Brad Fishman, CEO of Fishman Public Relations in Northbrook, Ill., "is to protect the franchisor and the franchisee--to protect the brand."
"The best crisis communication is being prepared," says Lorne Fisher, CEO and managing partner of Fish Consulting in Hollywood, Fla. As a former boss used to tell him, "Bad things happen to good companies. It's just a matter of when."
And when that "when" happens, having an up-to-date plan ready to go can make all the difference between being buffeted by events and the media, and taking control of the situation to protect your brand's reputation.
The world is moving too fast and there are too many people posting online in too many places to keep up. And with YouTube-ready cameras and video recorders everywhere, every minor incident has the potential to spiral out of control through the megaphone of social media... at which point events take on a life of their own. Not what you want to happen.
Crisis management and damage control can be divided into three basic parts: planning, management, and communication. First, have a plan (and a team) in place. Second, manage the situation (e.g., if it's contaminated food, remove it immediately and begin an investigation into its source). Third, communicate: internally to employees and franchisees; externally to the public, media, customers, and stakeholders.
Have a plan
"One of the things we express to our clients all the time is for them to have a crisis management plan in place," says Fisher. At a minimum, he says, the plan should include franchisor preparation and training, a communication protocol (who should be called first, who speaks for the company, etc.), and having a crisis management team in place at corporate to be sure every aspect of the plan is implemented, updated, and ready for action.
What he doesn't want a client to think, he says, is "Call the PR guy and he'll spin it." Instead, call the PR guy as part of the crisis management plan. And, depending on the situation, also call your lawyer.
"You want to have a plan in place so if you can't avert the disaster you can at least hit the ground running," says Adam Siegelheim, an attorney with Stark & Stark, a law firm based in Lawrenceville, N.J. "When everyone knows what to do, you can minimize the damage." The lawyer's job, he says, is to anticipate any kind of scenario and the level of risk involved.
So is PR's, says Fisher. "Look at the most likely crisis scenario and the most outlandish scenario and be prepared for anything," he says. "It's worth it. Have the plan ready."
Fisher also recommends establishing different levels for crises, and having a plan for each. For example, level 1 might be a cash shortage at a register, and level 4 a murder at a franchisee's site. "You should have a protocol for each level, including who is involved," he says. And any protocol or manual should have a section on how to deal with the media during a crisis--from a phone call to a walk-in with a camera--and what to say and what not to.
After all that is in place, he says, the next stage is to have a training with every person along that chain. That training can take place through the usual channels: field support staff, conventions, POS systems, online, etc.--but it has to happen, and it has to cover every employee potentially on the firing line if a crisis occurs. "Training is key here. None of this works if no one's been trained," says Fisher.
Managing the situation
Although managing public perception to protect your brand's reputation is a critical part of damage control, dealing with the actual situation could save lives, or at least lawsuits and lost sales. PR also plays a role here. In addition to creating a plan and protocol for his franchise clients, Fisher helps by addressing specific scenarios of potential PR disasters.
For example, a food-borne illness is linked to one of the brand's restaurants. It's crucial not only to have policies in place for communication, but also to have processes in place to account for anything and everything that occurred. "You have to do your detailed research to find out what really happened," says Fishman.
If a potential crisis occurs late at night or halfway across the world, should you get top executives out of bed? "If something happened, in most cases the answer is yes, the CEO gets woken at 3 a.m.," says Siegelheim. "What we're trying to do is contain the incident and whatever ripple effects may result."
This late-night scenario is more likely today than in the past, with restaurants open into the wee hours and around the clock, as well as the increased time zone differences as brands go nationwide and global. Beijing, for example, is 12 hours different from Boston, Louisville, or Florida. And with the Internet, anybody can post anything anytime they want. That's why, says Siegelheim, if a crisis situation arises, "It should be very clear how to reach everybody."
Communicating your message
"There could be potential legal consequences as well, so you want to control your communications," says Siegelheim. "From top to bottom, everyone should be aware who's going to speak." And above all, don't panic.
Before responding publicly, take a deep breath and assemble your team. "You have to look at the situation and analyze it," says Siegelheim. Is it isolated to one franchisee? Could it affect the entire system? If a customer claims to have to have gotten sick from food in one of your restaurants, is it the only complaint over some time? If so, he suggests, "You say it's an isolated incident at an independently owned and operated restaurant, and customers should have no concerns over the entire system."
"You have to be prepared for any crisis," says Fishman. That includes having a central person responsible for coordinating any public response. "We've had to deal with situations where there were robberies," he said, even murders. When a situation arises, the first phone call should be from the franchisee to corporate. Then, says Fishman, "Call in the experts who can help you. We craft these messages all the time." Legal, he says, "should definitely be involved."
Training and follow-through
After formulating a plan, establishing a protocol, and training the top-level responders, the challenge for the franchisor is communicating that throughout the organization intact. By the time all this trickles down to the front-line employees, much can be lost.
"We have a simple plan, because no one has time to pull out a manual when the press walks in the door," says Sanderson. That's why her 10-step guide is posted where every employee can see it. If a phone call comes in from a reporter, or a news crew from a local television station shows up unannounced, the plan is readily available to review before anyone speaks on the record.
The plan, says Sanderson, is intentionally short and simple, resulting in easier, more effective training and retention. Rule 4, for example says: "Never give an answer of 'no comment' or 'we can't answer that.'" Although that is far less risky than speaking off the cuff, "No comment" implies the employee is hiding something, ignorant, or both, she says. "Employees at the counter are not sophisticated and don't know what to say or do."
Even with a simplified 10-step program, there are several places people can drop the ball, especially when surprised by an irate customer or persistent reporter. For example, in a "crisis averted" story Sanderson tells, a young employee at a pizza franchise got a phone call from a mother saying that her 18-month-old had just bitten into a piece of pizza and found the tip of a razor blade. "Oh thanks, we've been wondering what happened to that," said the employee.
The point? The employee admitted liability immediately. Whether he was serious or just joking; whether an 18-month-old should be eating pizza; whether the story was true or a scam doesn't matter in the court of public opinion, where a denial or "No comment" often is perceived as an admission of guilt. That never should have happened, all three PR professionals agree.
And while franchisors should have a plan in place, says Fishman, "You can't always have a plan that matches the situation." Nevertheless, franchisors must be prepared to respond when something does occur. "Don't hide behind 'No comment, no comment,'" he says. "Urge corporate to come out with a statement."
"If you don't know what the cause is, say so, and that you're addressing it," says Fisher.
"Do mistakes happen? Are you going to have problems?" asks Sanderson. "Yes, but you have to have procedures in place, such as, "Hold on, I'll get the manager. I'm sorry." And the manager has to be trained as well. "I would reserve all commentary for managers. It has to be part of their training, whether from a PR firm or an in-house department," she says.
"You can have the greatest plan on paper, but it has to get down to the store level," says Sanderson. "Make damage or crisis control one of your top five training priorities."
"Social" changes everything
Since the Internet is (virtually) forever, one of the biggest differences in what franchisors and their PR and damage control teams must deal with is the sheer persistence of what appears online, as well as the volume.
"This is the first time that companies can engage with their own customers without having them come into their location. That's the good news. The bad news is the same sentence," says Sanderson. "Any customer, any time, can comment whenever they like on your product, service, or the behavior of your employees."
Pre-Internet, no matter how bad a situation might become, it would blow over eventually, displaced by newer events and the public's short attention span. However, once something is posted online, it doesn't completely disappear, even after it is "taken down." Corrections and retractions are a positive step, but that doesn't mean they will appear on the first search page, while negative news and comments (true or not), remain.
"In most cases these events kind of disappear themselves, but what's online doesn't," says Fishman. This creates a raft of new problems. "The biggest one we're worried about right now is SEO rankings, because those things don't go away." One of the biggest questions he gets from clients comes after they do a Google search on their brand and past problems or negative postings appear on the first search page is: "How do we make it go away?"
"Reputation management" companies claim they can help by having negative postings removed, and SEO companies can work to insert positive postings to push negative postings off the first search page. Fishman says he's skeptical of the efficacy of some of the claims made by these companies, but defers to their technical expertise.
"Everyday crises we can handle," says Fishman. "The biggest issue we're going to run into is online. People used to forget. Now it's possible to find everything they want--good, bad, or indifferent." Most people, he says, never get past the first page. The goal is to push those negative comments off the first search page.
If one of your restaurants is slammed on Yelp, says Fishman, talk to your customer base, urging them to go online and make comments too. Don't tell them what to say, but do urge them to write. Enough positive comments will, in theory, push the negative ones onto page 2 and beyond. The same idea holds for comments posted on Twitter and Facebook.
"Review sites are fueling more and more comments and opinions from consumers, which roll up into search engines," agrees Fisher. "Focus on what's being said and how you can participate in the conversation, not only pushing out positive news, but responding to negative comments. You have to manage your online reputation every day."
Social media policy
There's also a danger of social media abuse from within the four walls to consider, as seen in the growing list of "pranks" and other misbehavior by employees, even by well-intentioned franchisees. In addition to training for external and customer relations when bad things happen to good companies, creating a social media policy--and monitoring and enforcing it--can go a long way toward preventing the kinds of situations that require damage control.
"Social media can come at you from customers, competitors, and your own employees," says Siegelheim. "You want to have a very well-structured social media policy that is communicated to all your franchisees and their employees."
There's a tendency for people to relax in the informality of social media, he says. Yet the impact of something posted on Facebook, YouTube, Twitter, or Pinterest can have a very formal effect in both the court of public opinion and the court of law. "The franchisor has to step in and have a very well-defined social media policy for employees to follow," he says.
Consider the source
The credibility of the poster or blogger is another factor to consider. If you have one negative commenter and dozens praising you, people will take the single bad one with a grain of virtual salt.
As Will Rogers said almost 100 years ago, "All I know is what I read in the papers." For today's potential customers--and franchisees--all they know is what they read online. Thus, paying attention to what happens online is mandatory for franchisors... within reason.
"Most people have come to the conclusion that you can't keep track of everything," says Fishman. "But if you get a lot of comments on the same thing, you want to let people know you're doing something about that."
"You do not have to answer every single sentence written about you," says Sanderson. "However, if there is a complaint online that you feel is unjustified, it behooves you to respond in very quick order before more comments are made."
"You don't have to respond to everything, but you should monitor everything," says Fisher. "If someone has a legitimate issue (and legitimacy is subjective), it probably deserves a response." However, he cautions, "If someone's response is so heated, or a rant, you could cause more problems by addressing it than by leaving it alone."
Some franchisors have taken to using text analysis programs to sift through online comments for keywords they consider important to their brand and reputation. These programs can search online for those keywords, sort them, and provide alerts to franchisors whenever specific words are found.
If you do feel the need to respond, how soon is soon enough? Response time will vary with the level of the crisis, says Fisher. "Immediate is important, but if the situation is something that you truly need some time to assess, you might take several hours." However, he says, it's important to respond the same work day. In the interim, there is an opportunity for an immediate response stating that the company is looking into the details and will have a response by day's end. "You can respond right away, but you have to be intelligent and responsible, and not be too quick to admit fault."
How to respond? In PR terms, says Fisher, it's all about the "three Rs": respond, repair, and reward. For example, a standard response to a customer complaint or criticism might be to apologize and suggest they respond offline, at which point you try to repair the situation better. The reward could be the transformation of a negative situation and the creation of a newfound brand advocate.
Published: June 11th, 2012
Share this Feature
Recommended Reading:
Comments:
comments powered by

Disqus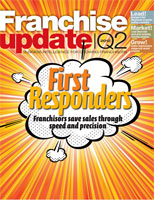 Franchise Update Magazine: Issue 2, 2012
Conferences
InterContinental, Atlanta
OCT 18-20TH, 2023
Clayton Kendall provides franchise communities nationwide with comprehensive branded merchandise programs leading to greater brand exposure,...
The business messaging platform that lets you text from your office phone number directly on your computer, so you can actually get a response.