Dashboarding through the Data...
Benchmarking to improve franchisee and system performance
When the economy turns downward it's harder for most franchisors and franchisees to increase revenues. The cost to achieve an incremental dollar of revenue is higher in a down economy, which means that less of each new dollar reaches the bottom line.

Not surprisingly in this environment, companies turn to the expense side of their income statement, where every dollar of expense reduction falls almost fully to the bottom line. It's a simple business strategy: if you can't increase revenues, reduce expenses.

Managing expenses most effectively requires good information. Today, many businesses are consolidating enterprise-wide information from a variety of sources into information "dashboards" that provide them with operational and competitive views they can use for making decisions.

A few franchise systems have mandated financial and operational reporting from their franchisees. Gathering this data allow franchisors and franchisees to learn and communicate what is happening at the unit level and compile information they can use to define and implement best practices that improve performance system-wide. What an advantage that represents, especially in this economic cycle!
Benchmarking yourself
Within a system, one franchisee's operations can be compared with another's. But how does a franchisor benchmark its own performance and learn best practices?
Although franchising cuts across 230 sectors with very different industry dynamics, all franchisors have common functions by virtue of their shared business model. Some of these functions are unique to franchising, such as franchise development and compliance.

Developing key performance metrics and managing toward specific outcomes has yet to be refined at the franchisor level. Today's smart franchisors are asking questions such as: How do I measure and improve operational performance for each functional area? Specifically, how do I create metrics for functional areas such as development, training, support, and compliance that relate to franchisee and unit performance? What is the cost/benefit of my support programs? For instance, it's easy to determine the cost of adding or subtracting a person from my field or compliance operations, but what are the likely implications to franchisee performance over time? Will we encounter better or worse outcomes in other areas by doing this?

To help answer some of these pressing questions, we are currently in the second year of a study of franchising compensation practices. While the initial focus was on positions unique to franchising, it has been expanded by user request to include C-suite positions and corporate administrative departments such as IT and HR. But in the quest for best practices, gathering compensation and organizational staffing information is just the tip of the iceberg. By looking at compensation in the context of functional department budgets and system unit outcomes, we are beginning to develop operational metrics for staff and departments. And that is just with compensation.

Franchisors are faced with a challenge and a dilemma. In tough economic times the support needs of their franchisees rise--at the same time corporate is working to reduce expenses to compensate for pressure on revenues. Most franchisors I've spoken with say they want to do the smart thing, i.e., operate within a best practices range.

In reality, however, it is difficult to do this, partly because of information-gathering issues related to data definition, confidentiality, and interpretation. To achieve the desired best practices goals, many organizations with similar attributes must contribute to a database of information across departments, across units, and even across franchise peer groups. For many franchise systems, this presents significant cultural and practical hurdles.

So will every franchise create its own information dashboard? I think the answer to that question lies in the perceived value such an effort can produce. If that perceived value is high enough, brands will step up. More than 100 brands have figured out how to share compensation data.

I think we can figure out how to gather and process data from other types of financial and operational practices and use it for benchmarking, both for franchisees and for the corporate offices. Those franchises that do begin wisely sharing, gathering, and using this potential treasure trove of information will reap huge benefits in any economy.

Darrell Johnson is president and CEO of FRANdata, an independent research company supplying information and analysis for the franchising sector since 1989. He can be reached at 703-740-4700 or djohnson@frandata.com.
Published: November 16th, 2009
Share this Feature
Recommended Reading:
Comments:
comments powered by

Disqus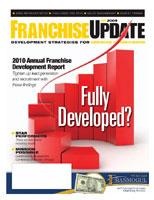 Franchise Update Magazine: Issue 4, 2009
Conferences
InterContinental, Atlanta
OCT 18-20TH, 2023
Clayton Kendall provides franchise communities nationwide with comprehensive branded merchandise programs leading to greater brand exposure,...
The business messaging platform that lets you text from your office phone number directly on your computer, so you can actually get a response.