Digital Tools Can Help You Speak in Tongues
Talk it out
The human voice has remained notoriously difficult to capture and convert accurately into text using computers. However, superb programs exist today that, in their ninth and tenth iterations, are finally pretty accurate at transcribing your dictation�"once they have been properly trained.

Dragon NaturallySpeaking is one of those. It's now usable with Bluetooth and handheld devices that can put your dictated content directly into a document, or even let you operate your computer by voice.

What it and others like it cannot do is record two sides of a conversation.

Training the software in a single voice is essential for reasonable accuracy. And it doesn't bounce around from one application to another very easily. You wouldn't want to try complex dictation while driving.

One company has taken a giant step backward to solve the problem. "EVA" (Electronic Virtual Assistant) allows you to call in and dictate material that is then transcribed by a human being on the other end. You call an 800 number, and whatever you say is recorded and put into a file that can be played back.

Useful? Certainly. Field staff can use it to enter figures for an expense account, update a To Do list, or send emails while they're driving. It could save some time, and even be used to remedy the problem we all have of forgetting something that we meant to put on a list. And it is, the company insists, available 24/7.

EVA uses a technology that captures information in a wave file (or over voice mail), which is then sent to each account's individual personal assistant (the client gets assigned an assistant so it is always the same person for that client). The assistant types in the information and does the work for the customer who just called in. EVA is from Virtual Management, Inc., headquartered in St. George, Utah.

Check them out at www.evaforhire.com.

And for those international trips
It may be true that English remains the international business language (for now), but it still would be nice to have your own personal translator for those trips to explore expansion into a franchise territory in, say, China or India. Few Americans are likely to be able to master Mandarin or Hindi for the same trip.

There are quite a few electronic "translators" out there, all of them limited in some way or another. One of the better ones is the Lingo Voyager II Talking Translator. This device is a little like the kitchen sink (we hesitate to call it a Swiss Army knife). It has 240,000 words and 27,000 useful phrases that translate into English, German, French, Spanish, Italian, Greek, Russian, Chinese, Japanese, Korean, Arabic, and Hebrew, as well as a currency converter, metric converter, phonebook, address book, alarm, world time in more than 200 cities, and probably much more you'll have neither time nor need to ever learn to use.

The translator runs about $200 on the online electronics sites (or, if you want the cachet, Nieman Marcus).

And for presentations
For making presentations in another language using your own voice, try Voxonic, which uses a combination of people and electronics to achieve their results. Voxonic uses a 10-minute sample of your voice to replicate it in any language. It does this by breaking the sample into "phonemes," which make up the sounds of spoken words. They then bring in an actor, who records a speech mimicking your vocal patterns. The Voxonic system matches up the two, and puts your voice over the actor's words. The company claims a 99 percent level of accuracy in reproducing the original speaker's voice.

Check it out at www.voxonic.com.

Keeping in touch with your customers
It's a ticklish area, but a lot of businesses and nonprofits are having good luck with voice messaging�"a recorded phone message that goes to a customer base promoting ticket sales, specials, events, etc.

Jerry Leath is a Great Frame Up franchisee in Douglasville, Ga., just outside Atlanta. He used a service called Vontoo to send a message to about 90 customers, informing them they had store credits that were about to expire.

"I was very reluctant to place the call," says Leath, "because I had been fully aware of the do not call list, and I thought I could alienate my good customers by placing a one-minute phone call." It is certainly one of the dangers that would most worry a business person using the service.

After some thought, he says, "I decided just to do it. I monitored it as the messages went out. We didn't have problems and got no negative feedback." In fact, Leath says, some of the customers thanked him for reminding them that they had credits, and "that we thought enough of them to call them and let them know they had dollars on the table that could be used."

Best of all, he ended up with some new business simply because one customer was reminded that she needed some work done. "I've used it since that time," he says "It's helping us build our relationship with customers."

Vontoo calls its system "opt-in" and requires its users to have opt-in capability on their web sites or have an established business relationship with the call recipients. When the system runs a call, it checks every phone number against the National Do Not Call Registry. So you're unlikely to be breaking any laws.

Check it out at www.vontoo.com.
Published: February 6th, 2007
Share this Feature
Recommended Reading:
Comments:
comments powered by

Disqus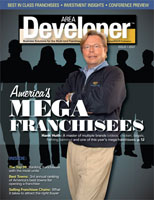 Multi-Unit Franchisee Magazine: Issue 1, 2007
At Twin Peaks, expect to enjoy scratch-made food, sports on TVs from every angle, frosty 29° beers, and the fun and friendly Twin Peaks Girls....
Cash Required:
$2,000,000
Freshslice Pizza has been carving out a name for itself with 0% Royalty Fees and 0% Advertising Fees. This and a low investment cost helps Make...
Cash Required:
$60,000