Dominating the Field: These Six Multi-Unit Operators take charge!
What do two attorneys, a former Applebee's CEO, and a retired NFL quarterback have in common? They're four of the six multi-unit franchisees we've profiled in this issue. A fifth operates 177 Wendy's in 8 states, and the other left corporate finance and became Penn Station East Coast Subs' first Franchisee of the Year. Surely a stellar bunch for our annual Dominators issue!
We come across many of multi-unit operators but "Dominators," as we like to call them, are a unique breed, fun to interview, and exciting to write about. Some control their markets by having a large number of units, some by operating the only units of a brand, and many are the top-performing operators in their region. No matter how they do it, they dominate where they operate.
Once a year we devote an issue to these hard-working, inspiring franchisees. As usual, they're an interesting mix, but the results are similar: a combination of grit, determination, and perseverance has led each to success and domination with their chosen brands and markets. Their stories and the paths they've followed are insightful and revealing. Here come this year's "Dominators"!
Rob Chinsky is 49 years old, but has been in franchising since age 23. That's when a family friend financed his first Penn Station East Coast Subs restaurant. He now has 17 Penn Stations open. Next year, he'll open his 18th, the maximum the brand allows. In 2002, he became the brand's first Franchisee of the Year and has served 10 years as president of the Franchise Advisory Committee.
Dave Goebel has worn many hats: franchisor, franchisee, creator of several original concepts, board director, executive coach, philanthropist, husband, and father. Today the former Applebee's CEO is a Pie Five Pizza franchisee who, with three of his children, operates 10 stores, with 2 more set to open in Q4. He also operates 5 Goodcents Deli Fresh Subs, 6 Y-Leave Cafes, and owns Prime Catered Events.
Mara Fortin has the distinction of being Nothing Bundt Cake's first franchisee. The former attorney and mother of two pre-teen girls has expanded to 7 Nothing Bundt Cake bakeries in San Diego County. She's a strong pro-franchise advocate who has testified before Congress and received the IFA's FAN of the Year award in 2015. Someday, she says, she might run for Congress or another elected office. Stay tuned!
Robert Schermer, Jr. left a career in corporate finance 18 years ago to join Meritage Hospitality Group. When he arrived, sales were $27 million (today they're $228 million), and the company operated 22 Wendy's restaurants in Michigan (today it's 177 in 8 states)--and the publicly traded company is looking to reach 300 by 2021. Not enough? He also operates four original casual dining concepts in Michigan (6 units total).
Robert Branca is a great example of a dominating franchisee. His organization operates 85 Dunkin' Donuts and his extended family operates more than 1,200 Dunkin' locations, primarily in the Northeast. He also has a construction company, a manufacturing plant, and is an investor in NRD Partners, a fund that invests in emerging brands. An attorney, he's become a strong advocate for franchising and in September was named a 2016 Franchisee of the Year by the IFA.
This issue's Athlete Profile features David Garrard, a former NFL quarterback who spent 9 seasons with the Jacksonville Jaguars, including a victory in the 2007 NFL Wild Card Playoffs. Unlike many pro athletes, he knew there would be life after football and worked closely with his financial adviser to prepare for that day. Today he is a Retro Fitness franchisee with two Florida gyms open and a third on the way. He's an inspiring example of a star athlete who made the successful transition to the franchise world.
Once again we've teamed up with FRANdata to bring you the 2016 listing of the DMAs with the most franchised units, and the dominant franchisee organizations in each state and region.
Take note, the Dominators are back!
Published: November 3rd, 2016
Share this Feature
Recommended Reading:
Comments:
comments powered by

Disqus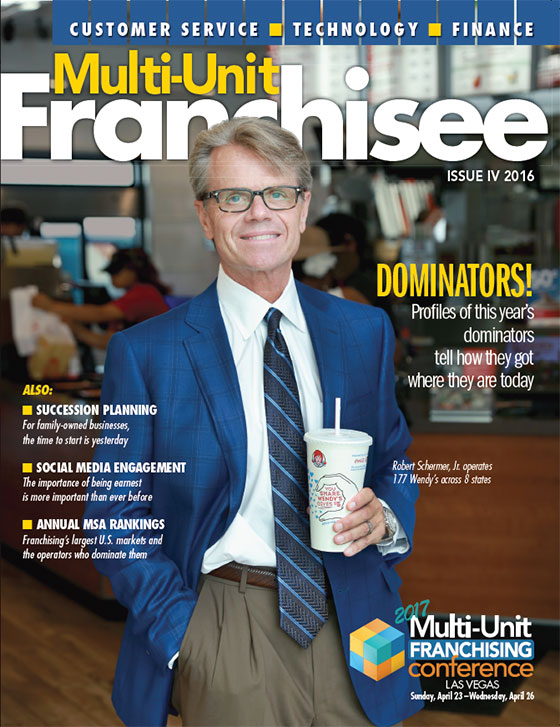 Multi-Unit Franchisee Magazine: Issue 4, 2016
With 5 locations currently open and several in the development pipeline, Bobby's Burgers by Bobby Flay has launched its full-scale U.S. and...
Cash Required:
$500,000
Join one of the fastest-growing fast-casual restaurants with excellent financial potential, multiple business models to choose from, and an all-start...
Cash Required:
$100,000