Drilling for Success: Improve Your Sales Through Benchmarking
Last issue we discussed how to benchmark your marketing and lead generation process. This time let's explore key metrics for monitoring your sales process.

First, let's review six core steps of the recruiting process: 1) prequalification, 2) program review, 3) franchise disclosure document review, 4) franchisee validation, 5) discovery day, and 6) sale. (For a detailed discussion of each step, see "Anatomy of a Franchise Sale" at www.franchise-update.com/articles/139.)

Benchmarking involves tracking the metrics--the measurement between each stage of the sales process as you move your candidates through the sales funnel. How many prospects move from your program review to FDD review? How many go on to validation? And most important, how many complete the sale?

Conversely, where do prospects tend to drop out? Identifying those stages is the first step to improving your sales process. When analyzing the performance of your sales team, zero in on the performance of each individual at each stage. Here's an example.

"Joe, it's really terrific the number of leads you prequalify from the apps you get. But your numbers fall off from there: your ratio of apps to the numbers that come to discovery day is 20 to 30 percent lower than Bill's. He doesn't get as many apps--you generate a lot more--but he converts his to a lot more discovery day visits than you do."

Look at the numbers, the metrics, and ask where the breaks are in your funnel.
If you assess each stage for every person on your sales team, you can determine their strengths and weaknesses. By knowing the metrics and conversion rates within your sales process, you can take corrective action to build a high-performance sales team.

What are the key performance indicators (KPI) for success in your sales program? And how do you set this up?

In most instances, the expectation for your franchise sales staff is that they can go from the initial steps (establishing qualifications, rapport, credibility, and trust) and move the candidate through the process and close the deal. So as a sales executive or manager analyzing benchmarks, you can see any gaps in their performance and identify areas of weakness.

Sometimes it's getting the person to discovery day, sometimes it's getting the apps, and sometimes there's a problem at the validation stage. When there's a problem, it's something about the way the sales rep is preparing the candidate, or the expectations haven't been set properly. So it's all those things--preparation, expectations, and qualification--from step to step. If there's a problem at any stage, there's a breakdown in one of those three components.

This systematic approach allows you to identify not only the weaknesses, but also the strengths of your sales team. It enables you to share the talents of your best performers at each stage with the rest of the sales staff.

If someone's hitting home runs at a certain point in the process, showcase them in your sales meeting. "Bill, it seems everybody you have an application with zooms through validation. Tell us how you do it."

Once you've established your metrics, the first action to take when you see any gaps in performance is to retrain the salesperson and then monitor their performance. Within 30 days you should see some improvement.

Second, have them tape their conversations at the step(s) they're weakest. This provides them with their own feedback and a chance for self-improvement. When they feel comfortable with what they're doing, they should have their manager or trainer listen to the tapes for constructive review.
Third, mystery shop them to check their perception against reality--what they say the challenges or problems are versus what the numbers are telling you. They may claim, "I'm not getting the good leads" or "You have me selling a section of the country where no one's buying."

If a struggling salesperson is not improving and continues to perform below their sales goals, then it's time to say "Goodbye." You've done everything you can to help them. If they can't adapt, then they're not right for your organization.

Naturally, all of this assumes your franchise has a successful sales process--meaning you, or other sales reps, are meeting the benchmarks you've established. So if there's a problem, you know it's with the individual. You know the process works and the concept is solid because you and others are making their goals.

When you have a good concept and recruitment process, performance metrics provide valuable intelligence to help you target and fix selling problems on your own. If it's questionable that the process or concept may be the problem, then it's time to bring in a franchise development consultant to help solve the bigger issues at hand!
Published: June 16th, 2008
Share this Feature
Recommended Reading:
Comments:
comments powered by

Disqus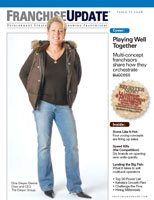 Franchise Update Magazine: Issue 2, 2008
Bring Order to Your Business. All-in-one management, print, and design solutions at your fingertips, on one platform
ServiceScore helps businesses get the results they want from phone calls.