Drive It Like You Stole It: Putting Yourself in Your Candidate's Shoes
I live in Detroit. I've been a car guy longer than a franchise guy. I go to lots of car events and see lots of event t-shirts. A few years back a new t-shirt arrived with the words, "Drive It Like You Stole It" across the back. I love that shirt. I am sure it means lots of different things to different people, but the primary message for me is: Run it hard, have no fear, see what breaks. It's a consumer attitude focused on performance, durability, engineering, and manufacturing expertise.
I find applications of this attitude in my franchise job as well. While not as snappy, my day job slogan is, "Read It Like You Bought It." Its primary message is: Run it hard, have no fear, find what is broken. You know from experience that if there is a weakness candidates will find it.
Every month I review comprehensive franchise development information packets submitted by franchisors. These include websites, blogs, brochures, program review presentations, FDDs, and other documents from large and small companies, as well as those new to franchising. After hundreds of reviews I continue to be amazed at what we present to franchise candidates. More important, I wonder how some of these presentations ever get produced. Management must "read it like you bought it"--because your candidates will. Here are a few examples.
Company A has 50 units in the service business. They explain the outstanding opportunity the market presents. Their model is easy to operate with a little sales experience. While it is labor-intensive they tell me employees are readily available. Their AUV is mid-range and climbing. The investment is modest and territory large. Would I like to buy one from Company A?
When I "read it like I bought it," I ask: If the model is labor-intensive, what is the cost of labor in the operating units? When I have "no fear," I ask: Why would you not disclose the only significant expense (labor) in your business model? To see "what breaks," I ask: What expertise, experience, and human resource programs does the franchise own that facilitate the ongoing recruitment and training necessary to the success of my business? What's broken here is that the franchisor failed to discuss its capabilities in the one discipline most important to the candidate.
Company B has been in the food service business for 15 years with more than 100 units. They have a great product, new store design, and are a fun and recognizable brand. They do business in a segment with large, publicly traded companies with national distribution. The investment is appropriate and the model competitive. Item 19 discloses only AUV, which is slightly below that of the publicly traded companies. Would I like to buy one or more from Company B?
When I read it like I bought it, I ask: While other brands have exploded, why do you have so few units? (There is an explanation but it is never presented). When I have no fear, I ask: Will the publicly traded brands not just beat my brains in? (No strategy or differentiation offered.) To see what breaks, I ask: At your published AUV, how do franchise owners build equity and wealth? The franchisor simply never read it like they bought it because they failed to disclose stores with volumes above $1 million that rival the publicly traded offerings, and their published AUV was pulled down by non-traditional sites that should have been excluded. What's broken is a poorly crafted Item 19 that strangles the franchise development marketing message and negates all credibility of the founder's intent to create a niche brand based on superior quality.
Company C is a service business with 12 company operations and half as many franchises entering a crowded but lucrative space. In business for 10 years with proven results, well-honed systems, and happy franchisees, they are seeking more units to achieve critical mass. Their franchise opportunity message is based on a competitive comparison itemizing investment, fees, territory, and discounts concluding they are the second least-expensive franchise in their segment. Let's just jump ahead to what's broken: Although they have great things to offer, the franchise message has reduced the brand to a commodity. The franchisor presents no specific marketing or operating knowledge the competitors do not possess. Company C's presentation offers no points of differentiation or added value, only price and a few more ZIP codes. When I read it like I bought it I am compelled to go with a more expensive franchise.
Unfortunately, the rather obvious examples above are more typical than you'd like to believe. To create a concise, complete, and effective sales process, we must be more critical, analytical, and insightful about our franchise offering. Take some time to review yours page by page. Eliminate the fluff and get to what matters to those making life-changing decisions. They are reading it like they bought it, and they are going to drive it like they stole it. The question becomes" Do you have a sales presentation that can keep up?
"Drive it like you stole it." I love that line.
Jim Bender is president and owner of Franchise System Builders. He has been in the franchise business for more than 35 years and has provided clients with sales outsourcing and concept packaging services since 2002. Contact him at jtbender@franchisesystembuilders.com or 248-647-1989.
Published: February 23rd, 2017
Share this Feature
Recommended Reading:
Comments:
comments powered by

Disqus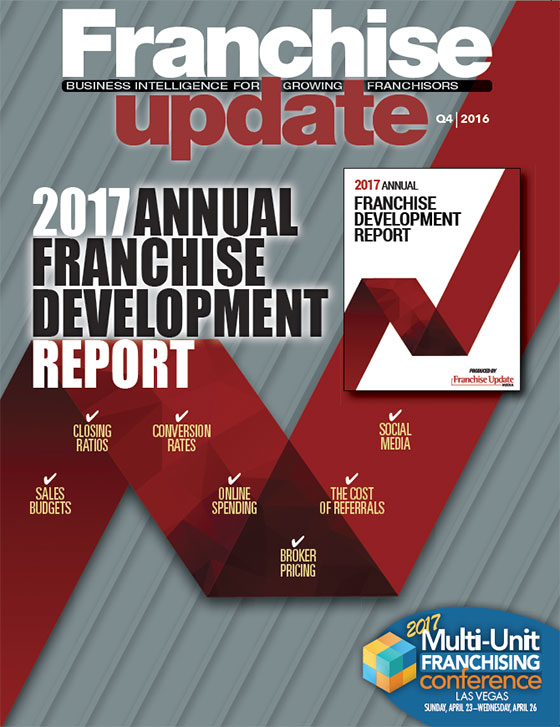 Franchise Update Magazine: Issue 4, 2016
Slick Marketers is reinventing franchise marketing with a hyper-customized and ultra-localized marketing approach with measurable results and growth...
From lead generation to increasing sales, Hot Dish Advertising is the pro at getting your message in front of those who matter most--consumers...