Driving Force: Ford's Garage revs up for growth
The Ford Motor Company has a rich history as one of the country's most important manufacturers. That history also translates to a pretty cool dining experience, as Ford's Garage has proven over the past 10 years at its growing number of restaurants across the U.S.
In 2012, the original Ford's Garage opened in Fort Myers, Florida, less than a mile from Henry Ford's former winter home. Since then, the company has expanded to include a total of 21 locations across five states (Florida, Indiana, Michigan, Ohio, and Texas). Here are some of the things that make our brand what it is today.
The unique power of Ford. When Ford's Garage opened, there was no affiliation with the automotive pioneer. The concept later caught the attention of the carmaker, resulting in a unique licensing agreement between the two companies. Today, Ford's Garage is the first and only restaurant concept allowed the rights to Ford's iconic blue oval logo, as well as other Ford brand assets and historical photos.
Unparalleled vibe. The Ford's Garage experience is unlike any other and attracts a very broad market. It's not pretentious. It has a great vibe and energy along with a great burger, craft beer, and comfort food selection. It is a very comfortable, inviting environment that's unique to the casual dining space.
Each restaurant is designed to look like a gas station from the 1920s and is filled to the brim with Ford memorabilia, including vintage vehicles, fixtures, and gas pumps, as well as a Model T or Model A car suspended above the center bar. Servers sport mechanic shirts. Blue shop cloths double as napkins. Even the bars inside our restaurants are decidedly vintage, mixing Prohibition-era elements like brick, richly colored woods, and hand-hammered copper bar tops. More unique features, too numerous to list here, make Ford's Garage a fun place to visit and take pictures. Every aspect is branded, and it's a lot of fun for everyone.
Nostalgic, handcrafted American fare. Our menu drives broad guest appeal with nostalgic, handcrafted American fare. Burgers are the main draw. Black Angus beef (and a vegetarian option) are coupled with all-natural aged cheeses, fresh toppings, and sauces on artisanal buns branded with the Ford's Garage logo. The restaurants also specialize in popular comfort food options like homemade meatloaf, chicken wings and tenders, onion rings, and macaroni and cheese. Lighter fare such as fresh salads, grilled chicken, and seafood options are also available. The bars highlight 100+ types of beer, including more than 30 drafts on tap, with an emphasis on local microbreweries. There is also an extensive liquor selection with creative specialty drinks, wine, cocktails, and nonalcoholic options.
Revving the engine on expansion. Growth is really accelerating with the largest unit development push in our company history. We're incredibly proud of how far we've come and are excited about where we're going. With our many Ford-inspired design cues and first-rate food and service, Ford's Garage promises to continue to inspire additional locations all across the country.
Our expectation is to open around 10 new restaurants in 2023 and then 10 to 15 stores per year beginning in 2024. We're drawing interest from our core group of franchisees, new franchise operators, and Ford dealerships that want a restaurant in their town. We also will be expanding with corporate and joint venture locations. Development deals have already been signed in Florida, New York, New Jersey, Texas, Ohio, Michigan, and Kentucky.
In terms of size, our restaurants range from 6,500 to about 9,000 s.f. The sweet spot is roughly 7,500 s.f., with 240 to 250 seats and about 1,500 s.f. of exterior patio space. Each restaurant has between 95 and 115 employees.
We look forward to welcoming new franchise development partners to the family and serving up even more of our burgers nationwide with a side of automotive history. Including a franchise fee of $70,000, the total investment to open a Ford's Garage restaurant ranges from $1,461,800 to $6,353,000.
Steve Shlemon is president of Ford's Garage.
Published: March 12th, 2023
Share this Feature
Recommended Reading:
Comments:
comments powered by

Disqus

Franchise Update Magazine: Issue 1, 2023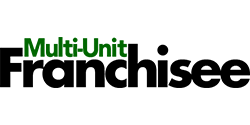 Published quarterly, Multi-Unit Franchisee Magazine is dedicated exclusively to Multi-Unit Franchisees. It delivers vital information and business...
April 25 - April 28, 2023, Caesars Forum, LV. The Multi-Unit Franchising Conference is the premier annual event for the country's leading...