First... and Still the Best: Don Smith Dominates the Oil Change Business
Don Smith is an eternal optimist. And for Smith, the first and largest Valvoline Instant Oil Change franchisee, this positive outlook has paid off. Smith is CEO and co-founder of Boston area-based Henley Enterprises, which operates 197 Valvoline Instant Oil Change locations coast-to-coast, with 20 more of the quick lube stores in the pipeline.
In 2012, he orchestrated the purchase and successful rebranding of 72 EZ Lube oil change service centers in Southern California, the largest single acquisition in industry history. The deal, which included many distressed properties and just as many naysayers (including within Valvoline) was a "big piece to bite off," says Smith.
"We went in a little bit blind, but we knew we could do it," he says. "It definitely confirmed that the model that Valvoline has put together--and we have influenced that model--can work virtually anywhere in the United States."
Smith began his career working with a different kind of oil. A prep school rower recruited by the University of Pennsylvania, Smith initially took his dual major of geology and environmental studies to the oilfields of Oklahoma. He spotted a business opportunity in the quick lube business (a concept he discovered no one back in Boston knew much about) and never looked back. In 1989, he opened the first franchised Valvoline location in Somerville, Mass., offering customers a stay-in-your-car solution to preventative maintenance.
Internally, Smith strives for a transparent culture that practices a policy of open accounting to motivate employees, who earn a percentage based on store revenue. Smith says he wants to make sure those profits are good profits. The industry veteran has built a culture of "doing the job right, not taking shortcuts, and treating customers like gold. You need those customers to come back," he says.
"We perform better than virtually every franchise in the Valvoline system," Smith adds. "We know we are absolutely killing the competition, and it is a great opportunity right now. We are going to take advantage of that by growing aggressively."
Name: Don Smith
Title: CEO
Company: Henley Enterprises
No. of units: 197; 20 more under development
Age: 57
Family: Married 30 years, father of two sons
Years in franchising: 25
Years in current position: 25
Personal
First job:
Using my degree in geology and environmental studies, my first job was in the oilfields of Oklahoma as a well site engineer for Schlumberger.
Formative influences/events:
My ability to work well with others stems from my years on rowing teams. The sport involves a lot of discipline and teamwork. It can be a very complicated and strategic sport. A well-balanced rowing team is a winning team, and I've used some of the same techniques to create winning teams at my Valvoline locations.
Key accomplishments:
I feel my biggest accomplishment has been developing a successful company from scratch. Henley Enterprises started with one Valvoline franchise. We are now the largest franchisee in the system.
Biggest/smartest mistake:
A mistake is more of a learning opportunity. Two years ago, if you had asked people in our industry, and maybe some within our organization, about our decision to purchase 70 quick lubes in Southern California and turn them into Valvoline franchises, they would have told you that we made a huge mistake. It was a very challenging time for Henley Enterprises. It was more involved than just changing out a few signs. Many of the properties were distressed and needed a complete overhaul. We had to rebuild those businesses from the ground up. We had to retrain employees. We had to win customers back. We purchased more than 500 round-trip plane tickets to send our people to help turn around these stores. The whole undertaking cost us a lot of money. With the support of Valvoline corporate we were able to turn things around in a year. So what at first might have looked to many to be a huge mistake turned out to be our smartest mistake.
Decision I wish I could do over:
Not fully investigating and calculating how moving into another franchise would affect our company.
Work week:
Monday through Friday, about 45 to 50 hours a week.
How do you spend a typical day?
I like to work out in the morning before work. I don't like scheduled sit-down meetings. My day is spent moving around and working on ways to expand my business. I will visit properties that have the potential to become my next Valvoline locations.
Favorite fun activities:
Being a former rower, I love water sports. I also like to go skiing in the winter. My wife and I recently bought a home in Southern California that we have been fixing up. Home restoration has become a favorite hobby of mine.
Exercise/workout:
I work out with a personal trainer a couple of times a week. We do a combination of aerobic, weight, and stretching routines. Running and biking also help keep me in shape.
Favorite tech toys:
iPhone. That's all, that's it.
What are you reading?
Thomas Jefferson: The Art of Power by Jon Meacham. It is a fascinating look into his life and reveals his many interests, from science to farming.
Do you have a favorite quote?
"If you're not growing, you're dying." (Anthony Robbins)
Best advice you ever got:
To listen to others before I speak. I remind myself to follow that advice on a daily basis.
What gets you out of bed in the morning?
Life in general. I look forward to every single day and what it can bring. I have a very positive outlook on the future.
What's your passion in business?
Growth. I am constantly looking for ways to expand Henley Enterprises and develop our people.
How do you balance life and work?
For me, life and work balance comes naturally. I am not a Type-A personality. I am more laid back. If you look at my success you might assume I'm a workaholic, but I'm not. I'm home from work every night at a decent hour. I don't travel a lot, but when I do, my wife will come with me now that she has retired from teaching.
Last vacation:
A combination of work and pleasure. I was in San Diego to check on my latest acquisitions. My wife and I purchased a house in the area. We spent some time getting settled in and getting the house fixed up. We spent a lot of time getting familiar with the Mission Bay area, which is just beautiful. I even did a little rowing with the San Diego Rowing Club.
Person I'd most like to have lunch with:
Thomas Jefferson. He is on my mind right now since I'm reading a book based on his life. I find his story fascinating and it would be exciting to be able to learn more straight from the source.
Management
Business philosophy:
To hire the best people, turn them loose, and watch them grow. The results will come back to you in spades.
Management method or style:
I'm not a micro-manager. I allow people to do their jobs and make mistakes. I trust my managers. Thanks to Valvoline, I also have a good system where people can learn, train, and advance. I give my team room to innovate and experiment. There are no real consequences for taking a chance and failing.
Greatest challenge:
Finding great people as I expand my business.
How do others describe you?
Approachable, positive, and slightly scattered.
One thing I'm looking to do better:
I'm not very good at seeing danger signs. I always see the best in everything and everyone. Sometimes that can be a limitation.
How close are you to operations?
I'm not as involved in operations as I used to be, now that I have almost 200 stores to oversee. When I started with just one, I used to do oil changes. Now I allow my management teams to handle operations.
What are the two most important things you rely on from your franchisor?
Support and to keep operations improving at all times. I look to them for new policies and procedures to move the business forward. They are a great partner.
What I need from vendors:
The most important thing a vendor can give me is good service. My biggest vendor is Valvoline, and I receive excellent service from them.
Have you changed your marketing strategy in response to the economy? How?
No, but it has changed based on the popularity of the Internet. Electronic media is becoming more dominant, so my team has changed the way we position the business online. We spend less of our marketing and advertising budget on TV, print, and radio and more on Internet marketing. We've seen an increase in business at our centers as a result.
How is social media affecting your business?
In addition to spending more money on Internet advertising, we realize the power of social media and its ability to give customers a voice. While we would like for all of our customers to lodge complaints in person and leave our stores happy, we realize that doesn't always happen. We monitor social media sites closely to respond to complaints quickly and solve customers' problems.
How do you hire and fire?
We promote from within. We've developed a sophisticated human resources department, which has changed the direction on how we hire people and how we evaluate them. When an employee is having a difficulty, we meet with them immediately to let them know their performance is slipping. We let them know what needs to be done to correct the situation. If that doesn't happen, we part ways. Basically, if someone loses their job, it shouldn't come as a surprise.
How do you train and retain?
Thanks to Valvoline, we have an extensive training program in place. Employees must achieve certain certifications at various times. For example, a new hire needs to be a certified service technician within 60 days of being hired. The system allows employees to see where they are at and what opportunities are available to them. They can move through the system at a rapid pace. An employee can advance from a service technician to a store manager much quicker at Valvoline than at other franchises.
How do you deal with problem employees?
We put problem employees on a program where they have to manage themselves through their difficulty. We meet with them to discuss the issues and let them know the steps they need to take to improve. Employees should always know where they stand. We are big on keeping records on everything, including employee performance. If an employee doesn't improve, they are managed out of the system.
Fastest way into my doghouse:
To not tell the truth. If someone is not being forthright and honest with me, I will lose my trust and faith in them.
Bottom Line
Annual revenue:
$170 million.
2014 goal:
$175 million.
Growth meter: How do you measure your growth?
In year-over-year sales and profits. We strive for 5 percent year-over-year profit growth. We want to grow the company revenue by 10 to 15 percent every year.
Vision meter: Where do you want to be in 5 years? 10 years?
In 5 years, we want to be at 300 to 350 stores. In 10 years the goal is to have more than 500. We want Henley Enterprises to be the dominant quick lube operator in the U.S.
How is the current economy affecting you, your employees, and your customers?
In a positive way. We are growing. We are profitable. Our customer base is growing. Things are definitely rebounding, and it's just going to get better in the next few years.
Are you experiencing economic growth in your market?
Yes. We are seeing growth in all our markets, especially Southern California and the Mid-Atlantic regions.
Another region seeing improvement is Florida, which was really bad during the economic downturn. There are also many more cars on the road between four and 12 years old. As the age of a car ticks up, people are less likely to go to a dealer for service. They come to us.
What did you change or do differently during the economic downturn that you are continuing to do?
We really didn't do anything different. The price of gas doesn't get discounted during hard times, why should the price of an oil change? Our costs remain the same during good times and bad.
How do you forecast for your business?
We begin doing plans and budgets in October for the year ahead. We look at previous year performance and decide on a target increase in oil changes and ticket. We look at total revenue on a store-by-store basis while taking into account how old the store is. We can forecast what the increase needs to be year over year based on these factors.
Is capital getting easier to access? Why/why not?
Yes. We are getting far enough away from the last banking crisis. Banks are finally loosening up and giving loans that are based less on how regulators will view them and more on the validity of the loan and quality of the asset.
Where do you find capital for expansion?
Mostly in traditional banking.
Have you used private equity, local banks, national banks, other institutions? Why/why not?
We stick with local and national banks. We've looked at private equity, but it doesn't make sense to our business. We prefer to maintain independence. Private equity is usually predicated on required growth, which is difficult to do in any business.
What are you doing to take care of your employees?
Responding to the new minimum wage requirements. We want to be proactive to attract quality employees. We also provide incentives to employees with open accounting. They can look at the books and see exactly how their store is performing. Each employee gets a percentage based on store revenue. We also have a stock plan for management-level employees and above. There also are tiered bonuses based on what each store makes and what Henley Enterprises makes as a whole. We also offer a 401(k) with a 5 percent match.
How are you handling rising employee costs (payroll, healthcare, etc.)?
Healthcare costs are one of our major concerns. We want to make sure all of our employees have the health coverage they need. We are complying with the Affordable Care Act. However, we are seeing major cost increases associated with the changes.
How do you reward/recognize top-performing employees?
In a variety of ways. We give out numerous awards. We also select about 35 employees to go with us to Valvoline's annual franchise meeting. We also allow the stores to shut down for a day and hold a summer party.
What kind of exit strategy do you have in place?
None. I'm taking it one day a time and I'm not planning to retire anytime soon.
Published: December 10th, 2014
Share this Feature
Recommended Reading:
Comments:
comments powered by

Disqus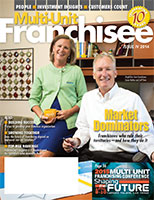 Multi-Unit Franchisee Magazine: Issue 4, 2014
Minuteman Press is the world's largest & number 1 rated printing & marketing franchise. Our business model features multiple revenue streams,...
Cash Required:
$30,000
$1M+ Avg. Revenue per Location. No medical experience necessary. Manage the manager franchise. Comprehensive training and support. Unique business...
Cash Required:
$75,000