Flame Broiler Makeover: At 23, the Healthy QSR Pioneer Does a Refresh
For more than 20 years, Flame Broiler has been known for serving simple, healthy, and delicious rice bowls at an affordable price. Recently, we chose to undergo a major rebranding, including a new logo, interior design, signage, and method of food preparation--all aimed at modernizing the franchise and improving the ordering process for customers.
Our menu features rice bowls that start at 140 calories. The bowls are made with non-GMO white or brown rice, Angus beef, all-natural chicken or organic charbroiled tofu, and freshly blanched vegetables, topped with chopped green onions and our proprietary hot sauces. We use no dairy, trans fat, skin, fryers, or high-fructose corn syrup.
This transition, the first interior change since the brand's inception in 1995, will reinforce our focus on a simple, healthy restaurant concept with a cleaner look and feel. Most apparent is a vibrant and simplified new logo, along with dropping "The" from the original name. Refurbished interiors are also part of the rollout, and will feature an open floor plan showcasing an open-concept kitchen and assembly line.
The idea behind an assembly-line style was simple: to show people what's being prepared for them. We have always been very transparent about what is served and up front about the quality of our ingredients, from the meat to the veggies and rice. Now the food will be assembled in the front, providing guests with an easy view of what's going into each order.
Every new location opened in 2017 and afterward will follow this format. Existing restaurants have been given the option to adopt the new floor plan and will gradually make the other changes. An increasing number of the new locations will also feature a drive-thru option for additional convenience on the go.
The overhaul also includes changes to a more user-friendly menu board to improve the ordering experience by offering step-by-step instructions that allow guests to build customized bowls. The new menu boards clearly display caloric content, ingredients, and the amount of protein in every bowl and plate, in addition to the option to forgo rice and opt for all vegetables. We also introduced 100 percent recyclable bowls with a larger width for easier mixing and eating. And we updated the branding and marketing collateral, which had become too complex and a bit dated.
"Our re-branding efforts aren't only about a new look and feel," says Young Lee, the brand's CEO and founder. "The intention of these changes is to emphasize Flame Broiler's core values: serving simple, healthy food to consumers in hopes that it results in an overall healthier lifestyle."
With the brand's nearly 200 locations spread across the U.S. (California, where it was founded, Nevada, Arizona, Oklahoma, Idaho, Florida, and North Carolina) the transition will not happen overnight. New store openings are simplified, but because existing locations must move toward the changes one step at a time, it will take time for the transition to be implemented at all our locations. Kitchens must be refreshed, new floors put in, walls painted, exterior signage installed, etc. There are many moving parts and components, making it a practice in patience for the team as the rebranding evolves.
The ultimate aim of this rebrand is to make Flame Broiler's mission clearer and to draw a new audience--along with the opportunity to develop a larger national presence. The brand is hoping to increase its exposure and make "simply healthy" food available to as many people as possible.
Our hope is that we draw more customers who can aid in the movement toward better-for-you food and meal choices--which is all we've ever wanted as a brand. We're always trying to raise the quality of what we serve, while simultaneously having minimal impact on price. We hope that one day as a result of trying our food, healthy and affordable QSR will become the status quo for what consumers demand.
Daniel Lee is marketing manager for Flame Broiler.
Published: June 2nd, 2018
Share this Feature
Recommended Reading:
Comments:
comments powered by

Disqus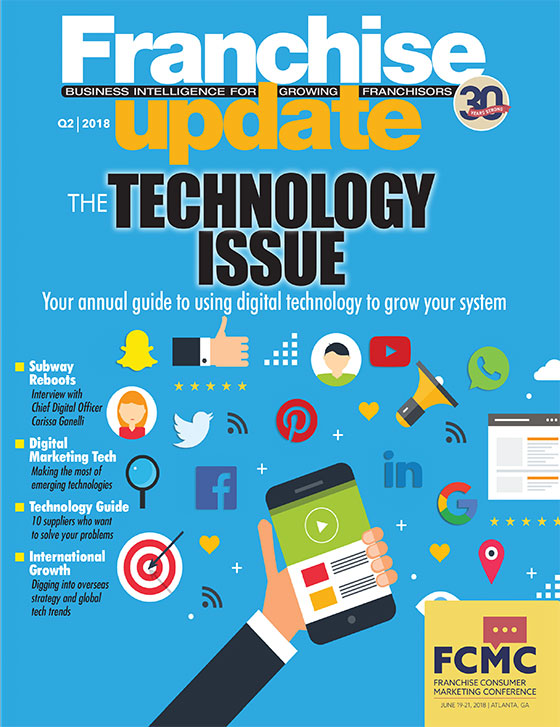 Franchise Update Magazine: Issue 2, 2018
Atmosphere TV is the world's leading cable alternative, providing free streaming TV for businesses.
Slick Marketers is reinventing franchise marketing with a hyper-customized and ultra-localized marketing approach with measurable results and growth...