Food: By the Numbers
Food--fast, slow, casual, takeout, sit-down, delivery--is by far the largest single sector in franchising. One look at our Mega 99 list of the country's largest franchisees shows their choice of brands dominated by food, primarily QSR. Beyond the sheer size of this sector, changing consumer tastes are spurring the creation of new brands, even in a belt-tightening economy. We asked two well-respected market researchers--Technomic and FRANdata--for data that would provide a big picture overview of the franchised food segment--where it's been and where it might be trending.
FRANdata:
Tracking Food Brand Growth
As of 2011, there are about 1,200 franchised food brands operating in the U.S.; roughly two thirds began offering franchises in 2000 or later. By far, the largest segment in food is QSR, which accounts for 92 percent of franchised units in the sector.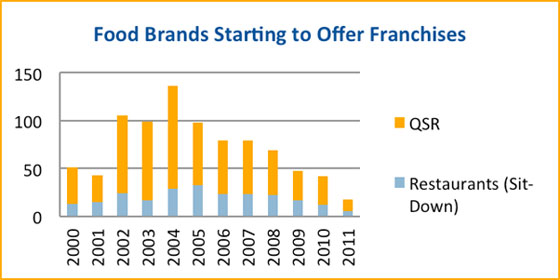 Between 2004 and 2010, the number of franchised food locations increased at a compound annual growth rate (CAGR) of 4% to almost 160,000. Brands selling baked goods grew the fastest at a CAGR of 8% over the period, followed by sit-down restaurants (4%), brands selling fast food (3%), and brands that offer frozen dessert products (1%)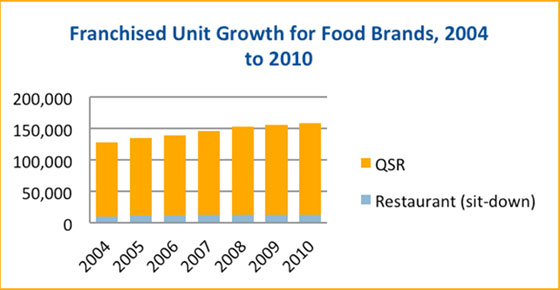 QSR
Baked Goods-- As of 2010, the largest baked goods franchise brand was Dunkin' Donuts with 5,678 franchised units. Brands that act more like distributorships also have a large market share in the franchised baked goods space. One example is Sara Lee Distribution with more than 1,500 franchised businesses. Other big players include Panera Bread (more than 750 franchised locations) and Tim Hortons (close to 600).
Fast Food-- As of 2010, Subway remains by far the largest system in the U.S. with more than 24,000 locations, followed by McDonald's (close to 12,500), Burger King (6,351), and Pizza Hut (5,554).
Frozen Dessert-- As of 2010, the largest franchised frozen dessert brand in the U.S. was Cold Stone Creamery with close to 1,200 franchised locations. Baskin-Robbins ranked second, just five units shy of 1,000. Rita's Italian Ice and Dairy Queen Treat Center each operate more than 500 franchised units. These large brands hardly grew over the 2008 to 2010 period; in fact, Cold Stone and Dunkin' Donuts shed some franchised units.
Sit-Down Restaurants
The largest sit-down restaurant concepts include Applebee's with more than 1,500 franchised locations in the U.S., followed by Denny's (1,300+) and IHOP (1,100+). (both owned by DineEquity).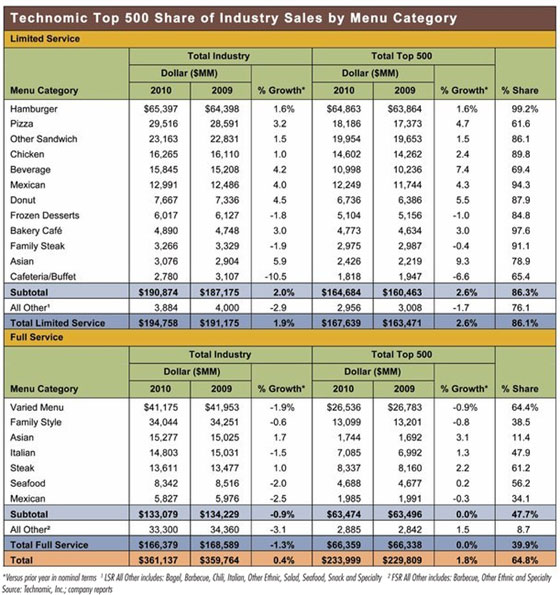 Technomic:
Tracking Food Sectors by Growth
The following are menu segments expected to exceed the industry's overall growth rate in 2011 (which Technomic is currently forecasting at a nominal 2.5%).
Limited-Service Segments
Asian-- Granted we are starting from a very small base, but we see opportunity in Asian limited-service chains, particularly fast-casual. Panda Express (QSR) is the leader of the segment, and it's been improving consistently. Many smaller chains are also succeeding, and they don't seem to be taking share from other Asian chains (though possibly from Asian independents). It's worth noting that most of these concepts are not strictly Chinese.
Bakery Café-- Panera Bread is the largest player and a steady grower. Regional brands like Paradise Bakery & Café (which Panera owns) and Le Pain Quotidien, as well as smaller concepts focused on food quality, local sourcing, or being the neighborhood gathering place, are holding their own as well, so we expect the segment to see better-than-average growth.
Beverage-- Starbucks is the driving force of this segment. But plenty of other coffee chains are seeing success, from larger players like Caribou to smaller upstarts like Biggby. A balance of quality, convenience (including speed of service), and in-store experience seems to be driving growth. Beyond coffee, Jamba Juice is the leader, and has cultivated quite a following among young people.
Hamburger-- McDonald's dominates the segment, so it will perform as McDonald's does. However, fast-growing players such as Smashburger, Fatburger, and Five Guys are also contributing. We still see plenty of opportunity for fast-casual burger brands, which account for only about 3 percent of limited-service burger-concept sales.
Mexican-- Taco Bell is the largest chain, but number-two Chipotle Mexican Grill is a key growth driver. Competitors like Qdoba and Moe's Southwest Grill continue to do pretty well, but we've been watching a lot of emerging chains with selling points such as irreverence (like Freebirds), authenticity (like Cafe Rio), and fish tacos (like Chronic Tacos).
Pizza-- Pizza Hut, Domino's, and Papa John's together make up about a third of the segment's sales. We've been watching emerging chains that have a point of differentiation such as take-and-bake, wood- or coal-fired preparations, or a focus on healthy or local ingredients.
Sandwich-- Subway dominates this segment. Among the national chains, results should continue to be mixed. For example, in 2010, Jimmy John's and Jason's Deli had nice system-wide sales increases, and Arby's and Quiznos did not. Breakfast menus will help build 2011 sales in the segment, as will growing chains like Firehouse Subs and Jersey Mike's.
Published: March 5th, 2012
Share this Feature
Recommended Reading:
Comments:
comments powered by

Disqus
Pizza Factory houses hardworking owners, family-friendly dining and high-quality products. Restaurant design options include a Pizza Factory Express...
Cash Required:
$90,000
The Joint® Chiropractic is reinventing chiropractic care. Our vision is to become the largest, most respected provider of chiropractic services...
Cash Required:
$100,000