Franchise Development Challenges in 2008
Preparing for tight credit markets can help you weather the storm

Against a background of greater economic uncertainty in 2008, will franchise development become more difficult?

In a word, yes. To be clear, the franchise business model is alive, well, and growing. This decade's accelerating growth in units and expansion of companies embracing the franchise business model are testament to that. However, it appears that more challenging times are awaiting us in 2008. Here are some of the reasons—and suggestions for what franchisors can do.

The franchise community is significantly fueled by the ability and willingness of banks to provide debt capital to franchisees. Most banks still have the ability. However, their willingness, in the form of tightened underwriting criteria, has changed. In the past 12 months, we have seen significant changes to loan-to-value ratios, collateral requirements, and cash flow coverage ratios.

Banks are increasing their due diligence, not just on the franchisee borrower but also on the franchisor and franchise system. In the face of more adjustments as bank credit departments assess changing risk profiles, here's what franchisors should do:
Align and regularly compare their franchisee screening criteria with what banks are requiring.
Talk to more banks to open up alternative sources of franchisee loans.
Make it easier for banks to do due diligence and say yes by creating comparative performance reports, or have an objective third party create one.

In addition to credit challenges, a couple of longer-term trends also will influence franchise development in 2008:
More franchise brands are competing for franchisees.
A new post-Baby Boomer generation of franchisees is emerging.
More and more franchisees are multiunit operators.

Here are some of our thoughts as to what this means from a strategic perspective.
Most brands have enjoyed healthy growth over the past six years. On top of that, more than 900 new brands were added to the mix. The graph below depicts this development.


How does a franchisor stand out in this more crowded and competitive environment? Think beyond just the appeal of the brand and to performance measures (such as training, system stability, and unit performance).

This applies even more to the incoming franchisee generation. Many Boomers are starting to retire. Next up, the Gen X group (births between 1965 and 1980) is considerably smaller than the Boomers. However, behind Gen X is the Gen Y, or Millennial, group. The Millennial group is even larger than the Boomers, and just hitting its stride in the workforce. Attracting Millennials, who may have the financial support of their Boomer parents, requires reexamining your development program from top to bottom. This generation thinks and acts differently than their predecessors, and their interests require a different type of development marketing.
Similarly, multiunit operators require more sophisticated and detailed information about franchisor and system performance. They already control half of all franchise units. By definition, these operators are experienced and require sophisticated and detailed information about franchisor and system performance, not just marketing materials.

While we remain optimistic about unit growth in 2008, we also believe that it will take more effort, and a reevaluation of current development strategies, to hit the same performance targets that were previously achieved.

Darrell Johnson is president of FRANdata, Inc., an independent research company based in Arlington, Va., that has been supplying information and analysis for the franchising sector since 1989. He can be reached at (703)740-4701 or at www.frandata.com.

Published: August 7th, 2008
Share this Feature
Recommended Reading:
Comments:
comments powered by

Disqus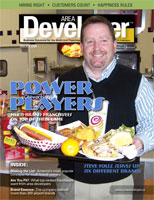 Multi-Unit Franchisee Magazine: Issue 2, 2008
At Radiant Waxing, we make it our mission to help people achieve smooth skin and beautiful brows in mere minutes.
Cash Required:
$100,000
The #1 fast casual Mexican franchise in the industry offering flexible formats with ample white space to grow.
Cash Required:
$350,000