Franchise Development During Covid-19, Part 1 The View From 50,000 Feet
In a time when each day feels like a decade, planning for long-term growth is a luxury that few franchises can afford. Franchise development leaders, however, live in the future. Expansion takes planning, forward-thinking strategies, and months (sometimes years) of fine-tuning execution and building relationships with the right types of candidates.
Given the urgency of today, versus the ongoing imperative to plan for tomorrow, development teams across franchising are scratching their heads and thinking, "What now?" And, more importantly, "What do we do?" Thankfully, the answers lie in the data, which shows strong signs of a silver lining on the edge of these dark storm clouds. Based on an analysis of macro market conditions, buyer sentiment, and proprietary data from more than 50 digital franchise lead generation campaigns, it appears that the Covid-19 pandemic may very well produce a strong tailwind for the future of franchising.
In today's part one, we'll take a look at the larger market dynamics in an attempt to listen to the signal amid all the noise. Part two will focus on before/after lead volume and cost-per-lead data produced by Scorpion marketing campaigns on behalf of those 50-plus franchise brands through the month of March, along with some insights that could very well help your franchise chart a path toward a bright future. Let's dive in.
A look at the data
There is no better resource for the latest market data than Google Trends. In an age where our smartphones may as well be superglued to our hips, Google is a modern-day oracle showing us what folks care about and how those interests are trending. Whether a searcher is motivated by years of dedicated franchise opportunity research, or they received their pink slip this morning, information about new career and business ownership opportunities is just a click away.
Looking at the most recent Google search trends (focused on the United States), and accounting for typical seasonal trends from years of accrued data, interest in the most popular terms used by in-market franchise candidates (like "buy a franchise" and "owning a business") are holding steady. After experiencing a sharp dip in early and mid-March, interest spiked again near the end of the month and has continued to rise in early April.
Broadly speaking, since remote work became the norm and a record 10+ million Americans filed for unemployment over the past several weeks – a mind-boggling 3000% increase compared with early March (though the U.S. had been experiencing record low unemployment previously) – online usage is way, way up. Facebook reported that usage was up 50%, while the world's largest Internet provider (AT&T) said that overall Internet traffic increased by more than 30%.
What does this mean for fran dev?
On their own, these trends may just raise an eyebrow. Let's take a look at something more qualitative before we try to figure out what this all means. A buyer sentiment survey (updated on 3/26) from Franchise Insights shows that the majority of aspiring franchisees believe that the next three months will be a good time to start a franchise business, and that general business conditions will be improved. Only 19% of respondents said that the Covid-19 crisis will put their business start-up search on hold, while 27.9% replied that it "boosts my interest in controlling my own destiny through business ownership." Now this is getting interesting! Search trends are holding steady and climbing; online usage is way up (and expect telework, already trending, to be even more common in a post-Covid world); and buyer sentiment has remained strong. So what are the takeaways?
Takeaways for development teams
1) People are quarantined, have recently lost their job or been furloughed, and are at home spending more time online than ever before.
2) People who are recently out of work or fearing a job loss are turning to the Internet to research career options, including what for many has been a longtime dream of business ownership and being their own boss.
3) Franchise candidates are bullish about the future and more excited than ever about the benefits of business ownership.
4) Engaging and starting relationships with qualified candidates now could position your sales team for a healthy sales pipeline (and a competitive advantage) when the economic environment inevitably improves. The CDO at one large-scale brand recently told us, "It almost feels like fran dev 10 years ago where you could actually talk to people, but expected to do more educating and nurturing."
See that? Looks like a glimpse of sunshine! Next week, we'll take it down from the 50,000-foot perspective to the very bottom of the funnel to explore the immediate impact of Covid-19 on franchise sales lead generation – along with providing some insights and tips on how your brand can leverage this data. Stay tuned!
Justin Mink is Senior Vice President of Sales at Scorpion. Contact him at 214-459-0274 or Justin.Mink@scorpion.co.
Published: April 10th, 2020
Share this Feature
Recommended Reading:
Comments:
comments powered by

Disqus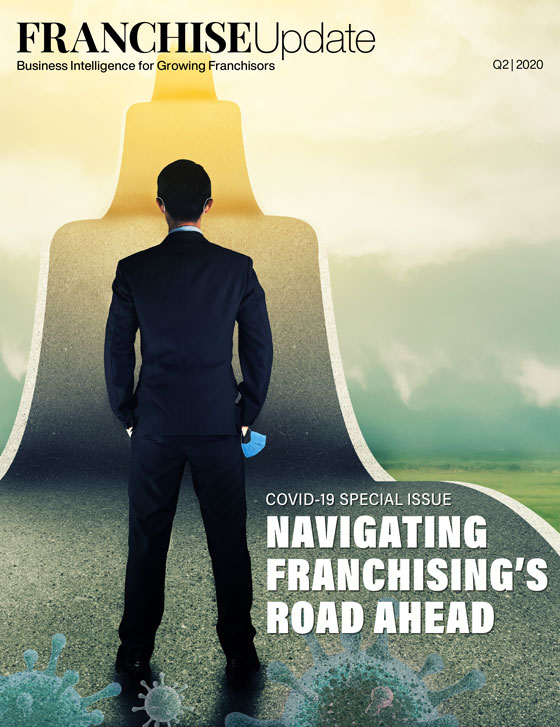 Franchise Update Magazine: Issue 2, 2020
Find the support you need to find success with your small to mid-sized business. Explore the PEO services offered by Integrity Employee Leasing.
919 Marketing Co. is a national content marketing, PR and social media agency serving franchise brands. Our proprietary social relations approach...