Franchise Marketing Leaders: Andrea Zahumensky
Andrea Zahumensky
Chief Marketing Officer, KFC U.S.
4,100 total units, 98% franchised
Andrea Zahumensky joined KFC in 2017. As CMO, she leads marketing, advertising, media, and consumer insights, and the brand's digital initiatives. She is responsible for developing and executing innovative marketing strategies and for driving sales overnight and brand over time. Before joining the KFC U.S. team, she served in a number of marketing roles at Proctor & Gamble where she led the P&L, marketing spend, and innovation for well-known brands including P&G's biggest brand, Pampers, as well as Oral-B, Crest, Luvs, and Glide.
Describe your role as CMO/marketing leader.
I lead marketing, advertising, media, and consumer insights, as well as the brand's digital initiatives. I am responsible for developing and executing innovative marketing strategies to continue to make KFC a brand that people trust and champion, and to drive sales overnight and brand over time. There is no better time to be a leader for the KFC business, helping to lead this brand turnaround.
What's most challenging about being a CMO/marketing leader today?
It's not easy to authentically connect with customers with today's fast pace of change and increasingly fragmented media market. This is why we are always finding ways for KFC to be part of pop culture and show up in new and unexpected ways, but in ways that are authentic to our audience. For example, in our partnership with ESPN for "The Ocho," we didn't just do a typical brand sponsorship, but partnered with ESPN to create unique content called, "The Battle of the Buckets," which aired throughout the day, creating new sporting events that ultimately became one of the most viewed ESPN Instagram stories.
What are the 3 most important keys to being an effective CMO/marketing leader today?
1) Staying connected with customers. This is something that will always be critical and is more important than ever as the lives of our customers change so substantially and fast. 2) Taking risks. I believe that no big brand was built from staying safe and in its comfort zone. To propel your brand forward to greatness, you must be willing to put yourself out there and make yourself and your constituents uncomfortable. 3) Investing in your team, both your marketing and multi-functional teams; as CMO, you have to depend on them to deliver brilliantly. So everything you invest in your team will come back exponentially.
How do you measure your marketing results and effectiveness?
We judge our results on two key metrics: sales overnight and brand over time. Some of the things we do achieve both, while some are really focused on building the brand over time. For each activation or promotion, we establish key objectives and goals and then measure our success based on how we perform against those goals.
How do you budget for and balance your traditional vs. digital/mobile spend?
We get a strong return on traditional media spend so we continue to invest heavily there. Still, as our customers spend more and more of their time on digital and mobile platforms, we have shifted our investment to include a healthy mix of digital and mobile to reach our customers where they are and maximize our spend.
How closely do you work with your CEO, CIO, and other departments?
I deeply believe that accomplishing anything breakthrough on a brand will happen only through close collaboration across functions. We have a KFC U.S. leadership team that includes all functions, and I partner across these functions on a daily basis. For example, I get to work with a world-class food innovation team led by our Chief Food Innovation Officer Vijay Sukumar. We've been partnering closely together to create an incredible innovation program that began with the launch of Chicken and Waffles in November. With the rise of digital, data, and customers' expectation of getting food when and where they want through online ordering, our partnership with our CIO and his team has never been more important.
Why do you think so many CMOs are women?
I'm not sure why many CMOs are women, but I am thrilled that we are seeing more and more women in senior leadership roles with major brands. I have a personal passion for diversity and inclusion, and the power that diversity at all levels of an organization can have on building a relevant brand. Earlier this year, Greg Creed, CEO of Yum Brands, announced that Yum has established a target to advance more women into leadership and achieve gender parity in senior leadership globally by 2030. I'm so proud to work for a company that values diversity and inclusion at all levels.
What is your favorite accomplishment as a marketing leader?
The first year as the KFC CMO has been filled with so many favorite moments! A few in particular stand out to me. First was casting Reba McEntire as the first female Colonel Sanders in our Smoky Mountain BBQ ad campaign. She was the perfect person to play the Colonel, especially for launching that product, and she was even more amazing to work with than I ever imagined! The launch of Chicken and Waffles in November has been an incredible moment for our brand. Our food innovation team developed an absolutely delicious waffle that pairs perfectly with our fried chicken, and we took our advertising to a totally unexpected and super-fun place with two brand icons, the Colonel and Mrs. Butterworth, reenacting the iconic dance scene from "Dirty Dancing." Our customers really connected with this campaign and loved the craveable food. The last thing I have to include is growing and developing our incredibly talented marketing organization at KFC through important promotions, stretching work, and an unparalleled culture fueled by recognition.
How do you see the role of the CMO/marketing leader changing in the next 5 to 10 years?
As digital and mobile channels have exploded, marketing leaders have really had to rewrite the book on how we connect with customers, leverage data, and break through all the clutter. In a franchise business, I can see how that quick shift has also required some education of franchisees who were used to seeing their marketing dollars spent in more traditional ways. Today, we do things that would have seemed crazy 10 years ago, like ask franchisees to commit money to a campaign to name a baby Harland in honor of Colonel Harland Sanders' birthday. Luckily for me, we have a brilliant team of franchisee leaders who not only support us, but push us to think out of the box and have fun with the brand. And we've proven we can generate results. Our campaign to name a baby Harland, for example, had everyone talking about KFC and our founder. It ultimately resulted in 2 billion earned media impressions. The next 5 to 10 years are going to require the same level of agility and willingness to stretch into uncharted territory.
What advice would you offer aspiring CMOs/marketing leaders?
Of course, it all starts with hard work. That is the table stakes. I think that of all the things I've done that have really propelled me, it's being willing to take risks. Get outside of your comfort zone, both in your business and in your career. I believe that nothing great happens when you're comfortable. Building strong relationships up, down, and across internally and externally not only propelled the business and me forward, but has also given me the most reward. And finally, always stay in touch with the customers and be obsessed with delighting them in any way possible.
Published: February 1st, 2019
Share this Feature
Recommended Reading:
Comments:
comments powered by

Disqus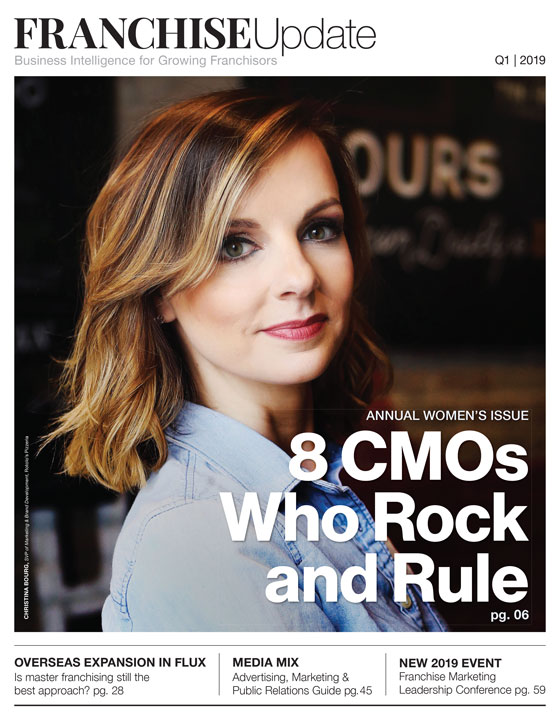 Franchise Update Magazine: Issue 1, 2019
Conferences
InterContinental, Atlanta
OCT 18-20TH, 2023
919 Marketing Co. is a national content marketing, PR and social media agency serving franchise brands. Our proprietary social relations approach...
Prisma has reinvented the marketing supply chain with an end-to-end solution that makes it easy to design, customize, order, download, print, kit,...