Franchise Marketing Leaders: Christina Coy
Christina Coy
VP of Marketing, Pie Five Pizza Co.
65 total units, 64 franchised
Christina Coy joined Rave Restaurant Group (Pie Five and Pizza Inn) in 2009 and was part of the original team that created Pie Five in 2011. She leads brand marketing for the fast casual pizza concept and has been instrumental in creating digital and in-store marketing campaigns, menu development, and guest engagement platforms including the brand's Circle of Crust rewards and mobile ordering program. Before becoming a pizza aficionado, she spent 5 years at ad agencies working on QSR brands such as Domino's and Popeyes. She is a graduate of Texas A&M University.
Describe your role as CMO/marketing leader.
My role is all about creating the Pie Five experience for guests through every step of the journey, from the look and feel of the app and online ordering, to creating our limited-time pizzas, and even to details in the restaurant decor. Our brand has such a great personality. I love sharing it with others and making them feel like they're part of the brand. This means I collaborate with every department: operations, training, purchasing, IT, and construction. We're all constantly focusing on how to improve the guest experience and help our franchisees be successful.
What's most challenging about being a CMO/marketing leader today?
The ever-evolving social platforms and integrations with new technology. We are all on the social platforms, some more than others, but even as some platforms fade away, new ones always appear. Marketing leaders have to be on top of what's trending and what platforms people are actually using and will continue to use. The integrations with companies are challenging as well, but it's probably the most exciting part. We're now able to connect the guests to our brand in so many ways and then link them all on the back end to make the guest experience seamless. It's a long and time-consuming process to connect all of our partners together and make them all speak the same language, but the end result is worth it.
What are the 3 most important keys to being an effective CMO/marketing leader today?
1) Be true to your brand and stay the course. It's easy to see some trends and want to jump on board quickly because trends can be exciting. But you have to ask yourself, Is it worth it? Does it make sense for your brand and your guests specifically? In this business, the competition keeps coming, but if you stay consistent with the quality of your product, the value, and the service the guest receives, the rest falls into place. Scrambling to change because you have competition isn't the answer. When you see competition coming, the question to ask yourself is are you providing the best product, value, and customer service to your guests? If not, that's the first thing that needs to be fixed. 2) Be a team player. Marketers juggle so many projects and wear so many hats, so it's crucial to work well with other departments and not create silos. Marketers are constantly thinking of the guest experience from beginning to end, and that's what makes the business work. So marketing leaders really have the ability to bring the whole organization together in a collaborative way. 3) Have fun! We have a saying on our team: "It's just pizza, let's have fun." It's understandable how restaurant marketers can get burned out. This is an ever-evolving business with so many twists and turns. At the end of the day, we're marketing amazing food and, most important, making people happy. So we can and should have fun with it. We're always adding entertaining elements to the day-to-day and sharing our wins with each other. We celebrate the wins and learn from everything. One thing I can't leave out is the camaraderie in this industry. Most people in this business are very like-minded, and when you get us together, watch out! We can have a good time, but we help each other out even if we're competitors. It's amazing to be a part of this community.
How do you measure your marketing results and effectiveness?
We use a lot of technology to measure marketing results and effectiveness. We are marketing to guests digitally before they even enter the restaurant, as well as once they're in the restaurant, and again after they leave. Before all of this technology existed, the reporting was based purely on the number of guests and sales. Now we're looking at the dining experience as a whole from when they see our message before they walk in to when they get home. We can see if we brought guests back or brought new guests in. These are the results we care about the most. Technology has made the whole experience trackable, and we can see every step of the customer path.
How do you budget for and balance your traditional vs. digital/mobile spend?
We still use some elements of traditional marketing, but we complement it with digital media to target and hone in on our guests. We've found that our success with traditional print media is amplified when it's partnered with digital media. We do, however, allocate a large percentage of our budget to digital media and the technology that goes into running our app, email program, and online presence.
How closely do you work with your CEO, CIO, and other departments?
Our executive team meets weekly and we all work very closely together. Scott Crane (Rave's CEO) and Bob Bafundo (Rave's president) are always available and consistently provide thought leadership. Our marketing department has always worked with research and development, culinary, and accounting, but these days we spend the most time with the IT department. We're so data-driven, and working with them helps us to think more systematically. We've really learned a lot from them. Our working relationships with other departments ebb and flow based on our marketing initiatives, but the IT department remains constant. I predict we'll work with IT even more as new technology becomes available and integrates.
Why do you think so many CMOs are women?
Women make and influence so many purchase decisions. I think they understand and watch behavior, which drives purchasing habits. It really seems fitting that women are behind so many of the brand voices trying to capture consumer attention.
What is your favorite accomplishment as a marketing leader?
I've been with Pie Five since it was an idea, and I'm so proud to have grown the brand to a presence across 18 states. Pie Five has evolved a great deal in 7 years. We've stayed true to a handcrafted customized pizza experience delivered in 5 minutes, but we've refreshed the logo and branding, and rolled out new technology like our app-based Circle of Crust rewards program and mobile ordering. We've even launched a new, smaller "Goldilocks" prototype that delivers the same experience in a smaller, more cost-efficient footprint. I'm also really proud of our menu innovation. We were the first fast-casual brand to launch a low-carb (and delicious!) cauliflower crust.
How do you see the role of the CMO/marketing leader changing in the next 5 to 10 years?
In the past few years, there has been a shift from traditional marketing to digital and experiential marketing, and I know we'll continue to see this expand and evolve in the next 5 to 10 years. It will require CMOs and marketing leaders to focus even more on educating themselves and staying on top of the rising trends.
What advice would you offer aspiring CMOs/marketing leaders?
Marketing leaders must stay on top of what's trending by noticing what platforms people are actually interested in and identifying what will be trending in the future. Marketing and technology become more in sync every day, so it's crucial to stay ahead of the trends.
Published: March 1st, 2019
Share this Feature
Recommended Reading:
Comments:
comments powered by

Disqus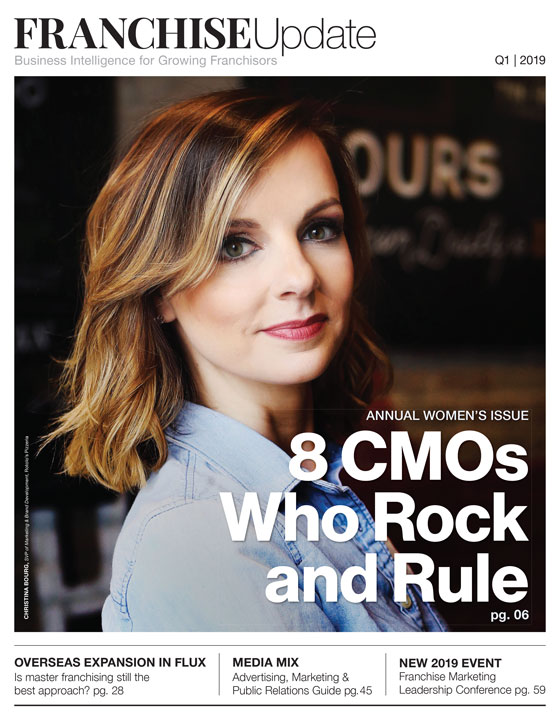 Franchise Update Magazine: Issue 1, 2019
Franchise Update Media (FUM) is the trusted resource for the franchise industry. For 30+ years, FUM has been the leader in providing valuable...
Clayton Kendall provides franchise communities nationwide with comprehensive branded merchandise programs leading to greater brand exposure,...