Franchise Marketing Leaders: Hope Diaz
Hope Diaz
Global CMO, Popeyes Louisiana Kitchen
3,000+ total units, 3,000+ franchised
Throughout her career, Hope Diaz has focused on uncovering insights and using them to develop bold and effective marketing strategies and campaigns. Before joining Popeyes as Global CMO in October 2017, she served as the head of global innovation and guest understanding for Burger King. In her 10 years with that brand, she held positions leading marketing communications and guest insights, and helping to establish the brand's voice and marketing practices around the world. Before entering the QSR industry, she spearheaded research and strategic planning efforts for MTV Networks Latin America for more than 9 years.
Describe your role as CMO/marketing leader.
My role is to drive the Popeyes brand forward in a way that connects with our guests and stays true to who we are as a brand.
What's most challenging about being a CMO/marketing leader today?
Given that consumers are bombarded with marketing messages at all times through multiple channels, I think it has become much harder to break through the clutter in a meaningful way. As marketing leaders, it's our job to make sure that the content we put out there is interesting and relevant, but still effective in conveying what we want people to know about our brand.
What are the 3 most important keys to being an effective CMO/marketing leader today?
1) Knowing your guests (we like to say we have guests and fans at Popeyes, not consumers). 2) Understanding the DNA of your brand. 3) Not being afraid to be bold and take risks.
How do you measure your marketing results and effectiveness?
It changes depending on the goal of any given initiative, but in the end we want to make sure that our guests turn into fans. At Popeyes, we're lucky enough to have a loyal fan base, but we need to continue giving guests reasons to love us, like delicious food, a great-looking restaurant, or fun creative content.
How do you budget for and balance your traditional vs. digital/mobile spend?
We tend to allocate the budget differently depending on the message. We also look at our creative initiatives and how our guests will most likely consume the creative.
How closely do you work with your CEO, CIO, and other departments?
Part of what makes us successful is that we truly work as a team, whether that's working within the Popeyes leadership team or hand in hand with the RBI leadership team. We are a passionate group and are very involved in all aspects of the business.
Why do you think so many CMOs are women?
First, let me say that I definitely think we need more women in the C-suite! As for CMOs specifically, I think there have been some very strong female marketing leaders who have made an effort to encourage and mentor other women. Having examples to look up to is invaluable, especially for young women who are just starting their career.
What is your favorite accomplishment as a marketing leader?
Although I've been a part of many cool marketing initiatives throughout the years, my favorite accomplishment is being able to build a great team and seeing them succeed. I know it sounds strange, but having a passionate team that does amazing things for the brand and for our guests is by far my greatest accomplishment.
How do you see the role of the CMO/marketing leader changing in the next 5 to 10 years?
More and more, I think the role of a CMO is covering a broader scope beyond brand building and creative execution. Being the voice of the guest will always be at the heart of what a CMO does, and the opportunity to build an ongoing relationship with guests and know more about them will make this even more important. This relationship can be strengthened in many ways, but to do that effectively, it will be up to the marketing leaders of an organization to ensure that the business as a whole is evolving to meet guests' wants and needs.
What advice would you offer aspiring CMOs/marketing leaders?
I would tell them to constantly learn as much as they can about their guests/consumers. Knowing them, what they need, and what drives their perceptions and behaviors is the key to making good decisions for your brand. Stay curious about who you want your brand to connect with. Doing that is what will give you the insight to know what to do and the confidence to be bold.
Published: March 8th, 2019
Share this Feature
Recommended Reading:
Comments:
comments powered by

Disqus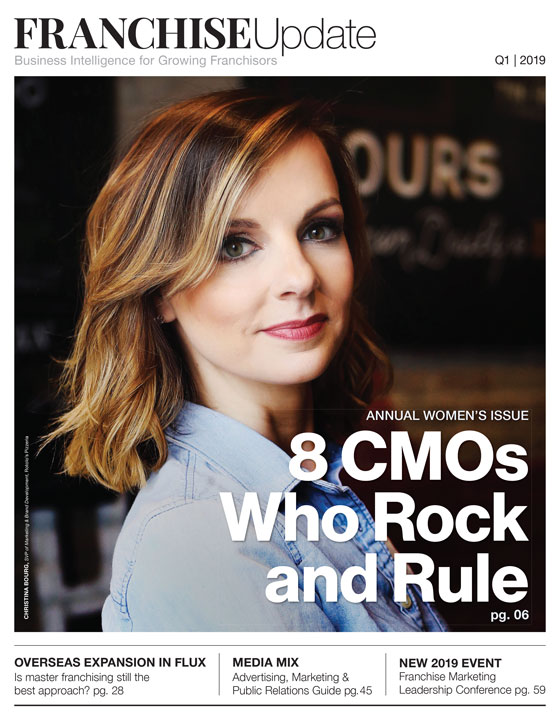 Franchise Update Magazine: Issue 1, 2019
Conferences
InterContinental, Atlanta
OCT 18-20TH, 2023
April 25 - April 28, 2023, Caesars Forum, LV. The Multi-Unit Franchising Conference is the premier annual event for the country's leading...
Our franchise management software helps increase unit growth, reduce opening time, track and improve unit performance, automate financial reporting...