Franchise System Growth: How Fast Is Too Fast?
Let's start with dispelling two common beliefs in franchising. The first is that a franchisor must get to 100 franchise units to be successful. This is simply not true. A franchisor needs a certain amount of operating income to more than cover the range of support services needed for a successful franchise system. A simple unit total does not account for differences in investment and unit revenue levels (and associated royalty income), the degree to which franchisees operate multiple units and have different needs with different resource implications, etc.
To address a sustainable system size for a franchisor, we use multiple measures that account for these differences, such as recurring revenue self-sufficiency (RRSS) and historical unit success rate (HUSR).
This leads us to the second common belief: the faster a franchisor gets there the better. The purpose of this article is to see what the data tells us about that. Are brands that have expansion rates beyond some "normal" pace in their early days more prone to experience failed units than those that grow more methodically? (A related topic, especially for our PE friends, is when faster growth starts to generate disproportionately lower performance outcomes, and how that correlates with franchisor financial results. We'll address that in a later article.)
To address whether faster is better, we selected a sample of 28 brands new to franchising. Each began franchising in 2011, and each increased the number of units they opened every year.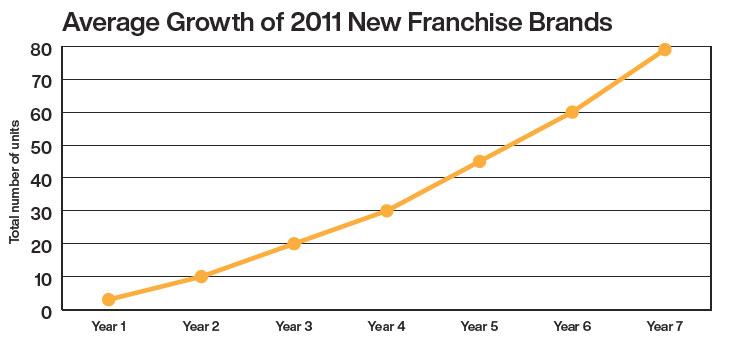 We then examined the number of units they opened in their first 7 years, looking to see whether different expansion patterns in their initial years of franchising correlated with different closure rates in subsequent years. To test this, we compared the growth rate that the brands had in their first 4 years with the number of closures they had in their fifth, sixth, and seventh years.
Our decades of experience with the lending community has consistently shown us that the most vulnerable period for long-term success of new franchised units across most industries is from about 2½ to 4 years of operation.
We looked at the year-to-year differences in units opened in the first 4 years and ran a regression analysis to see if this difference affected the change in HUSR in subsequent years. Since our goal was to understand when growth starts to show disproportionate closures, we focused on the year-to-year differences in the number of new units added to a system.
We found statistically significant evidence that a high rate of change in units opened disproportionately increases the number of closures in the years to come. In other words, the faster a new brand grows, the more likely it is for a greater number of units to close.
Implications and advice
When we looked further into the operations of these brands, we found some underlying themes. Brands that had higher signed agreement rates tended to have lower prospect requirements. Further, RRSS rates and the relationship between operating expenses and unit counts tended to lag further for franchisors with faster growth.
The implication, though not examined in detail, is that franchisors with faster growth are not prepared or are not moving as quickly to support an increasing number of units.
Perhaps the key message from this analysis is franchisors with more aggressive growth goals must do a better job of planning for that growth. As noted, we will look further into that in a subsequent article.
These quantitative results support what many of us intuitively know. Expand too rapidly and suffer the negative consequences of closed units. These include a negative impact on public perception and franchisee culture, significant franchisor management distraction, and lower financial results.
We've proven there is a clear correlation between more aggressive growth and accelerating adverse consequences. The question is, How fast is too fast? That's a harder question to answer because it introduces more variables, such as differences in how franchisors support systems. We will look at more time period sequences to tease out a more definitive answer. For now, we would suggest the following:
If your plan is to grow significantly faster than others in about the same stage of life cycle and system size (typically not your direct competitors), do a thorough job of planning for that growth. Understand the relationship between a franchisor's human and financial resources and new unit expansion during the time it takes for new units to achieve breakeven and stable financial returns. Many of you are: we are getting more requests from emerging and growth cycle franchisors to help them plan - in advance - for sustainable growth.
Instead of asking how fast you can get to 100 units, perhaps the better question is, How can you build a sustainable system as you grow beyond 100 units?
Darrell Johnson is CEO of FRANdata, an independent research company supplying information and analysis for the franchising sector since 1989. He can be reached at 703-740-4700 or djohnson@frandata.com. Luis Despradel is a junior research analyst at FRANdata.
Published: December 2nd, 2019
Share this Feature
Recommended Reading:
Comments:
comments powered by

Disqus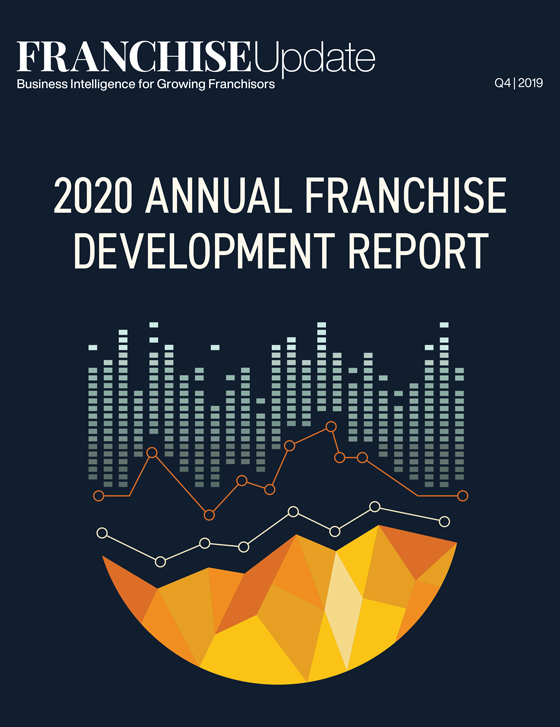 Franchise Update Magazine: Issue 4, 2019
Conferences
InterContinental, Atlanta
OCT 18-20TH, 2023
919 Marketing Co. is a national content marketing, PR and social media agency serving franchise brands. Our proprietary social relations approach...
April 25 - April 28, 2023, Caesars Forum, LV. The Multi-Unit Franchising Conference is the premier annual event for the country's leading...