Franchisee Leases: 6 provisions they must negotiate
Franchisees, faced with immense market competition and demanding development requirements, are prone to concede important issues and make careless mistakes in lease negotiations. What follows is a list of critical lease provisions, which, if not identified and properly negotiated, could have a material impact on the viability of your franchisees.
Exclusive use protection. For a franchisee, an exclusive use clause allows them to maintain an edge against competitors by restricting a landlord's ability to lease space in their shopping center (and sometimes even within a larger area) to another tenant who is a competitor. When it comes to exclusive use protections, the interests of landlords and tenants are diametrically opposed: landlords want narrow exclusive use language so as to have the most freedom when choosing the tenant mix in their centers; tenants want broad language to ensure they won't face competition in their own center or beyond. Franchisee tenants must carefully consider exactly what part(s) of their business need protection so their lease is as precise as possible. When negotiating this provision, franchisee tenants must ensure that their lease not only expressly requires the landlord to enforce their exclusive, but also addresses their remedies if the exclusive use is violated. Failure to address these points renders the protection granted by the provision essentially meaningless.
Landlord's consent to assignment and continuing liability. As a tenant, your franchisee's ability to assign their lease to a third party has a direct impact on their ability to sell their business and ultimately realize a return on their investment. Assignment provisions are another instance where the landlord and tenant have conflicting needs: landlords seek to exert extreme control over the transfer of their leases to ensure the qualifications and viability of the assignee tenant; contrarily, tenants look for the ability to freely assign the lease so as to minimize any delays or roadblocks to the exit of their business. Landlords often will seek to maintain the right to approve or reject the proposed assignee at their sole discretion. At a bare minimum, franchisee tenants should seek to tie their landlord's ability to approve an assignment to a standard of reasonableness, curtailing the landlord's ability to reject a proposed assignment. Ideally, if possible, the franchisee tenant should negotiate the ability to assign the lease as of right (i.e., without landlord consent) to their franchisor, to other approved franchisees within the system, or to any other party who purchases all, or substantially all, of their assets.
Related to this is the need to address whether or not the assigning tenant and any then existing guarantor will have continued liability for tenant obligations that accrue after the assignment. Landlords will always seek to collect as many potential obligors as possible and typically require that, even if they consent to an assignment of the lease, the tenant and guarantor will remain liable under the lease. From the landlord's perspective, having multiple obligors ensures that they will have a long list of parties to sue if a tenant defaults, increasing their chances of actual collection. It is critical for a franchisee to negotiate their release up front, as well as the release of any then existing guarantor upon an assignment of the lease. As a compromise, franchisee tenants should, at a minimum, seek to tie their release to certain minimum thresholds (such as the net worth of the assignee tenant and its principals, in the aggregate).
Right to participate in the sale. Landlords often seek to retain the right to share in the sales proceeds when their tenants sell their business, claiming that it is only because of the landlord's property that the tenant has a store to sell in the first place. We have seen leases where the landlord is entitled to up to 50 percent of the sales proceeds! Failing to properly address this up front can result in the franchisee being unable to afford to sell their business because they won't be able to keep enough of the proceeds. Given that it is the tenant's, not the landlord's, blood, sweat, and tears that grew the business and made it saleable, at a minimum the lease should provide that the landlord is not entitled to any monies received by the tenant in connection with an assignment of the lease to the franchisor or another approved franchisee. Ideally, this provision should be deleted completely and the lease should expressly state that the landlord is not entitled to any portion of sales proceeds under any circumstances, period.
Non-compete. Landlords who own multiple properties within certain geographic proximity often seek to include a covenant that restricts the tenant's ability to open a same or similar business within a certain radius. From the landlord's perspective, they don't want a franchisee to open another location that might adversely affect that tenant's sales in the landlord's shopping center—which could adversely affect that tenant's ability to meet their rental obligations. This provision, however, can have a detrimental impact on a tenant's ability to expand, especially a franchisee who may have a development agreement. Such language may even place a franchisee in violation of their franchise or development agreement. For instance, we have seen leases with 5-mile restrictions on the sale of baked goods and coffee, which would severely affect a franchisee's ability to develop and optimize their market.
Termination/reclamation upon assignment. Landlords like to include language that gives them the ability to terminate the lease and recapture the premises if the tenant seeks the landlord's consent to assign the lease. Landlords will argue that if the original tenant no longer wants or needs the premises, then the landlord should have the right (but not the obligation) to take the premises back and relet it to whomever they choose. This language can make a tenant's pending assignment a risky, if not impossible, proposition. It is in the franchisee's best interest to completely delete this language or, at a minimum, provide that the landlord does not have the right to recapture if the lease is assigned to the tenant's franchisor or to another franchisee. This is yet another reason tenants want the right to assign the lease without the landlord's consent. If the landlord does not have the right to consent (or not consent), then they also don't have the right to recapture the premises.
Guaranty. The majority of franchisee tenants form single-purpose entities (SPEs) that have no assets other than that particular store. If they default, their landlord wants to have someone to collect rent from. This is why the majority of landlords require a franchisee (and often their spouse) to sign a personal guaranty. It is rare that a landlord will sign a lease with an SPE and not require a personal guaranty. If they must sign one, the key is to ensure that one or more of the following limitations are included: 1) a stated cap on their maximum financial exposure (it can be a fixed dollar amount or, more commonly, limited to X months of rent at the then current rental rate); 2) a complete release of the guaranty when and if the original tenant is no longer the tenant under the lease; and/or 3) the guaranty falls away completely after a period of Y years, as long as there have been no defaults by the tenant during that time.
Coincident with signing the guaranty, guarantors need to consider their exit strategy. If the franchisee sells the store, the guarantor does not want to have continued personal exposure for the acts of a new, unrelated tenant. For this reason, guarantors are wise to negotiate the landlord's release of the guaranty upon the tenant's assignment of the lease. Naturally, landlords do not like to agree to this, but it is worth a hard pursuit in the lease negotiation. A common compromise is to agree that if the assignee and/or their principals have an aggregate net worth of more than Z dollars, then the landlord will release the original guarantor(s).
However you slice the apple, ensure that your franchisees do not sign the guaranty without having a full understanding of their maximum potential personal exposure and if (or ideally when) they will be released from their guaranty obligations.
Conclusion
Leases are complicated legal instruments and can be fraught with peril for unsuspecting franchisees. Whenever your franchisees enter into a lease for a new or existing store, be certain they are represented by an attorney familiar with potentially dangerous provisions.
Karen Abrams is a partner at Paris Ackerman, LLP. She represents tenants in the full range of their business matters including leases, financing, sales, acquisitions, and business operating documents.
Published: April 6th, 2019
Share this Feature
Recommended Reading:
Comments:
comments powered by

Disqus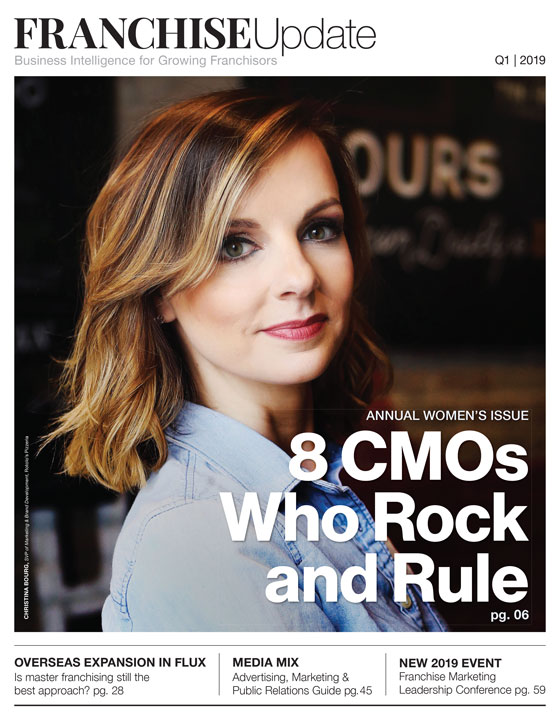 Franchise Update Magazine: Issue 1, 2019
Conferences
InterContinental, Atlanta
OCT 18-20TH, 2023
Slick Marketers is reinventing franchise marketing with a hyper-customized and ultra-localized marketing approach with measurable results and growth...
The Titus Center for Franchising, one of Palm Beach Atlantic's Centers of Excellence, offers a concentration in franchising to business students.