From Supermarket Owner To Franchisee, Mark Davis Speaks With Us About The Transition

Today Franchising.com sits down with Mark Davis, a franchisee with LaVida Massage in Canton, Michigan. Davis discusses his transition from the grocery and supermarket business to his present life as a successful franchisee -- now looking to open a second LaVida Massage center.

What brand(s) do you have?
Mark: LaVida Massage
How many units/territories do you have and where are they located?
Mark: One unit currently, in Canton, Michigan, and I am actively looking to open a second location.
How did you get into franchising?
Mark: As an independent owner/operator in the grocery and supermarket business, the gradual shift toward larger national chains and the desire to try something new inspired me to explore franchising options. I wanted to start fresh, to get involved with something a little different, and – this may sound corny – but I really wanted to be a part of a business where customers were excited to be there; where they arrived happy and left happier.
What skills/experiences did you have before franchising that have helped you succeed?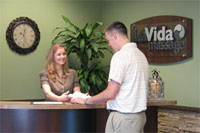 Mark: I have always had an entrepreneurial spirit and a passion for great customer service, traits that have served me well over more than 30 years of retail experience. I have definitely discovered that exceptional people skills and management experience – as well as a commitment to customer service – go a long way when you become a franchisee.
What opportunities has franchising afforded you?
Mark: The chance to move forward professionally on my own terms. The opportunity to focus on my strengths, and to move in a new direction that is both personally and professionally rewarding. One of the things I never expected was the degree to which my work with LaVida has opened up new avenues and enabled me to make new connections; to become part of a network and meet and work with people from all different backgrounds all across the country that I never would have met otherwise.
What challenges has franchising presented you?
Mark: Probably the most challenging aspect of my franchising experience so far has been the creative side of things – learning how to plan and engage with different forms of marketing and advertising. Like so many aspects of my new career, however, it's really more of a learning experience than a true challenge. It's exciting and invigorating to come to work ready to learn something new every day.
Has franchising been a successful business model for you?
Mark: Absolutely. Becoming a franchise owner has not only been a positive business move, but also a very rewarding move for me personally. It's not just my financial bottom line that has benefited. As a LaVida franchisee, I really enjoy my everyday interactions with clients – they are helping me to relax, too. And of course when I tell our massage clients that I used to be a meat–cutter by trade, it definitely raises a few eyebrows and gets a few laughs.
Annual sales/revenue/profitability?
Mark: LaVida centers have the potential of grossing $500,000 to more than $1 million per year. As we move into 2011, our momentum is continuing. In the month of January alone, we performed almost 1,000 massages.
Would you recommend franchising to someone else? Why?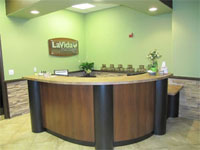 Mark: My franchising journey has been such a positive experience, I would absolutely encourage people to follow their passion and see if franchise ownership would be a good fit for them. It really is a uniquely flexible opportunity to experience all the benefits of being an independent operator, while also getting to be a part of something bigger. As someone who has started businesses from scratch, I can tell you that the value of an established franchise and everything that comes with that – the leverage, the buying power, the support, the resources – is just incalculable. You receive as much or as little support as you want, and with so much of the heavy lifting done for you, so much of the everyday stress and uncertainty of running a business are taken out of the equation.
Learn More About LaVida Massage
If you would like more information about LaVida Massage be sure to visit our company profile at: http://www.franchising.com/lavidamassage/
Published: May 19th, 2011
Share this Feature
Recommended Reading:
Comments:
comments powered by

Disqus