Franchising Fast Lane: Molly Maid's Meg Roberts Transitions From Marketing To Managing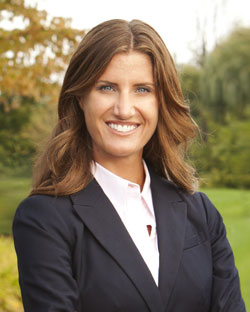 Meg Roberts says her professional career path changed course into the franchising business unexpectedly. The Michigan native always thought she would be in the advertising business, studied it in school, and went to work for one of the largest ad agencies, BBDO in Chicago, eventually working on major accounts such as Wrigley. But the high stress and long hours weren't conducive to a family and any life outside work. So she moved back to Michigan where she lived not far from Molly Maid headquarters and, as fate would have it, she even knew someone who worked there. One thing led to another and in 2007 she found herself as the director of marketing for the 30-year-old brand.
"One of the things that I came to realize very early on was that franchise marketing is much more complex than consumer retail marketing," she says. "You don't only have a brand marketing strategy but you also have to work with and influence the franchisees so that everyone is on the same page and executing effectively."
She didn't waste any time putting her marketing acumen right to work at Molly Maid. She introduced a customer-building online marketing campaign, driving up leads by more than 150 percent in 2010 and channeled resources into social media. Under her marketing leadership, Molly Maid achieved double-digit sales growth for three consecutive years. In 2011, she was promoted to Service Brands International's (which is comprised of Molly Maid, Mr. Handyman, and ProTect Painters) vice president of marketing for both the Molly Maid and Mr. Handyman brands. She and her marketing team continued to improve their online strategies and consistently increased website traffic, and most importantly, leads to franchise owners significantly year over year. She was racking up quite a reputation.
Last year Roberts took over as president of Molly Maid. She says her marketing background continues to influence her management style but adds, "I've also discovered that I'm more of a motivator than a marketer." She likes a "collaborative approach" to leadership and works closely with her corporate team.
For example, she and her team have been digging into customer demographics and other data and "discovered around 200 additional territories we think we can build out." They're also turning to technology to make sure they are ready to meet the emerging millennial customers on their terms. "We've been refining our web presence, capitalizing on social media, and upgrading our technology to provide better service."
It's these ongoing initiatives that she hopes will help the brand add at least a dozen new franchisees each year. "I'd like to sell a couple of dozen this year."
Looking into the future Roberts says will continue to draw on her creative, interactive, and strategic planning skills to guide the Molly Maid support team, increase owner return on investment, and strengthen system-wide validation.
Sometimes, changing lanes takes you exactly where you want to go.
Leadership Profile Q&A
Name: Meg Roberts
Title: President
Company: Molly Maid, Inc.
Units/Brands (by number): 256
Age: 40
Family: 2 sons, Luke is 10 and Erik is 7
Years in franchising: 5
Years in current position: 1
Leadership
What is your role as president?
My role as president of Molly Maid is to lead a diverse staff and diverse franchisees with precise goals and strategies. The ultimate goal is system satisfaction!
Describe your leadership style.
The best way to describe my leadership style would be respectful, clear with high expectations and fun-spirited.
What has inspired your leadership style?
My leadership style was inspired by being part of winning athletic teams, which taught me teamwork, leadership, and the concept of togetherness.
What is your biggest leadership challenge?
I struggle at times with balancing the long-term strategic vision with "get it done now" priorities.
How do you transmit your culture from your office to front-line employees?
Respect all team members as contributors, "clients," and collaborators.
Where is the best place to prepare for leadership: an MBA school or OTJ?
Definitely on the job training. With the right mentors and team members, on the job training provides all kinds of exposure.
Are tough decisions best taken by one person? How do you make tough decisions?
Collaborative decisions are great. Still never take credit for the good, yet always be willing to "own" the bad.
Do you want to be liked or respected?
Absolutely respected.
Advice to CEO wannabes:
There are no truer words than "no one cares how much you know until they know how much you care!"
Management
Describe your management style:
Laid back as a result of being highly organized and very clear about high expectations.
What does your management team look like?
The best Motley Crew! We have leaders and champions of IT, marketing, operations, and franchise development.
How does your management team help you lead?
Required: Accountability, respect, and collaboration. Not required: consensus. We challenge each other.
Favorite management gurus: Do you read management books? (please name):
John Maxwell: 12 Irrefutable Laws of Leadership.
What makes you say, "Yes, now that's why I do what I do!"?
When my teammates say they love their jobs and when our franchisees say owning their own business changed their lives!
Personal
What time do you like to be at your desk?
Before everyone else - typically 8:15 a.m.
Exercise in the morning? Wine with lunch?
Exercise always, wine rarely. For me, there's no better pair than cold beer and college football!
Do you socialize with your team after work/outside the office?
Yes! Everything from exercise to travel.
Last two books read:
All Things at Once by Mika Brzezinski and In the Woods by Tana French.
What technology do you take on the road?
I never travel without my smartphone.
How do you relax/balance life and work?
The best work-life balance includes quality time with the kids and daily exercise.
Favorite vacation destination(s):
Sullivan's Island, S.C.
Favorite occasions to send employees notes:
Always!
Favorite company product/service:
You just can't beat good Target shopping "therapy!" I also love Greek yogurt.
Bottom Line
What are your long-term goals for the company?
My long term goals include continued growth and satisfaction for existing franchisees, as well as reinvigorated sales of great territory to further the brand and service availability.
How has the economy changed your goals for your company?
Our goals remain unchanged but our focus on franchisee profitability, technology to improve efficiency, and gold standard service is even more precise.
Where can capital be found these days?
Capital appears to be loosening, though it is still not what is was five years ago. Local bank loans, retirement funds, and savings are often combined to provide financing.
How do you measure success?
Obviously sales are the essential numerical metric of success, but system satisfaction, attitude, and positivity are key. You feel this more than measure it.
What has been your greatest success?
My greatest success has been contributing to growth - either in personnel development, franchise business success, or my former contributions to marketing. Helping someone or something grow is truly satisfying.
Any regrets?
Sure, but if you learn from regrets and mistakes then they are lessons. Always focus on the upside.
What can we expect from your company in the next 12 to 18 months?
Increased energy, increased visibility and branding, and increased speed to franchisees with technology advancements.
Published: August 26th, 2013
Share this Feature
Recommended Reading:
Comments:
comments powered by

Disqus

Franchise Update Magazine: Issue 3, 2013
Conferences
InterContinental, Atlanta
OCT 18-20TH, 2023
UMI has over 23 years of experience supporting fast-growing multi-unit brands. From strategic planning to design, execution to analysis, UMI...
Slick Marketers is reinventing franchise marketing with a hyper-customized and ultra-localized marketing approach with measurable results and growth...