Franchising in Thailand
Where
Thailand

What
Mai pen rai: literally, "it's nothing"; also, "never mind" or "don't worry"

A phrase often heard in familiar conversation and on the street in Thailand, it's used in much the same way as "no problem" in North America, or "no worries" in Australia.


How
Say you're purchasing some delicious tropical fruits from a street vendor, only to discover that you have no small bills. You probably will receive a smile and a "mai pen rai" along with your snack and a sizable wad of 20 baht notes.

An employee arrives at an important meeting 45 minutes late. If the other attendees notice the straggler's tardiness at all, they are likely to dismiss it with "mai pen rai" and continue their discussion.


Why
In many ways, the "mai pen rai" attitude aptly reflects the Thai priority of "going with the flow." It also accounts in part for the friendly, easy-going lifestyle for which The Land of Smiles is justly famous. Rather than obsessing over schedules and task lists, Thais take a more accepting "come what may" approach to life that enables them to focus on family and social interactions, and to endure hardships or setbacks with grace.


So What
While most Westerners can't help but be charmed by the relaxed "mai pen rai" way of life, it strikes some as naïve or unsophisticated. When something takes longer to get done in Thailand than it would have at home, many an exasperated Westerner has concluded incorrectly that Thais are incorrigibly unmotivated. And when a Thai smiles and shrugs amidst calamity, they're often thought to lack the self-determination so highly prized in Western culture.

All three conclusions reveal much about core Western value systems - but little about Thai culture. The intricate web of social relationships that defines Thai life can hardly be called simple, nor does a decision to place service to family above "customer service" rendered to strangers preclude laziness. And numerous over-stressed Westerners seem desperate for the serenity offered by a "mai pen rai" approach to life.

If you find yourself stranded in an empty conference room well after the appointed meeting time or fidgeting in a taxi mired in Bangkok traffic, don't jump to conclusions about Thai culture. Instead, use that time to compare your own values with what you see around you, and never forget that "different" needn't always equate with "bad".

The more of Thailand you try to see through the eyes of Thais, the more "sanuk" (fun) you will have - and the more sense "mai pen rai" will make. And you will be more effective in business when you understand and accept the Thais on their terms.


To Learn More
Mai Pen Rai Means Never Mind: An American Housewife's Love Affair with Thailand by Carol Hollinger; (new printing), Asian Books, Bangkok, 2000.

Thai Ways 3rd Edition, Post Books, Bangkok, 2000, and More Thai Ways 2nd Edition, Post Books, Bangkok, 2000, both by Denis Segaller.


Guest writer byline:
By Brian Clark, an IT Project Manager with extensive experience in the facilitation of global teams and management of corporate operations in Southeast Asia. He can be reached at clarkbri@mindspring.com.


World Culture Tips Editor Blurb:
World Culture Tips editor, Gary M. Wederspahn, is a leading intercultural business consultant, trainer, coach, speaker, and writer. His book, Intercultural Services: A Worldwide Buyer's Guide and Sourcebook, is available from Butterworth Heinemann publishing company and from Amazon.com.

Published: July 4th, 2008
Share this Feature
Recommended Reading:
Comments:
comments powered by

Disqus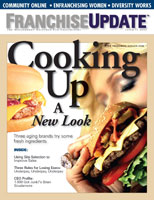 Franchise Update Magazine: Issue 2, 2005
Conferences
InterContinental, Atlanta
OCT 18-20TH, 2023
April 25 - April 28, 2023, Caesars Forum, LV. The Multi-Unit Franchising Conference is the premier annual event for the country's leading...
Atmosphere TV is the world's leading cable alternative, providing free streaming TV for businesses.