Franchisors Can Help with Financing
It's time to step up

In June, FRANdata published an e-newsletter titled, "It's Time To Start Helping Franchisees To Get Loans." Darrell Johnson, the research firm's CEO, wrote: "Franchisors must increase their attention to helping franchisees obtain needed capital. Since lenders make decisions based on perceived estimates of risk, then you must help them assess your brand's franchisor and system risk."

Johnson listed five ways a franchisor can help its franchisees:
Provide an historical risk analysis of both franchisor and system performance.
Provide a comparative risk analysis if there are performance issues that need context with other franchise brands in your sector.
Make sure your brand is current on the SBA Registry.
Align and regularly compare your franchisee screening criteria with what banks are requiring.
Talk to more banks to open up alternative sources of franchisee loans.

While many franchisors have a long way to go in this regard, we found some who, if not ahead of the curve, at least are on the front end.

"We absolutely assist with access to financing," says Shelly Sun, co-founder of BrightStar Healthcare. For Sun, getting on the SBA Registry is number one. She also seeks out networking events to meet lenders and make them aware of her FDD and business model--as well as to stay in touch with the changing requirements of lenders.

"Our Item 19 is laid out to help candidates prepare a financial plan for their bank. We give them a form to put in numbers--the formulas are built in, but there are no numbers," she says. "It will calculate a full income and cash flow for them. The bankers love it."

She also has established relationships with three conventional SBA lenders; two 401(k) firms, Guidant Financial and Benetrends; and two national lenders. "We've never had a franchisee turned down," says Sun. She says about half of her franchisees access funding, while the other half are "million-dollar guys."

Fred Harms, vice president of franchise development at Kiddie Academy, says franchisors can use Item 19 to help franchisees with lenders in one very obvious way: "If you have a good EBIDTA that you can disclose, and during the selling process you can talk very candidly with franchisees, then they can talk with bankers and know what they're talking about." That can go a long way toward establishing credibility and easing the lender's concerns.

"Often, the candidate rushes out to the banker right away," says Harms. They're enthusiastic, but they can't answer the question, 'What are the four things you do to make money?'"

At Wild Birds Unlimited, says Paul Pickett, vice president of franchise development. "We do not provide bottom-line numbers, but top-line and three expense items. That helps validate at least part of a potential franchisee's projections."

This way, when the candidate approaches a lender, who says, "Your cost of goods sold is X, why that number?" the candidate can respond confidently: "Because that's what the franchisor gave me for the average franchisee." Says Pickett, "This helps bankers evaluate projections and other numbers in their business plan or proposal."

"I haven't experienced taking earnings claims to the banks to ease a lender's mind, but I could see how it would," says Gary Robins, who owns 30 Supercuts and Cost Cutters--all financed through the same lender.

Robins says he's financed every one of his locations through the same lender. His franchisor, he says, "has absolutely developed a relationship with my lender, getting them comfortable with the business model. It really helped in our case, so the franchisees could have easier access to capital."

Over the years, he says, this relationship has made financing smoother for him. "There is no doubt about that--especially in my business, which has no assets."

A detailed, realistic statement of earnings and expenses in Item 19 of your FDD is a very good basis to help candidates and franchisees prepare pro formas for banks, says Charlie Simpson, executive vice president and COO for Great Clips. "Banks want to loan you money, but you have to have something substantial to base that on. An earnings claim provides banks and lenders with something they can be comfortable with."

Ted Torres, a hotel developer and franchisee for more than 20 years, says franchisors can do several things to help with financing. "A reduced franchise fee structure is beneficial. It puts more money in our pocket initially. I've done that," says Torres, president of International Hospitality Development Alliances in Scottsdale. A preferred relationship with a lender is also a plus in his experience.

Loans in the hotel business are highly sensitive to valuation, he says, and sometimes an appraiser doesn't understand the business model, resulting in a lowball appraisal that affects loan amounts and terms. Torres suggests a franchisor could remedy this by creating a "composite" of the earnings statements, down to the net operating profits line, of 10 hotels across the country.

"Taking these statements and doing a blend can be beneficial for the franchisees," he says. "Lenders are open to third-party data to make decisions," says Torres--whether that third party is an appraiser or a franchisor.
Lenders agree
"It's very important that the franchisor has relationships with lenders, that they understand what that lender's criteria are for lending to its franchisees," says Brian Colburn of Mount Pleasant Capital. "The market being what it is today, it's difficult for smaller franchisees to get money. If the franchisor knows the lender's criteria, it makes it easier to grow the brand."

"Each franchisor works a little differently," says John Rinaldi, president of Irwin Franchise Capital. Generally, the franchisor has prescreened and worked with lenders who understand their brand," he says. Those preferred lenders are reliable, available, and favorably inclined toward qualified candidates. "It doesn't mean the franchisor says the lender will give you a deal," says Rinaldi. But they can provide a list of those lenders to get franchisees started on the right foot.

With the growth of multiunit prospects, franchisors are starting to realize they must put more time into the finance relationship up front, says Bob Rodi, president of Mount Pleasant Capital. "You don't want to sell a five-store contract and find they can't get number two open," he says, because of a lack of cash flow from the first store, or an inability to close a loan as they struggle to meet their development agreement.

In his recent newsletter, Johnson urged franchisors to step up. "For years I have heard many reasons why franchisors have taken a hands-off position regarding franchisee financing. As a former banker, I didn't understand that position in good times let alone in difficult times. If franchise systems want to grow through this economic downturn, that position simply has to change."
Published: October 14th, 2008
Share this Feature
Recommended Reading:
Comments:
comments powered by

Disqus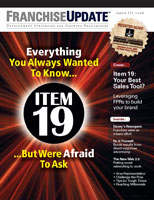 Franchise Update Magazine: Issue 3, 2008
June 18-20, 2024 Marketing-Operations-Technology. Be a part of this ground-breaking new space for ideas, inspiration and networking for Franchise...
BoeFly drives growth by delivering financially qualified candidates increasing lead-to-franchisee conversion, and helping franchisees secure...