Franchisors stampede inventor pleading for secret formula
I confess, I'm still guilty. I bet you are, too! Ever wish for a marketing miracle, hoping to discover the "magic bullet" that creates masses of buyers begging for your franchise? How 'bout fantasizing that your $300 newspaper ad just generated 50 leads, and your franchise Internet ads deliver 100 percent qualified candidates who return all your phone calls? Then suddenly, media reporters call you in sheer excitement about your press release, promising feature coverage in the Wall Street Journal, Newsweek, and on the major network channels. And just a second! It's your phone light flashing fiery red with 40 urgent messages from prospects you met at this weekend's franchise show!

Fraud squad throws mad chemist in the slammer
Then the dream turns into a nightmare, as we wake up screaming, still facing the elusive, changing, and unexpected challenges of franchise lead generation. Frustration still haunts our calculating minds as we search for answers to find the perfect plan for luring sensational candidates to our franchise opportunity.

How to find the magic potion for your concept
As franchise sales veterans know, a good media plan with one company doesn't mean it will work for another, even within the same industries. Countless variables affect results, such as differences in candidate profiles, business types, franchise programs, investment levels, qualifications, sales processes, corporate philosophies, programs, etc.

The good news for franchise recruitment is that there are key lead-generation sources that work in varying degrees of success. Here's a planning process that can help you discover the best ones for you, cut marketing costs, and increase your selling prospects:

Building your successful lead-generation program


1) Base your recruitment budget on cost-per-sale - If you don't know your own selling stats, check out industry-wide sales and lead costs in this Franchise Update issue. By benchmarking your acquisition results, you'll develop a more realistic budget for meeting your 2007 franchise goals.

2) Low-cost sales first - Include any franchisee referral programs and networking opportunities in your lead-generation plan, with related expenses budgeted accordingly. These avenues have paid off big-time for franchisors aggressively capitalizing on these non-media marketing avenues.

3) Target the right audience - Match your ideal profile with the particular media source you select. Don't advertise in an investment magazine if you require hands-on ownership, or seek multi-unit franchisees on a website portal predominantly marketing low-end business opportunities.

4) Use multimedia sources - Using only one medium confines your message to only a portion of your buyers, limiting your potential sales growth. Betting your success on a single source can be dangerous. "I only use the Internet," or "Brokers are the only way to go," or "PR is 100 percent of our recruitment budget" puts your franchising expansion in a vulnerable, high-risk position. And remember, print advertising is excellent for driving prospects to your Internet website.

5) Increase winners, dump losers! - Beef up what's working, get rid of what isn't. Your ad costs will drop and sales will go up. Ride the winners as long as they continue to produce franchisees, upgrading your presence with these sales generators while the going is good.

6) Frequency is critical for success - Commit to at least a three-month Internet run and three-time placement in publications. You'll get more bang for the buck running a one-third-page ad three times rather than a full-page ad once. Frequency always outperforms size. You're just burning ad dollars with one-shot deals.

7) Don't forget trade media - Franchise advertising should always be considered in your industry publications, websites, or shows, and may also produce good franchise prospects, sometimes at a much lower cost!

8) Create an opportunity fund - Budget some monies to take advantage of special editions, activities, or new media programs that come up during the year. A reserve fund helps prevent missing out on these special opportunities.

9) Quarterly adjustments to your plan - Analyze and modify your lead-generation activities at least every three months. What you don't measure, you can't improve. The best-performing media plan is constantly evolving. Static plans lose their punch pretty quickly and suffer lead erosion-especially considering how volatile website marketing, broker leads, PR, referrals, or most any sources can be at any given time. Let's not forget changes in buyer interests triggered by hurricanes, election years, war, and booming and busting economies. Companies who only reengineer their recruitment programs annually are making costly mistakes.

10) Only results count - Recruitment advertising has one primary mission: generate prospects for franchise ownership. If you aren't producing qualified email responses, or better yet hearing your phone ring, your marketing efforts are failing. Implement a systematic lead-generation process, and you'll improve your efforts and save money! This takes time, attention, and careful analysis. It's hard work, but the payoffs are oh-so-sweet.
Published: April 17th, 2007
Share this Feature
Recommended Reading:
Comments:
comments powered by

Disqus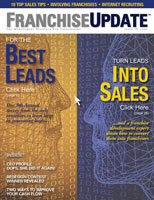 Franchise Update Magazine: Issue 4, 2006
ApplePie Capital provides a fresh new approach to franchise financing that is focused on your growth and success.
The Titus Center for Franchising, one of Palm Beach Atlantic's Centers of Excellence, offers a concentration in franchising to business students.