Fresh-Baked Approach: We take our Pretzels Seriously, not Ourselves
In the fast food industry, taste will always rule. The past few years, however, have seen a shift in the way guests connect with brands, with elevated expectations regarding food quality, transparency, and authenticity. While evolving with your guests is mandatory for success, doing it in a way that aligns with your brand's ethos is the difference between average and thriving. For all the growth Wetzel's Pretzels has experienced, ensuring that our products, marketing, and guest experience have been brand aligned since day one is an element we're incredibly proud of. We were the 10th player in the fresh-baked pretzel category when we entered in 1994, and people said we'd maybe get to 30 locations. We will end 2015 with 320 units, with another 35 to 40 opening in 2016. Here's how we've done it.
Building a brand
Before co-founding Wetzel's Pretzels, my business partner Rick Wetzel and I spent years as marketing executives at Nestle. When we launched Wetzel's, having the best-tasting pretzels was a top priority. While we hired a Culinary Institute of America chef to create our recipe, we gave equal focus to the in-store experience. In the 20-plus years that we've continued to be at the helm, a rarity in this business, we've never let the company waver from that. Freshness was a buzzword back when we launched, and is an even bigger deal now (think Chipotle's open kitchen with cooking happening in full view). We always had a freshness vision for Wetzel's, so we put our mixers in the middle of our units so guests can see dough being made throughout the day. The location of our mixer may seem like a little thing, but it's these seemingly innocuous elements that ladder up to the guest experience. Pretzels are also rolled in full view, what we call our "theater of rolling." We love that our customers see pretzels being mixed, rolled, and baked fresh in front of them.
Knowing who butters your bread
As much as we focus on pretzels, we focus on the profitability of our franchisees even more, so everything we implement has to be easy to execute and make money for those who represent our brand system-wide. Around 12 years ago we started to see consumer demand for more bite-sized and shareable products. Out of that came our Wetzel Bitz, which are our original pretzels cut into individual pieces. Not only did this cater to what our guests were craving, it also enabled us to increase check size with a negligible food cost increase. When we launched Wetzel Bitz, they made up 5 percent of our total sales. Today, our Bitz offerings are a core part of our brand, with variations including salted, cinnamon sugar, and even a pizza version, with melted cheese and pepperoni. At some locations Bitz account for 40 percent of sales. This goes back to knowing who we are as a brand, and innovating on that playing field.
Menu boards that don't bore
Another area where we've honored our brand ethos is with our menu boards, which are somewhat unique in the restaurant space, in that they contain virtually no text. How do we get away with that? Simple: we replaced text-heavy boards with big photos of our most popular items. Children can simply point at what they want, and parents love that, leading to an enjoyable in-store experience. In 2014, we digitized our menu boards and added animation. They show our animated bakers creating some of our most popular products in a fun way, like a ninja slicing dough to create Wetzel Bitz, or pepperonis being launched from a cannon to create our Pepperoni Twist Pretzel. It's another way we're innovating within our area of expertise. By the end of 2015, the digital menu boards will be in 25 percent of all Wetzel's locations, and we're seeing a measurable bump in sales in locations that use them.
Listening and reacting
What we have done throughout our 22-year history is listen to our guests and, above all, to franchisees, to make updates, product introductions, and refreshes where it aligned with our brand and showed additional profitability for our operators. Case in point: If you walked into a Wetzel's Pretzels today, almost two-thirds of the available products were not in-store when we launched the company more than 20 years ago, including some of our top sellers.

I enjoy speaking with franchisees about how we can continue to drive the company forward, and we've had some great ideas come out of these candid conversations. At the end of the day, Wetzel's is a fun, irreverent brand, and we pride ourselves on being the category innovator. As the saying around here goes, we take our pretzels seriously, not ourselves, and everything we do, from new product introductions to store design and guest interaction, reflects that. Being true to our original brand position and keeping it top of mind when pursuing success cannot be overstated, whether applying it to one singular element or system-wide.

Bill Phelps is the co-founder and CEO of Wetzel's Pretzels

.

Published: December 28th, 2015
Share this Feature
Recommended Reading:
Comments:
comments powered by

Disqus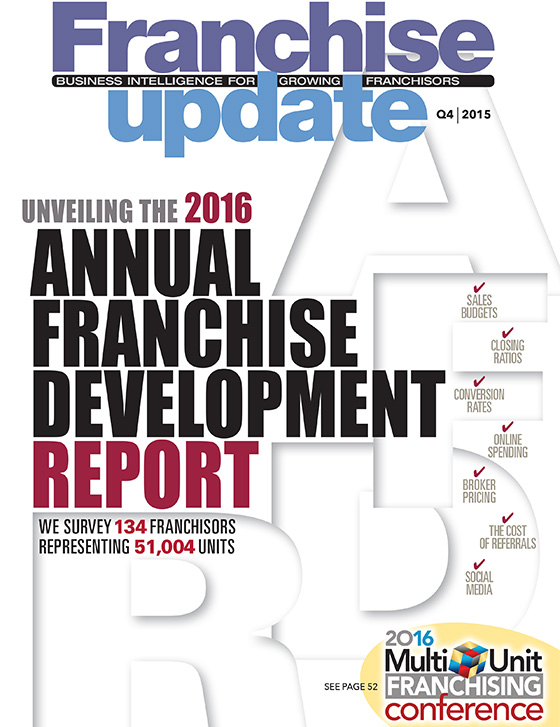 Franchise Update Magazine: Issue 4, 2015
Conferences
InterContinental, Atlanta
OCT 18-20TH, 2022
Our franchise management software helps increase unit growth, reduce opening time, track and improve unit performance, automate financial reporting...
Location3 Media is a digital marketing agency that delivers enterprise-level strategy with local market activation. Founded in 1999 and located in...