From Summer Job to CEO: Rich Wilson Leads a Turnaround at CertaPro Painters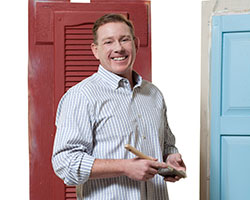 Rich Wilson needed to earn money for his college education. The way he saw it he had two choices. "I could either spend a summer crab fishing in Alaska or start my own business," recalls Wilson, president and CEO of CertaPro Painters. "I decided to stay dry."
So in 1987 he became franchisee of College Pro Painters, a painting company that targets business-minded students. It worked out: he made enough money to pay off his tuition bills and enjoyed running a business so much that, rather than following his plan to attend law school after graduation, he joined College Pro's corporate team, becoming a division vice president by 1992. He spent the next 5 years with the organization before a couple of career turns at Aamco and Maaco before settling in at CertaPro Painters in 2003.
When Wilson took over as the company's executive vice president, growth was stagnant, with annual sales of about $50 million. He spearheaded major company-wide changes, revamping hiring processes, improving franchisee relations, and adjusting marketing strategies. In 2008 he became COO, and in 2010 was named president. Under his leadership, the company saw major results: since 2009 CertaPro has charted year-over-year double-digit growth, and in 2013 the company notched $265 million in sales.
And he's far from done. In January 2013, CertaPro launched two new initiatives designed to make it the most well-known name in painting. First, the company is getting a paint job: all CertaPro logos, clothing, and marketing materials now will use gold as an accent color. The idea is to focus on brand recognition instead of direct response marketing.
"The way people associate blue with Facebook--that's what we expect for CertaPro," he says. "We want people to recognize the company instantaneously."
Second, and perhaps even more ambitious, CertaPro is changing the way it handles customer feedback. The company has always made customer satisfaction its highest priority, and surveys a third of its clients annually. That's all changing. CertaPro has begun using Net Promoter Score (NPS), an industry standard that uses a third-party agency to survey customers anonymously and assign companies an overall satisfaction score between 1 and 10.
"We could just finish the job and move on, but customer satisfaction is vital. We want to know how to exceed our clients' expectations," says Wilson.
Between the image revamp and the new feedback system, Wilson is confident that CertaPro will see continued growth--and most important, the ongoing corporate changes will benefit the company's 345 franchisees. A strong network of support and extensive corporate training (CertaPro University) helps franchisees recruit and retain talented staff members, which Wilson says has improved productivity and sales.
"To grow as a company, we need to help our franchisees grow. Through these new initiatives, as well as our existing franchisee support system, we can create a culture of growth and success that benefits the whole company," he says. And when franchisees are happy, others want to join the team.
The economy has certainly played a role, as CertaPro's growth is helped by the housing industry's recovery. With home prices gradually returning to pre-bubble rates and more people finding jobs, the Home Improvement Research Institute projects an 8.1 percent increase in home sales this year. This translates to more people investing in their homes--just the kind of news CertaPro likes to hear.
Between the housing recovery and Wilson's leadership, CertaPro is poised for another record-breaking year, with expectations to continue its double-digit annual growth. Wilson expects to double annual sales to more than $500 million by 2016 and has plans for CertaPro to grow to $1 billion in annual sales within the decade.
"We're already the biggest company in the industry, but there's nowhere to go but up," he says. "Breaking the $1 billion mark isn't a dream--it's rapidly becoming a reality."
Name: Rich Wilson
Title: President and CEO
Company: CertaPro Painters
Units: 345
Age: 47
Family: Wife Ellen, married 23 years; sons Luke, Mark and Sean
Years in franchising: 25
Years in current position: 4
Leadership
What is your role as CEO?
To provide opportunities for great people to build big, profitable painting operations that consistently gain market share through extraordinary experiences.
Describe your leadership style.
Situational, based on the person and the circumstances that leadership is required.
What has inspired your leadership style?
Mentors and experience. Certainly, CertaPro founder Charlie Chase would be at the top of the mentor list. As for experience, having spent so many years in this industry has given me the opportunity to learn to work with all kinds of people in a concerted effort to work together to make it successful for everyone involved.
What is your biggest leadership challenge?
Recruiting great people. That's everyone from support people and executives at the corporate level to field support and our franchise partners. It's important during times of fast growth to be careful and disciplined to make the kinds of decisions that will develop and produce strong leaders.
How do you transmit your culture from your office to front-line employees?
Living the values of the organization.
Where is the best place to prepare for leadership: an MBA school or OTJ?
I don't have an MBA. However, I value education and continuous improvement. So all I know is that I need to learn from whomever and whatever resources are available.
Are tough decisions best taken by one person? How do you make tough decisions?
Decisiveness is critical to leading any organization. Decisions should be thoughtful, collaborative with all stakeholders, and owned by the CEO.
Do you want to be liked or respected?
No.
Advice to CEO wannabes:
1) Live the vision and values that you espouse. 2) Continuously improve.
Management
Describe your management style:
Put the right people in the right seats. Support them. Challenge them. If deserved, then give them more responsibility.
What does your management team look like?
I'm proud to say that every direct report is far more competent than I am at their role.
How does your management team help you lead?
If, and only if, I have the right management team in place, then this great organization can attain its vision.
Favorite management gurus: Do you read management books?:
Good to Great and Level 5 Leadership by Jim Collins.
What makes you say, "Yes, now that's why I do what I do!"?
Providing opportunities for thousands of people and their families to improve their lives.
Personal
What time do you like to be at your desk?
Whenever I need to. I abhor routine and try to be nimble day to day.
Exercise in the morning? Wine with lunch?
My wife and I engage in CrossFit. It's a competitive and rigorous workout that does not allow us to have wine at lunch.
Do you socialize with your team after work/outside the office?
I do my best to hire and surround myself with people who I respect and like. So the simple answer to this question is "Yes."
Last two books read:
Atlas Shrugged and The Furies.
What technology do you take on the road?
MacBook Air, iPad, iPhone, and Livescribe.
How do you relax/balance life and work?
Engage with my three boys and dog in some sport.
Favorite vacation destinations:
Hatteras, Eleuthera, Palm Springs, and still looking.
Favorite occasions to send employees notes:
As often as the occasion warrants.
Favorite company product/service:
I hire our local franchisee to paint every year.
Bottom Line
What are your long-term goals for the company?
Our vision is to consistently deliver extraordinary experiences.
How has the economy changed your goals for your company?
It has not.
Where can capital be found these days?
A bank is still one of the best places for financing. It's local and allows most business people to establish credit and a proven track record that often keeps the doors open. We've seen credit loosening up a little and 401(k) retirement can be a good source, but home equity as an investment tool is gone. We're also fortunate in that we have a relatively low barrier for entry.
How do you measure success?
Goals. One of the ways we measure our brand success is through customer satisfaction. We survey our customers and seek to improve in any areas necessary. Beyond that, it's important for our franchisees to be successful and achieve their goals. That could be an income goal or a quality of life goal, but that success is one of the ways we measure our success as a brand.
What has been your greatest success?
It's yet to be realized.
Any regrets?
No.
What can we expect from your company in the next 12 to 18 months?
Year-over-year growth of 20 percent. We'd like to see another 35 franchisees come on board. We're working to increase our mix of commercial clients so that we are closer to a 50/50 mix of commercial and residential. Everything we're doing right now is a part of a bigger 3- to 5-year plan.
Published: August 15th, 2014
Share this Feature
Recommended Reading:
Comments:
comments powered by

Disqus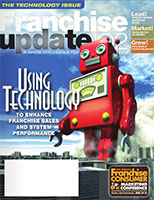 Franchise Update Magazine: Issue 2, 2014
Conferences
InterContinental, Atlanta
OCT 18-20TH, 2023
Support your multi-location brands and empower users. OneTouchPoint integrates localized marketing services and comprehensive brand management...
Slick Marketers is reinventing franchise marketing with a hyper-customized and ultra-localized marketing approach with measurable results and growth...