From the Grab Bag: Survival Tips And Tactics For Tough Times
One of the great things about being an editor at Franchise UPDATE is the constant stream of press releases we receive. (Okay, I admit, it also can resemble a state of siege). The mailbox always includes some great suggestions on how to improve your business, as well as success stories of franchises continuing to grow, despite the economy. Here are a few items to stimulate your thinking, from top to bottom line.
Part-time franchisees - Some businesses fare better in hard times just by dint of what they do--plus some innovative marketing. HomeVestors ("We Buy Ugly Houses") awarded 10 new franchise agreements last November. Eight of the 10 took advantage of the company's new "associate franchise" program: a $12,000 franchise fee and a plan that lets operators work from home part-time and keep their day job. (The regular franchise fee is $49,500 and requires operators to open an office and be a full-time real estate investor.) Associate franchisees also can receive assistance from an experienced franchisee who serves as their development agent and mentor. HomeVestors, with 210 franchises in 35 states, also announced it will begin expansion efforts in Canada, with plans to sell up to 1,000 full-service and associate franchisees there. www.homevestors.com
Why strategic plans don't work - With so many expansion schedules in the economic deep freeze, this is an ideal time to review your strategic plan--something you should do regularly, even in good times. While strategic planning is necessary for setting goals and charting a course for future growth, more than 50 percent of executives say they're unhappy with their strategic planning process, says management consultant Ron Price, CEO of Price Associates. In an article entitled, "Why Strategic Plans Don't Work… and What To Do About It," Price lays out six reasons most strategic plans fail and the three phases to do one successfully. Three reasons for failure are a lack of: focus, energy/resources, and flexibility. The three phases to implement are 1) intuitive thinking, 2) looking long-range, and 3) operational planning. www.price-associates.com
Offer franchisees a money-back guarantee - SKYShades, founded in Australia and now based in Orlando, Fla., is making it easy for new franchisees to say "no worry, mate." If new franchisees do not generate $1.5 million in revenue in their first three years, SKYShades will refund their $75,000 initial investment. "We are offering this money-back guarantee because we want potential franchise owners to know that even with concerns over the economy, we are experiencing tremendous growth," says Joe McKenna, executive vice president of SKYShades. The guarantee is available through first quarter 2009. The company, which sells tension-membrane shades (canopies that block the sun at outdoor venues such as hotels, resorts, restaurants, coffee shops, parking lots, and more ), has sold eight franchises in the U.S. since starting to sell franchises a year ago. SKYShades also can incorporate thin-film solar energy cells into its shade structures, providing clean, green energy for those below. www.skyshades.com
Sweat the small stuff -- Have your big plans been hijacked by the economy? Think small, says marketing and sales consultant John Haskell (aka Dr. Revenue), president of The Professional Marketing Group. With the current market shrinking and money tight for the foreseeable future, how can you maintain or boost profits? Haskell recommends focusing on the "little things" you can control, such as:

Budgets--Don't follow suit by cutting marketing and advertising budgets.
Promotion--Stay visible to your customers, and not just by cutting prices.
Events--Capitalize on every event you can, and follow up effectively.

Make the most of the slowdown to get your house in order and you'll be better prepared for the turnaround. www.drrevenue.com
Re-franchise to raise cash -- With many franchise sales and royalty streams mirroring the general economy, franchisors are selling off the family jewels to keep the cash flowing. One of those is Rita Restaurant Corp., which plans to franchise 30 of its 40 company-owned Don Pablo's restaurants by 2012, as well as begin franchising the brand. COO Paul Seidman says the company will initially focus franchise growth on markets where Don Pablo's are currently operating, but will offer both single- and multi-unit franchise licenses in new markets as well. Investment costs are $40,000 for the initial franchise fee and $10,000 for each additional restaurant.
Speedpro revs up sales -- Many C-level executives looking for ways out of the softening corporate world are turning to franchising, eager to use their business skills and acumen to provide themselves with a reliable, long-term source of revenue. SpeedPro, which markets large-format, high-quality imaging products such as vehicle and building wraps, sold seven franchises in two months as 2008 drew to a close, at about $185,000 to $200,000 each. Nationwide in 2008, store revenues rose about 12 percent over 2007. Jeff Johnson, CEO of Franchise Research Institute, says he doesn't see any other franchise business having this level of success anywhere in the country. But the opportunity exists for any quality brand. "It's really the perfect storm of good, smart business people watching their 401(k)s drop and wanting more control over their lives." www.speedproimaging.com
Selfishness kills -- According to self-described renegade consultant and best-selling author Don Schmincke, selfishness kills performance, projects, profits, and possibilities. When management and staff hunker down in their own departments, cooperation and collaboration suffer, as do growth and revenues. Schmincke, in a recent article, tells how to deal with self-interest and egotism to bring employees and leaders together in the workplace. He shows the average revenue lost by selfishness in companies, and details the steps and benefits to creating a "saga" over a mission statement, including successful examples of company sagas. Schmincke recently co-authored the book "High Altitude Leadership" with Chris Warner, which reveals leadership insights from death-zone environments. www.donschmincke.com companies
Published: April 20th, 2009
Share this Feature
Recommended Reading:
Comments:
comments powered by

Disqus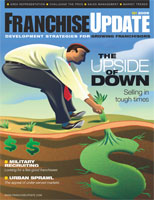 Franchise Update Magazine: Issue 1, 2009
Atmosphere TV is the world's leading cable alternative, providing free streaming TV for businesses.
The business messaging platform that lets you text from your office phone number directly on your computer, so you can actually get a response.