Future-Proofing: 7 Areas You Can Automate Now
Talk of how artificial intelligence will take over jobs performed by lowly humans in a fourth industrial revolution (Industry 4.0) has been scaring employees and employers alike in recent months.
But it's less likely to be the future threat of a 'droid takeover than the more immediate fear of being left in the dust by the competition that has prompted business leaders to look within and future-proof with technology.
While a macro approach to technology is crucial, begin to probe individual departments and franchisees about their micro processes and it will appear some are stuck in the Dark Ages. The reality is that many are still in manual mode for countless small things--and you can't build an empire until the foundations are laid.
In a world of cloud computing, virtual assistants, and self-driving cars, there is no reason so many good moods and human minutes must be sacrificed to things like manual data input, training, and reordering supplies. Here are seven things your franchise can start automating today.
Billing. If any of your billing systems involve paper, stop what you're doing. Cloud accounting software will automatically extract key information from old invoices, validate new ones, and route them to the relevant department instantly. All bills are automatically reflected in quick-view financial reports, and systems can be set up to issue invoices and send reminders to late payers without any manual input.
Project management. Five franchisee branch managers are all collaborating on a project with the franchise CEO. Every person is located in a different state and meeting up can't work because of busy schedules and cost limitations. Project management software allows every user with permission to see a live project online, receive status and progress updates, and view remaining tasks and deadlines. You could argue this is not automation, but I beg to differ. Imagine the alternative: a project flying back and forth through a lengthy email thread with no version control, and vulnerable to human error. In short, unnecessary chaos.
Appointments and reservations. Telephone reservations are a waste of manpower, prone to human error, and act as a barrier to customers who have only seconds to spare to reserve an appointment or a table, and cannot deal with the telephone preamble. Yet, I bet you can think of at least one customer-facing business in 2018 that still uses paper, pencils, and erasers to take and rearrange reservations.
Online systems are simple, very affordable, can be configured to convey your company values, culture and "personality," and can be synced with your customer database so you can see who's returning and who is new. Automating appointment reminders in the dental sector, for example, showed a 22 percent reduction in client no-shows over 36 months, and an ROI of all first-year software fees within six months after activation, according to research by Sesame Communications, a provider of online services for the dental industry.
Onboarding. Hands up if your new hires fill in paperwork, complete training courses, and get a breakdown of general day-to-day on a quick walkaround. While a guided tour from an enthusiastic member of the staff and a chat with a manager will always be welcome, several elements of onboarding work better for everyone as a paper-free experience. Employees can use HR self-service to input their personal details, reducing labor costs, and training can be given through e-learning portals with a gamification element that engages employees and checks that the information has been absorbed.
Human resources. An HR department cannot achieve greatness while still handling payroll, holiday requests, and timesheets. Switching from paper to e-forms, secure applications, and online portals means sensitive data is kept private, secure, and is processed with greater efficiency--without the need for manual data input at all.
Workplace supplies. The workplace consumables supply chain can often be fragmented and messy. There is no reason why anyone should be paid to order pens or toilet paper. Software programs can track when stocks are running low and automatically purchase more, comparing the best prices before buying. It may be the little sibling of full supply chain automation, but things like H-P's Instant Ink and automated copy machine and printer paper ordering can save a lot of hassle. There are even rumors that "smart" coffee machines and refrigerators that can reorder their own refills will go mainstream.
Communications. Emails, emails, and more emails. Internal communications can be managed through automated email and follow-up systems, or chatbots, meaning you never have to write another email saying, "Thanks, that's great!" or "I look forward to seeing it." Externally, systems that auto-send personalized emails on customers' birthdays with discount codes and coupons can easily be done without lifting a finger. And since it costs five times as much to make new customers than keep your existing ones, once you've got them, you can use technology to make sure you keep them.
Nigel Davies is the founder and CEO of U.K.-based Claromentis, a provider of digital workplace software used by U.S. franchise businesses to improve learning, collaboration, and productivity. Contact them at marketing@claromentis.com.
Published: December 22nd, 2018
Share this Feature
Recommended Reading:
Comments:
comments powered by

Disqus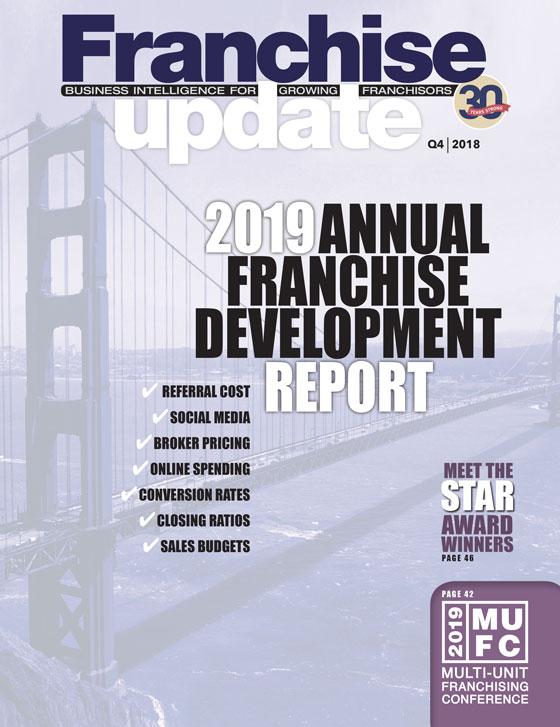 Franchise Update Magazine: Issue 4, 2018
The Hungarian Franchise Association was founded in 1991 as an interest representation organization of the franchise business community.
Prisma has reinvented the marketing supply chain with an end-to-end solution that makes it easy to design, customize, order, download, print, kit,...