Good Franchising, Vietnam! A Deep Dive Into one of Asia's Hottest Growth Markets
My first visit to Vietnam was in November 2008 when international franchises were just starting to appear in the country. The GDP per capita on a purchase power parity basis (PPP) was US$4,200. Having lived in China, Hong Kong, and Indonesia, I wondered what type of economy Vietnam would have. Would investors know what franchising is? Were there companies that could qualify for U.S. franchise licenses?
Before answering these questions, let's take an in-depth look at the current Vietnamese economy and population to see what the real potential of the market is. Today the GDP (PPP) per capita is US$6,900 and international franchises are becoming well established.
The World Bank says Vietnam has transformed itself from being one of the poorest nations in the world 30 years ago to a country that is one of the hottest growth markets in Asia --and, according to some, resembles the growth trajectory of its bigger brother in years past, China.
Of the country's 96 million people, 12 million (1 in 8) were classified as "urban middle-class consumers" in 2017, a number expected to nearly triple to 33 million this year. This part of the population has a very high desire for Western brands.
In my own trips to Vietnam over the years, everyone I met was an entrepreneur and wanted to be part of the middle- or upper-class consumer base. The country's young consumers are seeking Western brands where they know they will get value, quality, convenience, and good customer service.
According to a recent Standard Chartered survey, Vietnam's economy is one of only a handful expected to have a net GDP growth rate of 7 percent or higher from 2018 to 2030. Vietnam's rapidly expanding middle class is anticipated to be the fastest-growing middle class in Southeast Asia. According to PwC's "The World in 2050" report, Vietnam is forecasted to be among the Top 20 economies in the world by 2050.
Vietnam has also continued a longstanding shift away from agriculture and toward industrial output. Agriculture's share of economic output shrank from 25 percent in 2000 to roughly 15 percent in 2018. While the global recession was a significant drag on the Vietnamese economy (GDP growth dropped to 5.25 percent in 2012), the country is now in a steady growth phase again. GDP grew at a rate and 6.5 percent in 2018.
Vietnam Country Data
(1 = best, 4 = worst)

Population: 96 million

Market size: 2

Median age: 30.9 years

Franchise friendly: 2

GDP per capita: US$6,900 (2017)

Investment risk: 2

2018 GDP growth (projected): 1

Ease of doing business: 3

Exchange rate: 23,136 Dong per US$1

Corruption index: 3
Franchising in Vietnam
Franchising is no longer a new business concept in Vietnam. Major U.S. brands are now appearing in considerable numbers, and Vietnam has developed a few of its own franchise brands. Vietnam is in the process of easing its franchise laws and regulations to encourage more franchise business growth. More franchises means more trained and well-paying jobs, a focus of Vietnam's government.
Most franchised businesses in Vietnam are in the food and beverage sector with the major international burger, chicken, and pizza brands present. Vietnam also is another Asian growth market for the coffee sector. The Coffee Bean & Tea Leaf is well established, and PJ's Coffee of New Orleans has opened in Ho Chi Minh City (Saigon). Education franchises are highly valued, in both the management training and children's education sectors.
Franchise brands such as KFC, Pizza Hut, Lotteria, Jollibee, McDonald's, Burger King, Domino's, Starbucks, Dairy Queen, The Pizza Company, Baskin-Robbins, 7-Eleven, Circle K, GS25, and many more brands from Japan, Taiwan, Korea, Singapore, Malaysia, and other countries can be found in Vietnam's two main metropolises, Ho Chi Minh City (commercial capital) and Hanoi (country capital). The biggest franchises continue to be dominated by QSR brands such as KFC, Lotteria, Jollibee, Domino's, McDonald's, and many local and foreign brands in this sector.
Foreign casual dining brands have started taking hold in Vietnam, including the popular Haidilao Hot Pot franchise from China. Other casual dining franchises from the U.S., including Outback Steakhouse, will soon be making their debut in Vietnam. Chili's has just opened its first casual dining restaurant in Vietnam. Undoubtedly there will be more foreign casual dining concepts entering Vietnam in the years ahead.
Legal aspects of franchising in Vietnam
Decree No. 8/2018/ND-CP issued on January 15, 2018, provides the legal basis for franchising operations, outlining key definitions and requirements of franchise agreements, as well as regulations for the administration of franchises. (U.S. Commercial Service, Vietnam Country Commercial Guide, 2018)
Before a business system may be franchised in Vietnam: 1) the system must have been operating for at least 1 year (and a Vietnamese master franchisee must have operated the business for at least 1 year before subfranchising); 2) the goods and/or services to be offered must not be on a government-issued list of prohibited goods and services, absent a special business license; and 3) the franchisor must register the franchise with the Ministry of Industry and Trade and file, among other things, a copy of its disclosure document. Vietnam also has a pre-sale disclosure requirement.
At least 15 working days before the execution of the franchise agreement, the franchisor must provide the prospective master/franchisee its disclosure document and the form of franchise agreement. Both the franchise agreement and the disclosure document must be in Vietnamese. Once the franchise is registered, the franchisor must report certain changes to the franchisor's operations to the Ministry within 30 days after the change; file an annual report with the Ministry by January 15; and update franchisees with respect to changes that may have an impact on their franchised business activities. (Tao Xu and Philip Zeidman, DLA Piper)
Opportunities and challenges
Market research company Nielsen says Vietnam's young population, higher disposable incomes, rapid urbanization, and better living standards are the economy's main growth drivers. It noted that approximately 60 percent of Vietnamese are under 35. This group is not only familiar with foreign brands, they now have more income to satisfy their aspirational needs and wants, and are just as likely to purchase high-value products such as Samsung and Apple smartphones as they are to enjoy outside meals together with friends and family at foreign food franchise brands.
Challenges to doing business In Vietnam remain. Finding licensee candidates with established infrastructure, experience running a business, and capital is a problem. Good high-quality food supply chain resources are limited. Tariffs can be a challenge for inbound products needed for international brands. Retail space has become extremely expensive in Ho Chi Minh City and Hanoi. There is sometimes a challenge getting new licensees to follow the established brand processes and systems needed to produce an acceptable unit bottom line.
William Edwards is CEO of Edwards Global Services (EGS). From initial global market research and country prioritization to developing new international markets and providing operational support around the world, EGS offers a complete international operations and development solution for franchisors based on experience, knowledge, a team on the ground in more than 40 countries, and trademarked processes based on decades of problem-solving. Contact him at bedwards@edwardsglobal.com or +1-949-224-3896. He was assisted in this article by Sean T. Ngo, CEO and co-founder of VF Franchise Consulting in Ho Minh City.
Published: March 28th, 2020
Share this Feature
Recommended Reading:
Comments:
comments powered by

Disqus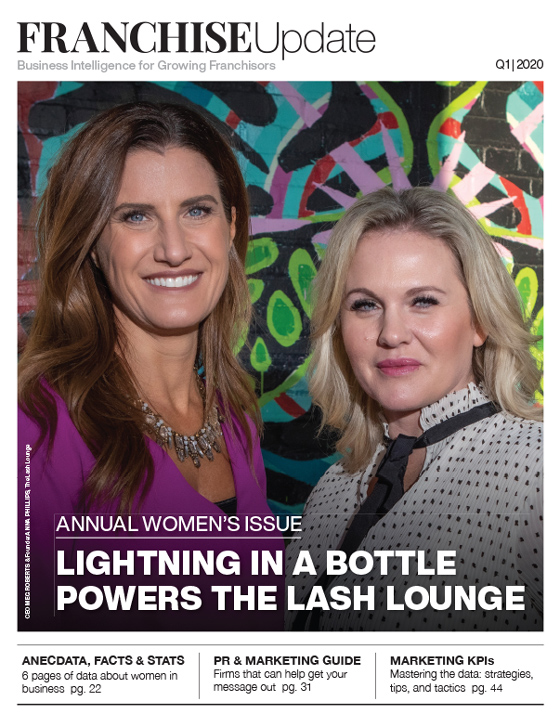 Franchise Update Magazine: Issue 1, 2020
More than 15 years of passion and fascination with the franchise system. Thanks to having met many Franchisees, today I can help new ones and those...
Oct. 18-20, Atlanta, GA. An exclusive event for franchisor CEOs, Presidents, COOs, CDOs and Franchise Development Executives.