Growing Up Franchising: Sam Covelli Develops Both His Brands And Employees
Sam Covelli says he grew up in the restaurant business working in his father's McDonald's. Under his father's leadership, Covelli Enterprises eventually grew to 26 locations, one of the largest McDonald's franchisees in the country. But after the senior Covelli handed over the company reins to his son, you could say that Covelli Enterprises grew up with Sam Covelli.
Under his leadership, the company's McDonald's holdings grew to 43 restaurants, keeping Covelli Enterprises among McDonald's top franchisees, and an award-winning one at that. Covelli sold off those restaurants and shifted the family business into Panera Bread--and how.
Today, Covelli Enterprises owns a 198 Panera Bread locations, with 20 under construction, making it Panera's single largest franchisee and the fifth-largest restaurant franchisee in the country. Talk about a "mega franchisee": Covelli Enterprises has 20,000 employees, is looking at more than $400 million in revenue for 2011, and has won multiple awards for restaurant operations and community service. As if that's not enough, the company has an agreement to develop 50 O'Charley's restaurants.
Keeping the operations on track--and driving further growth--puts Covelli on the road every week. He enjoys visiting his company's many stores more than he'd like to play golf--and he used to be a pretty good golfer. "Honestly, I never truly feel like I go to work," he says. "I get out of bed and can't wait to get in my car to go to some of my restaurants."
One thing Covelli enjoys about visiting the stores is seeing employees grow with the company. He likes giving workers the chance to build a career by working their way up. "We have someone who was an assistant manager 15 years ago, and now he's head of operations for two of our markets," says Covelli. "I love to see people growing like that from within."
The company's phenomenal growth has also enabled Covelli to follow some of his father's advice--advice he considers to be among the best he's ever received. "One big thing my father always preached to me constantly was community," he says. "We believe in giving back. It's the right thing to do."
Involvement in local communities is the backbone of his business, Covelli says, and the company donates to dozens of organizations, including partnering with food banks and other agencies to get unsold bread and bakery products to people who need them. Last year, the Day-End Dough-Nation program donated more than $10 million in unsold goods to community organizations.
Name: Sam Covelli
Title: Owner/Operator
Company: Covelli Enterprises
No. of units: 198 Panera Bread and 20 under construction; 5 O'Charley's, with an agreement to build 50.
Personal
Age: 58
Family: Wife, and three children
Years in franchising: I grew up in the business, since I was a little kid. Technically, I've been in restaurants for 35 years.
Years in current position: 14½, 30 with Covelli Enterprises.
Key accomplishments:
Started with my father in McDonald's.
Biggest mistake:
You learn a lot from mistakes. Not everything is going to work 100 percent. You learn from things you might do, from things you might not have done. You hope you have more winners than failures. Sometimes I've wanted to purchase a market, and, when I got into it, wished I'd purchased it five years earlier. Fortunately it worked out: I bought that market, and it worked out well.
Smartest mistake:
It's kind of trial and error more than mistakes. With a couple of sites, I've taken chances. I worried about them, and then they turned out to be some of our best sites. Usually we get a pretty good feel what a store will do when we open. With a couple, I wasn't sure. I thought they could be below-average stores. I was nervous about that. Then they turned out to be great.
How do you spend a typical day?
I do a lot of traveling. I've always enjoyed opening stores, going around to all our stores, and getting to know our customers. On the road, I'm up at 5 or 5:30 working out, then out in the stores. I try to be in the office when I have to be.
Work week:
Certain days I have to be in the office to sign papers. Every Monday we have meetings. The main thing is to try to get everybody thinking in the same way. And I like to hear ideas from people. In our company, we share ideas, we talk about them, and then we enforce them. I want everybody to agree. They buy into the program and they'll follow up on things.
Favorite fun activities:
Watching football. I'm an Ohio State fan. We just opened the biggest Panera in the U.S. right across the street from the stadium.
Exercise/workout:
I do a lot of miles, and I also do a lot of weights. At my house, I have some neat weight machines. I use an elliptical, a treadmill. I do a little of everything on the road, use whatever the hotel has.
Favorite tech toys:
My iPad and new iPhone. I love the iPad. I use it to look at the numbers on all our stores, our labor projections, the whole picture of the business every day. I even have cameras on the iPad to look at stores.
What are you reading?
I love reading about successful people. I like reading about things politicians have done. I'm always interested in reading different marketing books. Then daily, all the different papers, Wall Street Journal, USA Today.
Do you have a favorite quote/advice?
One thing I've always believed and always say is this: I never take a customer for granted. I'll treat every customer like it's my last customer. No matter what they order, whether it's just a drink or a $100 order, we can't do enough for a customer. That's always been our philosophy. With employees I'll also say, "Don't tell me what you can't do, tell me what you can do." I like to look at the positive side of things. There are never any shortcuts if you want to be successful.
Best advice you ever got:
One big thing my father always preached to me, and we preach now, is giving back to the community. If we don't give back to the community who will? We think it's part of our responsibility. We probably raise more money for charity than most companies do, but that's the way we are.
Formative influences/events:
Our growth always amazes me. Years ago we got an award for best operations in McDonald's. It was impressive for our people, more than just for me. We've been honored with many awards now, and I like for our people to be there, because it's such an exciting feeling for our whole organization.
How do you balance life and work?
It's about balancing your time. Your family comes first, and business comes second. Because I do a lot of traveling, I have to manage my calendar. I'm still there for all my daughter's volleyball games. I used to coach Little League. I'm always there for any event they have.
Management
Business philosophy:
Our growth has been tremendous. The good thing about our business growing like it is, is that everyone grows with it. As I go around to stores, it's nice to see that someone who was an assistant manager is now a head manager. Within our office, I get to see growth in people, see people moving up.
Are you in the franchising, real estate, or customer service business?
I'm in the people business. All day long I deal with people. And that's the most important thing, because good people make my business. Good associates and good customers--they go together. We have the greatest product in the world, but to keep the product right we need great people, and those great people keep great customers coming in.
As an operator, what are the two most important things you rely on from your franchisor?
Sharing ideas and learning from each other. When you work together, it's a terrific relationship, dealing with a franchisor. Panera is terrific as a company. We've really worked closely together.
What gets you out of bed in the morning?
I can't wait to see what we did the day before. I look at my calendar to see what I have that day, and I go at it.
What's your passion in business?
Having a restaurant that people love coming to. Each and every day I want to find an idea that might make a customer even happier. We're testing new things constantly. Would customers like this more? Is this better packaging than we had before? Things like that. That's what makes me passionate, and it keeps business growing. I also love big volumes, love big increases. That's what we've had over the years.
Management method or style:
I believe in high standards. I'm a great person to work for if you have the standards we all agree to in our company. I get upset when someone doesn't want to follow the program and give 100 percent. There's not one thing I'd ask a person to do that I haven't done and won't do. Once a reporter came to a store and saw me mopping the floors and cleaning the restroom. That's just the way we are, and the people who work for me know that. I want to be fair with them and want them to be fair with me.
Greatest challenge:
In any business, it's coming up with new ideas. Marketing ideas, operational ideas. The key is constantly growing with great people and having great people grow with the company. You always want great people working in your company. We work on that every day, because you can't let up on it.
How close are you to operations?
Very close. That's why when I go into stores, we can discuss what's going on, talk about particular products, how hard they are to make, whether there's something we should have, whether there's something they wish we didn't. Some of my associates come up with the best ideas. I don't look at an associate as an associate, we work together. That's why we have a lot of fun.
Have you changed your products marketing strategy in response to the economy?
Fortunately, the economy hasn't affected us. Panera as a company has had a couple of the biggest years they've ever had. I think people are fussier about where they spend their dollars. If we do a good job, we'll do better in these times. Fortunately, we have. We've been doing terrific, knock on wood. I hope it stays that way.
How is social media affecting your business operations?
We are starting to work more with social media. We're going to have online ordering soon, and we've been advertising, using digital marketing. We haven't used Facebook, but as time goes on I think we'll do more and more of that.
How do others describe you?
I like to think they'd say I'm honest with them. Up front. Everyone will tell you I'm up front with everyone. I think they'd say I'm demanding, I have high standards, and I'm fair.
How do you hire and fire?
We have a very great retention rate, higher than the industry. We don't have much turnover. As long as you hire smart, you shouldn't have trouble. The last thing you want to do is fire people. People kind of fire themselves. You want exciting people. You want people who are a good match for your community demographics. We want everyone to have an opportunity to work for us. So you look for a good mixture of the demographics in the area, and hire the best, the most exciting, and the most friendly people.
How do you train and retain?
That's one of the most important things. We use computers to teach about business at the store. We want everyone to know our product before they start working. Then we put them one-on-one with a trainer in each store. We make sure they know the business inside and out before we leave them alone. We want them to succeed, not fail. We don't want them to feel confused at the end of their first day. It's important for people to go home and say they love working here.
How do you deal with problem employees?
We have a program. We sit them down and give them a warning. We give them three or four opportunities, as many as we can. But if someone doesn't show up three days in a row, what can we do? We didn't fire them, they released themselves.
Bottom Line
Annual revenue:
Roughly, over $400 million. That's growing quite a bit each year now. We're the largest Panera franchisee, and the fifth-largest restaurant franchisee in the country.
2012 goals:
We're going to be developing Canada. That's going to be very interesting. People are training for it already. We'll open our first store in Toronto March 1, and we have seven more lined up. The second will come probably two or three weeks after, and then we're ready to take off. Also, I can't say right now, but there are a couple of other markets we'd like to purchase for growth. In the meantime, we'll be opening close to 30 stores in the next year, just in our own markets.
Growth meter: How do you measure your growth?
We look at total sales and increases. We don't want to open a store that hurts another down the street. We like to keep average volume up higher each year. It's ridiculous to open a store for the sake of it. We want positive growth, big volume, and that's when we're opening stores the right way.
Vision meter: Where do you want to be in 5 years? 10 years?
Number one, I want to be alive. I want to continue to grow like we are. Hopefully we'll have more markets, and our people have more opportunity to get promoted. I just hope in 10 years I enjoy what I'm doing like I am now.
How has the most recent economic cycle affected you, your employees, your customers?
We've kind of been the employer of choice with our associates. People enjoy working with us. They love wearing their Panera hats when they're not at work, and that tells me they feel good about working at Panera. I like to say we're the best of Panera, and Panera's the best of the restaurant business right now. I think that's why we're where we are.
Are you experiencing economic growth/recovery in your market?
The Midwest is going through tough times. Fortunately, where our headquarters are, we have a GM plant, and it's doing well. They're trying to do things to get the economy going. Things have been tough, but people are survivors here.
What did you change or do differently in this economy that you plan to continue doing?
I think when the economy's like it is, you have to run your business smarter. You can't just sit back. You have to change with customers' demands and needs. You have to be in touch with what's going on. You might have to look at customer spending habits, what they like to spend money on, products you might have to implement. I think a lot of businesses, when the economy got tough, didn't know how to react. They didn't change. We were never that way.
How do you forecast for your business in this economy?
Pretty much the same. You realize that customers have less disposable income, so you want to make sure that your customer comes to you. They have other choices. We want to be their number-one choice.
Where do you find capital for expansion?
We've been very fortunate because business has been healthy. That hasn't been an issue for us.
Is capital getting easier to access?
That's not one of our problems. If we're smart, it won't ever be.
Have you used private equity, local banks, national banks, other institutions?
We've used local banks over the years. We've never used private investors, never had any partners. We have used a variety of banks.
What kind of exit strategy do you have in place?
A lot of people would like me to have an exit strategy. A lot of investment companies would like to buy our company. I get those offers, and I'm not interested. I'm happy, and I love where we're at. I hope my son and daughter, or both daughters, are all in the business. That's probably my main goal in 10 years. Maybe then I can relax a little bit.
What are you doing to take care of your employees?
We offer a variety of benefits. It depends on the position. We have bonuses, incentives, pay raises. The key is that you have to make employees happy in the workplace. You have to make them comfortable. People enjoy working in a business that has good structure. They like to know what's going to happen. They don't want surprises. We make sure we give them enough staffing so they have enough help all the time. We don't want them to feel exhausted at the end of the day because there aren't enough people in the store. That's a big part of it. We keep our computers up to date with the latest and greatest, keep the restaurants clean and new. We're always remodeling. Some of our partners only work on construction, all day long. Our associates feel good about working in a nice clean environment.
How are you handling rising employee costs (payroll, healthcare, etc.)?
We deal with it like any other business. It's something that's there, and we have to deal with it. There are some things we do for our employees. For instance, in the office, we have weight rooms and nutritionists to give talks if they want.
How do you reward/recognize top-`performing employees?
We have awards and bonuses. I'm going to bring most of our head managers to a convention to reward them. But here's the best way to reward great employees, the greatest way in the world: give them an opportunity to become a manager. So many people work in our restaurants through college and then come work with us permanently. It's one of the neatest things. We have people who never went to college and worked their way up. They grew with the company.
Published: January 30th, 2012
Share this Feature
Recommended Reading:
Comments:
comments powered by

Disqus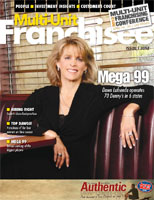 Multi-Unit Franchisee Magazine: Issue 1, 2012
SweatHouz is on a mission to bring the full range of health benefits from infrared saunas, cold plunge tubs, and more to communities all over the...
Cash Required:
$200,000
The Joint® Chiropractic is reinventing chiropractic care. Our vision is to become the largest, most respected provider of chiropractic services...
Cash Required:
$100,000