High-Flying Franchisee
Ex-Navy pilot deftly steers Oklahoma's Burger Kings to success

David Ostrowe is a man on a mission—or 20. First, he says he's really working hard to be a great dad. "It's important to me to be the 'Jolly Green Giant' to my daughter, so I'm really working at it," he says.

The former Navy pilot, who is FAA Instrument Rated and flies his own plane, also continues to work hard on growing the Burger King brand in Oklahoma.

President of O&M Restaurant Group, Ostrowe took over the state's Burger Kings after a franchisee shut down 14 restaurants in the Oklahoma City area. He wants the brand's reputation in the state to be spotless again. "Burger King is a great brand. I can't say enough good about the product and the people there," he says.

There's also his other business—180 Business Solutions—a management and training consulting firm with franchisee and franchisor clients across the country.

Ostrowe flies his plane every chance he gets, both for work and for pleasure. Obviously, he's a sailor too, although he spent much of his Navy time in the air. The Louisiana State University graduate, who's had culinary training at Johnson & Wales University, had his first experience in franchising as an assistant manager for Taco Bell in 1991. And under PepsiCo's auspices, he became manager and multiunit manager.

"I knew next to nothing about franchising, but back in the PepsiCo days, they truly trained great managers with great systems and processes, and my business still rests on that foundation," says Ostrowe.

"I've always been able to look at an operational problem and solve it. I connect with people and can logically explain the system to them and empower them to follow it," he says. "Our business is all about people, process, and performance. Years later, that still holds true: great people following great processes will get great results."

Says Ostrowe, "I've always felt that I'd rather put money in our pockets than in a corporation's," he says. "A few years back when I first talked about becoming a franchisee, everybody looked at me like I was crazy. They said 'It's cleaner on the corporate side. Why do that?'"

Before partnering with Burger King in 2003, Ostrowe held executive positions with the RTM Restaurant Group and Church's Chicken, and owned four Captain D's restaurants. "I like to take under-performing restaurants and turn them around, but I really like this brand and I think I'll stay with them for a while," he says. "We've shown the consumers in Oklahoma that we're serious about being players in this most competitive burger market, and they've rewarded us."

When he looks at all he's been able to do with Burger King since 2003, he only wishes he'd started on the franchisee side with such a strong brand 10 years earlier.

Ostrowe says by the time his daughter, now 10, was 18 months old, he'd "spent one third of her life in a hotel room. I knew there had to be a better way." The Jolly Green Giant trainee seems to have found it.

Name: David Ostrowe
Title: President
Company: O&M Restaurant Group, Oklahoma City
No. of units (by brand): 8 Burger Kings
PERSONAL
Age: 39
Family: My wife of 15 years, Camilla, who's a lot smarter than I am, and her little "clone," 10-year-old Isabella.
Years in current position: 5
Years in franchising: 17

Key accomplishments: Working forward and backward, we've made Burger King a viable brand in Oklahoma again; being named one of the Top 40 Leaders Under 40 in Oklahoma and a member of the Young Presidents' Organization; being an FAA Instrument Rated Pilot and an accomplished sailor; serving on the board of Allied Arts in Oklahoma City; and working in a regional food bank to make sure people in our community—especially children—get fed.

Biggest mistake: Hiring the wrong people—my most costly mistake by far. As a matter of fact, I've done that more than once.

Smartest mistake: I've made a lot of smart mistakes. Our attitude is that we make the best of it and make it work. And if that isn't right, at the end of the day, it's my fault.

How do you spend a day, typically? I start every morning by 7, reviewing the numbers at store level for the previous day. By 8:30 or 9, I've had multiple conversations with Tim Morgan, my VP of ops, who's already in the field. By 11, the accounting on the ledger is completely up to date in real time. I manage calendars electronically, and I always make my appointments on time. It's how I stay organized.

Work week: I maintain office hours or a visible presence in the field where I can be reached Monday through Friday from 7 a.m. to 6 p.m. On weekends, I make lots of pop-in operational visits. Tim and I do a lot of phone work. We're never really off and we don't screen our calls.

Favorite activity: Clearly, flying. I have a Cirrus SR22, and a Cirrus Jet on order. Both are economical to use for both business and personal. My Cirrus gets better gas mileage than my wife's Suburban. It's my favorite toy—my boats have been neglected lately—and has also enhanced our family life, enabling us to take short trips to visit family in Louisiana and Mississippi. (For you IRS readers out there, we do meet the requirements.)

Exercise: I run four times a week, five to six miles each day. I find it helps me download and purge unnecessary clutter. I load fiction onto my MP3 player for enjoyment when I run, and I like to swim laps. Since I'm a huge BK consumer—I eat it every day of the week—I have to keep myself in good physical shape.

What do you do for fun? Flying and sailing, spending time with my wife and daughter.

Books/magazines recently read/recommended: I'm a huge fiction reader. My favorite author is Tim Follett. I guess his latest is World Without End—it's an excellent read. On my desk, I have Horizons from YPO, Area Developer, and a flying magazine.
MANAGEMENT
Management method or style: Very hands-on, and we don't sleep much. We give people the tools and the autonomy to make the right decisions. One of our big management philosophies is that you'll never get fired for making the wrong decision. If your decision is ethically sound and within company guidelines, your decision stands even if I disagree. On the other hand, you could lose your job by not making a decision.

How close are you to operations? Pretty close, although I try not to micromanage. I do question things that are going on, but I'm learning. The other day, Sarah Malone, the third full-time person in our main office, asked me if I wanted the details of a project she'd managed, or if I simply wanted to know if it had been handled. I said I don't need the details, but I do want the assurance that somebody does. With Tim and Sarah, I have that. We're a team.

Greatest challenge: Our biggest challenge—I see it as our biggest area of opportunity—is moving forward. We're about 110 percent staffed in the management consulting business. Since we're overstaffed, my minimum hiring requirement is that a person has to be better than our top person in that area.

Personality: I speak from the heart, but in all my interactions with vendors, employees, and franchisees, I treat them with respect. I'm a realist, and in our business, nothing surprises me any more. Things are going to happen regardless of the quality of the system or the process. But people never have to worry, because I will tell them the truth. They might not like it, but they'll know it's true.

How do you hire and fire? I fired my first team member in three years. Somebody got into a confrontation with a customer, and he didn't understand why it was a problem. In that case, I terminated him and wished him luck.

Find good people? We use every source under the sun, from personal referrals (we pay employees for them) to job boards and headhunters. And recruitment for us should occupy 25 percent of every salaried employee's time. It's the only way we've grown.

Train them? We've rolled out the improved Burger King Foundation program, and we hold our training managers accountable for their trainees. Nothing irritates me more than finding a good candidate and learning that we threw them to the wolves and they never got a good foundation to grow with us. Tim Morgan and I audit all our training on a weekly basis. We ask, "What do you need? What can we do better?" We validate their training through weekly testing on everything from operations to management to overall leadership. We also use the psychology test Burger King developed.

Retain them? Our people are the highest paid in their field, but we want to do more than offer competitive salaries. We want to show our employees that, at the end of the day, we care about them. We offer employee loans, a morale assistance fund; when bad things happen—somebody's house burns down—we all rally around them as a team. We're known for that. Coming into our brand after 14 stores had shut down, we didn't have a good reputation in Oklahoma City. We've worked hard to build our reputation in the marketplace, and we'll be with this brand for a long time. I can't say enough good things about the Burger King product and team.

"Growth meter"—How do YOU measure your growth? We have an entire plan in place every year, and we're more financially driven than anything. We never miss our projections, and we share our plans and results with our employees. We're all tied to the same plan from Day 1. The Young Presidents' Organization has also helped me to hold myself to a high standard. It's been a great vehicle for sharing stories and solutions.

Annual revenue: $13.5 million

2008 goals: Implementing our 10–15–20 plan: growing by 2010 to 15 units and $20 million in revenue. We also have an acquisition pending.
Published: October 27th, 2008
Share this Feature
Recommended Reading:
Comments:
comments powered by

Disqus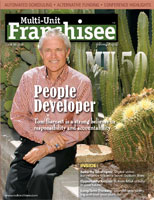 Multi-Unit Franchisee Magazine: Issue 3, 2008
Unlock the potential for remarkable returns on your investment by joining the Ducklings Early Learning Center Franchise, where our tried-and-true...
Cash Required:
$180,000
With more than 100 locations open or in development across the United States, Robeks continues its strategic franchise growth with single and...
Cash Required:
$100,000