Home Field Advantage: "Retired" Couple Serves Up Subs for Second Career
If you've played, coached, or watched a sport on the University of South Carolina (USC) campus, there's a good chance you've eaten a Firehouse Sub from Judy and Charlie Divita.
The Divitas, operators of six Firehouse Subs in the greater Columbia, S.C., area, including one nestled in the heart of the USC campus, made their competitive mark by developing a proprietary customer database catering to visiting college sports teams. Their blueprint has evolved over the years to include a commitment to all facets of educational life and the communities their restaurants serve. This synergy between business smarts and higher learning is a natural for the Divitas, winners of Multi-Unit Franchisee magazine's 2012 MVP Innovation Award.
The couple, both quality specialists, are now knee-deep into their second career and are making the most of it. Charlie, 69, is a former university full professor and consultant, and Judy, 65, boasts a corporate background of organizational development, training, and human relations. Instead of relaxing into the world of retirement, the couple launched Divita Concepts Group in 2003, eager to put their skills to work as business owners in a way that would offer them more control of their future.
The move to Columbia--the college town where the pair, married 39 years, first met--was purposeful, yet inspired by more than just feeding piping hot subs to the hungry student masses. "We wanted to be part of a whole life of a university," says Judy. "It's new kids coming in all the time, and every four years you see a great transformation of your customer base. It's just fun for us."
In 2006, the Divitas opened their third restaurant on the USC campus, a strategy that would serve as a springboard to new business opportunities. To boost weekend traffic, they began to market their subs to opponents in town for the more than 400 annual Gamecock sporting events held on campus. The home teams soon became big fans of Firehouse Subs too. The Divitas expanded the restaurant's presence with athletic team and summer camp sponsorships and developed an award-winning customer database and catering execution system.
With projected 2012 revenue of $4.5 million, Judy and Charlie always look for novel ways to build business. "The franchise gives you the basic things to put you in business pretty quickly," says Charlie. "What we found is that you have to take it beyond that and be creative to come up with new and novel ways of doing things that are particular to your company and your community."
The Divitas say they are a team with complementary strengths. Charlie, who served three years on the Firehouse Subs national marketing board of directors, focuses on business development, marketing, and customer relations. Judy pays attention to managing costs and human relations.
"I can't see the trees through the forest and Judy can't see the forest for the trees," says Charlie. "She is much more detail-specific, mind-down, and much deeper into the details of something than I am. I think that I have a bigger picture vision of things."
The couple are most proud of their strong connection to the community and their work through the Firehouse Subs Public Safety Foundation, highlighted by a 2008 donation of lifesaving equipment to two city fire stations. The gesture honored the six USC students and one Clemson University student who died in a beach house fire. The tragedy hit close to home. The couple's own daughter, Ryan, a former USC student, was burned in a 2003 car accident and spent six weeks in a Georgia hospital burn unit.
Forging community ties also helped the Divitas creatively build the Firehouse Subs brand in their early days when there was no marketing budget and little name recognition.
"When we came to Columbia, Firehouse was not known very broadly in South Carolina, nor in Columbia," says Judy. "So it wasn't like you could open the doors and they will come. You have to get out and make yourself known--who you are, what your brand is, and what you offer. It just takes that customer building, one at a time, to make it clear that this is the place you want to go."
Name: Judy and Charles Divita
Title: Owners
Company: Divita Concepts Group, LLC
No. of units by brand: 6 Firehouse Subs
Personal
Age: Charles Divita, 69, Judy Divita, 65
Family: Four children, seven grandchildren
Years in franchising: 9
Years in current position: 9
Key accomplishments:
Opened six successful, profitable, stores in eight years in a midsized market that employ approximately 100 people. Developed a comprehensive database for managing customer contact, marketing, catering, invoicing, and numerous other aspects of our business. Donated life-saving equipment to three Greater Columbia fire departments (Irmo, West Columbia, and Columbia) and to one private school through the Firehouse Subs Public Safety Foundation. Recognized as Firehouse Subs National Franchisee of the Year runner-up, 2004; and Firehouse Subs National Franchisee of the Year, 2006. Achieved regional recognition from Firehouse Subs for the highest percentage of catering sales in a store and largest percentage comp sales improvement (both in 2011). And 2012 MVP Award Winner for Innovation, Multi-Unit Franchisee magazine.
Biggest mistake:
Having too much patience and taking too long to dismiss employees who don't meet (or who are slow to meet) expectations, in the hope that additional efforts to develop them will pay off. This very rarely works.
Smartest mistake:
Our failure to explore other concepts when deciding to invest in Firehouse Subs turned out to be a positive. We're thrilled that we're with Firehouse. Had we considered other options, we might never have had the success we've enjoyed with this brand.
How do you spend a typical day?
6 to 8 a.m.: email, sales analysis, planning; 8 to 11am: marketing, invoicing, vendor coordination and payments, GM communications; 11 a.m. to 1 p.m.: catering and support within stores as needed; 1 p.m. to 6 p.m.: meetings, planning and administrative tasks.
Work week:
Typically 5 to 6 full days.
Favorite fun activities:
Reading, visiting with family, developing our business.
Exercise/workout:
Mainly walking.
Favorite tech toys:
Computer, smartphone, and Kindle. Filemaker Pro Software used to refine the database we developed for managing our business.
What are you reading?
Tipping Point by Malcolm Gladwell; reread of Good to Great by Jim Collins; Filemaker Pro 11 by Susan Prosser and Stuart Gripman.
Do you have a favorite quote/advice?
"If everything is going well, you've obviously overlooked something." Never assume you have everything under control or that all is well. There is always room for improvement and always opportunity to avoid or minimize the consequences of adverse future circumstances. Other favorites: "Those chains that bind us most tightly are those that we fashion for ourselves;" "You are what you think and what you think is what you do;" and "Something is infinitely better than nothing."
Best advice you ever got:
Follow your bliss. Do what inspires and captivates you.
Formative influences/events:
1) Growing up in sound families that were focused on family and community. 2) Meeting as future husband and wife over 40 years ago. 3) Working closely with our graduate school professors and becoming a part of the professional networks they opened to us. 4) Gaining breakthrough employment opportunities at different junctures in our "first careers." 5) Successfully pursuing related first careers in different venues (Judy in business, Charlie in higher education and consulting) allowed us to combine skill sets and experiences useful in the formation our own company.
How do you balance life and work?
Life and work are well integrated. We are a husband-and-wife team with strengths that complement one another. We enjoy our "work" and find it fun, challenging, and full of opportunities for learning and growing as a couple and as individuals.
Management
Business philosophy:
Essentially the Golden Rule with a focus on respect for people, honesty, and developing opportunity for others: opportunity for customers to have a great dining experience; opportunity for our employees to advance themselves through our business; and opportunity for the community to be a better place because of our business presence within it.
Are you in the franchising, real estate, or customer service business? Why?
Fundamentally, we are in the customer service business. No other aspect of our business can achieve its maximum potential (or matter) without unending attention to excellent customer service.
As an operator, what are the two most important things you rely on from your franchisor?
Expert knowledge (branding, marketing, purchasing, real estate, financial modeling, etc.), and functional, efficient, and innovative management and operational systems and support.
What gets you out of bed in the morning?
Inspiration comes from the challenge of developing a successful, role-model business--to be a better business today than we were yesterday.
What's your passion in business?
Developing the best-in-class restaurants in our market through excellent service to our customers, and being recognized as such within and outside of the market.
Management method or style:
Participatory input and analysis when developing key plans and making key decisions. Using data and values to guide decision-making. Always manage our business in a manner that makes customer service and satisfaction paramount.
Greatest challenge:
1) Maintaining a shared culture and commitment to core values as our number of restaurants and number of employees grow. 2) Finding, recruiting, hiring, continuously developing, and long-term retention of great managers.
How close are you to operations?
We either are in the stores or have multiple daily communications with managers.
Have you changed your marketing strategy in response to the economy?
We have reduced coupons substantially, and instead doubled our dollars spent on radio from 2 to 4 percent. At the store level, we focus more on operational improvements and on customer service with the objective of turning each customer into a member of our marketing department.
How is social media affecting your business operations?
Overall, the effect is positive in terms of promoting customer awareness and providing a forum for customer input and telling our story. The use of social media as a marketing tool is primarily initiated by Firehouse Subs headquarters. HQ has social media experts on staff that work closely with the marketing department to present periodic promotions and continuously interact with customers.
Personality
How do others describe you?
Fair, approachable, involved. Committed to Firehouse Subs' brand standards and core values.
How do you hire and fire?
Hire: The GM of each store hires hourly employees. Applicants are screened for background and education then interviewed and tested. The GM's applications are screened by a two- to three-person team, who subsequently check references and interview promising candidates up to three times before offering a position. Fire: Problematic employees are given verbal and written performance feedback, which highlights specific performance improvement requirements and timelines. Coaching and mentoring support is provided. The employee's failure to meet performance expectations results in termination for cause.
How do you train and retain?
GM pre-service training is largely a hands-on process, complemented with mastery of Firehouse Subs' study materials and manuals and our own materials and checklists. Our director of business development, Nick Holt, works with trainees (typically over a six-week period) to prepare them to be certified in the Firehouse Subs week-long GM class in Jacksonville. Before going to Jacksonville, they are pre-assessed independently in a regional training store operated by our area representatives. Of the GMs we have trained, none has scored below 95 on their certification exam.
Retention: We are very involved with the GMs. Our director of business development interacts with each GM at least every other day and meets with each of them at least once per week. We maintain a familiarity of their style and store operations and issues. We reward our managers with a quarterly bonus program that is a percentage of their bottom-line earnings if they beat their budgeted bottom line. The newest step we're taking is to build more of a team atmosphere, conducting group GM meetings at least once monthly, rotating the meeting store to store, and pushing for involvement from everyone to build an atmosphere of openness, trust, teamwork, and a shared culture.
How do you deal with problem employees?
This depends on what is a "problem employee." It's typically unique to the situation. In essence, we address issues specifically and directly, using a documented, progressive disciplinary process to either change or terminate an employee.
Bottom Line
Annual revenue:
Our target this year is at least $4.5 million in sales revenue. We are on pace to meet or beat this target.
2012 goals:
We plan to open at least one new location, while growing sales in current locations by at least 8 percent over 2011. Our enduring goals are to complete our yearly development plan and operate within our annual budget. Other goals include: 1) solidify and strengthen our management team: a strong GM for each store and a training mechanism through assistant manager roles to provide upward mobility for key employees within our system; 2) systematically strengthen our customer service culture, training, and operations: Service Leader awards, Rookie Book training and testing, an internal Fire Report, and development of a training orientation program for all stores and a few key trainers in each store.
Growth meter: How do you measure your growth?
We measure it on the bottom-line performance. We are always asking two questions: Are we growing sales--opening new stores or growing revenues in existing stores? Are we controlling costs well enough to run an ever more profitable company?
Vision meter: Where do you want to be in 5 years? 10 years?
5 years: operating at least nine stores, with at least nine certified GMs; add three salaried positions to our existing infrastructure (an assistant manager of operations, an assistant manager for catering, and an assistant manager for training); and move the day-to-day management and operations of our business increasingly under the leadership and direction of our director of business development. 10 years: possibly expand our inventory to 11 to 13 Firehouse Subs stores; and possibly add another brand. Our key people today will be better business people who are better off financially, have better skill sets, and have brighter prospects for growth. Expand our business ownership and infrastructure to enable us (the present owners) to spend less and less time in daily management and operations and to ensure the continuation, health, and growth of our company beyond our lifespan.
How has the most recent economic cycle affected you, your employees, and your customers?
Ironically, from our business point of view, it has been good for all parties mentioned above. We have heightened our attention to financial management and vastly improved operations; we better train and invest in our employees; and we've increased our expenditure of marketing dollars. Our customer gets a better experience and expects more of the Firehouse brand because of our improvements and because of headquarters' commitment to growing our brand.
Are you experiencing economic growth/recovery in your market?
Yes, to the tune of 18 percent positive comp sales over 2011, up 7 percent from 2010 and 3 percent over 2009.
What did you change or do differently in this economy that you plan to continue doing?
Don't throw coupons at customers or rely on discounting to build the business. Instead, we will build customer loyalty by improving service and operations, thereby continuing to increase the value of dollars customers spend in our restaurants.
How do you forecast for your business in this economy?
We know the ins-and-outs of every line item of each store's P&L. We build a comprehensive budget based on all of these factors. The biggest and most difficult variable to forecast is sales. This year we worked with each GM to set sales targets based on our goals for each individual store.
Where do you find capital for expansion?
We've developed an open, mutually respectful, and long-term relationship with our bank. They have partnered with us to pursue a sound, incremental development plan for expansion in the Columbia market.
Is capital getting easier to access? Why/why not?
Capital acquisition is easier than two years ago, but still somewhat difficult. The amounts loaned and terms are somewhat better, but considerably more documentation, analysis, and evaluation are required to secure necessary capital. A proven track record of performance that the bank knows firsthand is invaluable. The additional scrutiny is not unwelcome. It is an inevitable consequence of changes in bank regulations that, in the long run, may prove to best for all of us.
Have you used private equity, local/national banks, or other institutions?
Why/why not? We have only used local banks. Our investigation of other sources has typically found them to be too cumbersome. We like working with local people who know us and who know our business at a personal level.
What kind of exit strategy do you have in place?
It's an evolving one. We're presently putting an infrastructure in place that can support the management of key business functions. We're grooming several key employees to assume ever-increasing responsibilities for growing and running the business as we move toward full retirement. We want our business to continue on sound footing, with a bright future after we've departed. We anticipate our increasing disengagement unfolding over the next few years.
What are you doing to take care of your employees?
We are going to introduce some form of health insurance for our management staff, hopefully this year. We provide a bonus program for GMs and always try to promote from within to fill positions. Within the next few years, we hope to have a tuition support program for key leaders in our company. Many of our employees are students. We do everything possible to accommodate their schedules. We consider successful pursuit of their studies as a priority we support.
How are you handling rising employee costs (payroll, healthcare, etc.)?
So far, by scheduling tighter and training better. We have a higher average payroll and lower average staff size than two years ago, by about one dollar more per hour worked and one less employee per store. Like nearly every small business owner, we are extremely concerned about how the new health care and labor laws will affect our ability to operate a successful enterprise.
How do you reward/recognize top-performing employees?
Our Service Leader Program recognizes our most valued attributes in employees, that is, genuine heartfelt customer service. We recognize one employee per location per month and place a plaque in the respective stores highlighting the employees' accomplishments and contributions to our customers and our business.
2012 MVP - Innovation Award
For bringing a new and unique contribution to your brand
Why do you think you were selected for the Innovation MVP Award?
It was our distinct honor simply to have been nominated for the 2012 Multi-Unit Franchisee magazine's MVP Award. The announcement that we actually won one of the six awards was beyond humbling to us--humbling because we are keenly aware of the thousands of excellent operators and franchisees who accomplish remarkable results for their businesses, brands, and communities on a daily basis. We are deeply appreciative of the guidance, blessing, and support of Firehouse Subs of America in every aspect of our business. FOA's endorsement and submission of our nomination truly was as gratifying to us was the award itself.
We suppose we were selected because our application revealed that we are doing some very important things for a small franchisee to be successful. Among these are: staying customer-focused in good times and bad; remaining true to the brand's mission, standards, and core values--Walk the Talk; maintaining our relationship with our franchisor as a mutually respectful partnership focused on shared goals; accepting our local responsibility for improving all aspects of operations and customer service by developing or enhancing basic tools and systems; striving to give back to our community, our employees, and to our colleagues in our Firehouse community; and never accepting the status quo as the best we can do. We firmly believe that we are infinitely perfectible--meaning there is no end to how good (or how great) we can become. Our only two options are continuous improvement or regression.
Give us an example of innovations you have created and used to build your company.
We developed and use our Firehouse Subs data management system, a proprietary database for such purposes. We have also improved catering execution with the development of our "Pinksheet" for order taking, customer information capture, and planning. In 2009, we received a "Smoking Idea" Award from Firehouse headquarters for making our Pinksheet available to the system. Our proprietary database and Pinksheet allow us to track and communicate with customers effectively. We have nearly 6,000 customer records, 2,000 companies, and 1,000 delivery locations in our database. We know who ordered what, when and where it was delivered, frequency and amount of delivery, etc. In addition, we can handle all of our invoicing and receivables with the database. Other innovations include:
The Weekly Supply Sheet: an operations tool we use to provide office supplies to the managers on a weekly basis. This useful service allows managers to focus their time and attention in the store, as opposed to going to an office supply store to buy ink, paper, etc.
Our Yearly Budget: derived from an idea and format form used to manage corporate stores in Jacksonville. We modified the design and connected links to include the sales, labor, and food costs. We use this tool to determine the majority of our variable costs. The tool also doubles as the bonus calculator for our GMs.
As a multi-unit franchisee, how have you raised the bar within your company?
We have set a great example for school involvement, working with school administrations and PTA/PTO organizations. In 2006, we were Lexington (S.C.) School District Business Partner of the Year, an award we shared with Intel and Coca-Cola. We frequently support school fundraisers and charitable activities. We have also served as a role model for developing an effective university-based Firehouse Subs location though our acceptance within and contributions to the university community and our marketing to home and visiting teams.
What core values do you feel led you to winning this MVP Award?
We fully subscribe to the core values of Firehouse Subs, namely treat people fairly, stay customer-focused, set high standards, work hard and learn, and give back to the community.
Published: August 1st, 2012
Share this Feature
Recommended Reading:
Comments:
comments powered by

Disqus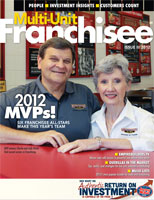 Multi-Unit Franchisee Magazine: Issue 3, 2012
Bad Ass Coffee of Hawaii brings an unforgettable brand, premium coffee products, and a proven business model to a booming coffee scene. We want...
Cash Required:
$100,000
Checkers Drive-In restaurant franchises are small but efficient making our restaurants easy to operate and typically reduced overhead costs.
Cash Required:
$250,000