How Covid-19 Is Affecting Real Estate and Property Management
With the Covid-19 pandemic altering the way businesses operate, residential and commercial real estate and property management experts anticipate major changes ahead. As more and more property owners are hiring real estate professionals and property managers to deal with the impacts of this crisis, franchisors must begin offering more support and adapt their business models to appeal to the new normal.
Residential
The residential real estate market going into Covid-19 was tight, with supply at near-record lows nationwide and demand near an all-time high. As the pandemic began to play out, supply decreased even more as sellers pulled homes off the market or hesitated to put them on. With millions losing their jobs, many states allowed mortgage payments to be suspended, and lenders made it harder to get loans. By mid-April, the number of homes under contract fell 43% nationally, according to a report from real estate company Redfin.
Now supply and demand have begun inching back up slowly across the country, and experts are predicting a "market pause" as the pandemic ebbs. The pre-coronavirus housing market conditions are still present and will continue after the crisis ends. Demand and supply appear to be moving together, making this situation different than the Great Recession, when there was an abundance of supply.
In terms of the future of real estate after Covid-19, Property Management Inc. (PMI) and market statistics from the National Association of Residential Property Managers are showing that the impact hasn't been as major as expected, especially considering the jobless claims. About 10% of tenants reached out about rent deferment in April, and PMI predicts that number may jump to 15% in May and could extend into June. A landlord may be able to operate for a month or two without payments, but any longer and there will certainly be an economic impact. The government seems poised and determined to prevent another major fallout through more stimulus funding, including possible direct rent relief, and many banks and states are providing relief and assistance through forbearance programs.
Commercial
It is important to show to the public that property managers and landlords can get in front of the fallout and proactively reach out to tenants to work together during this crisis to create solutions. By the same token, struggling brick-and-mortar franchisees should reach out to landlords to discuss possible strategies for success. Many commercial real estate owners may be waiving leases and payments to get in front of rent deferment requests.
There is also a significant chance that real estate prices will drop and more commercial spaces will become available. For incoming franchisees or emerging franchisors, right now could be a great time to negotiate with cash-strapped landlords.
Whatever the government does to support residential real estate will make its way to commercial. No business owners want to use SBA loans to pay rent, just like most Americans aren't looking to give their $1,200 stimulus checks to landlords. The government will have to keep this in mind when creating policies. It's important to watch what the federal government does to drive down interest rates to stimulate home buying.
In terms of residential real estate, the CARES Act put an eviction moratorium on mortgages and suspended the ability to charge late fees. When it comes to renters, several states are implementing similar protections. For example, Utah issued an order to make sure that no one affected by coronavirus paid rent until May 15. In California, renters who have lost income because of the coronavirus shutdown are protected from eviction for 90 days after the health emergency is over, giving tenants permission to defer paying rent for three months.
But both tenants and landlords must plan ahead for that key term: deferral. Those payments will still be due at a future date, and that could lead to a major eviction backlog. Now is the time to look at solutions and relief to plan for that future. A good-paying tenant before the pandemic is highly likely to be a good-paying tenant afterward, both for residential and commercial. Understanding that, it is a good idea for landlords to open lines of communication now with tenants.
The future of real estate and property management
This pandemic could also provide a great opportunity to reevaluate and restructure the real estate industry in general. The way we see it, now is a good time to shape policy and practices so that property managers can be confident with how they communicate with tenants moving forward. This may include technology innovations such as two-way texting or online leasing and application forms.
In addition to altering business practices, franchisors should look to vendor partnerships as well. For example, PMI has been looking for partnerships to create zero-security-deposit opportunities for tenants and loss-of-rent insurance for landlords, each of which could be more valuable now than ever before.
After this crisis, franchisors will need better support infrastructures, easy-to-follow workflow processes, and virtual training programs to make sure franchisees are positioned for success. They should create tight partnerships with vendors to support innovative training programs for franchisees and unique experiences for customers.
The future of real estate and property management may be somewhat uncertain at this time, but regardless of what happens, franchisors must provide top-notch franchisee support, whether through offering online showings, employing renter communication tools, or providing adjustments on sanitation. Right now is the best time for property management franchisors to work closely with franchisees and help them feel confident about how to communicate with tenants.
While Covid-19 may have slowed business growth trajectories for 2020, we will eventually return to a more stable market environment, and it will be important for property management companies to understand changing consumer behavior and pivot their business strategies to put themselves in the best position possible to succeed and drive long-term growth.
Randall Henderson is Vice President of Commercial and Residential for Property Management Inc., based in Lehi, Utah. Founded in 2008, PMI provides expert property management services and solutions across four pillars: residential, commercial, association, and vacation rental management. Call 801-477-8556 to learn more.
Published: June 3rd, 2020
Share this Feature
Recommended Reading:
Comments:
comments powered by

Disqus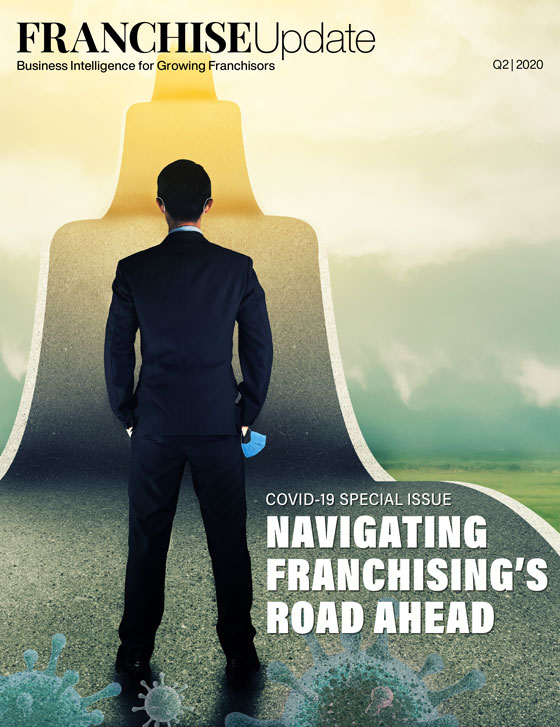 Franchise Update Magazine: Issue 2, 2020
Conferences
InterContinental, Atlanta
OCT 18-20TH, 2022
Sociallybuzz, founded in 2009, is the #1 Social Media Marketing Agency to help franchisors and franchisees increase their revenues, drive sales, and...
MSA provides domestic and international franchise advisory services to franchisors and companies seeking to establish franchise and licensing systems.