How Volofit Determines What To Spend in Its Recruitment Budget
We asked Jeff Kulik, Chief Strategy Officer at Volofit, a HIIT fitness brand, "What are the key factors in how you determine what to spend in your recruitment budget?"
How much a franchisor should spend on their recruitment budget should be driven primarily by sales objectives. Once a sales objective is determined, there are important decisions to be made regarding partners, strategy, and channels.
Determining a sales objective sounds simple: "We want to sell a lot of franchises." But the right answer isn't that straightforward. A franchisor must first ask two questions: 1) "Are we ready to sell franchises?" and, 2) "How many new franchisees can we support at one time?"
To be successful, ultimately it's not just about selling franchises. The franchisees must also be successful. With this in mind, the smart approach for most franchisors is to walk, not run, out of the gate. Set modest sales goals at first. Make sure you have the resources, processes, and training in place to give your new franchisees the best possible opportunity to succeed. Another benefit of setting modest goals at the beginning is that it will provide you with the opportunity to be more selective in choosing strong franchisee partners.
Once you've determined your sales objectives, it's time to map out a plan for partners, strategy, and channels. On the partners front, start with asking what resources you have in-house and what may need to be outsourced. For example, do you have someone on staff who will be responsible for the franchise sale process (lead management, diligence discussions, discovery days, documentation, etc.), or will you need to outsource this function? Outsourcing can be less expensive on a month-to-month basis than a full-time employee, but third-party partners typically require a significant commission on each unit sold.
Many franchisors that are targeting high-volume franchise sales also work with a third-party marketing firm that specializes in web design, data analytics, digital presence, PR, and digital marketing for franchise sales. Third-party marketing firms typically charge a monthly fee for their services in addition to any digital ad budget.
One of the most difficult questions to answer is always what strategies and marketing channels a franchisor should use for franchise sales. Unfortunately, the answer isn't one-size-fits-all. Deciding which channels you use and how much you spend on each channel will depend on your overall goals. There are inexpensive channels on a cost-per-lead basis, such as portals and email marketing, but these channels often produce low-quality leads and require a high volume to achieve one sale.
Digital strategies such as advertising on Facebook, Google, and LinkedIn can be effective, but require expertise to make sure you are spending dollars efficiently. Digital strategies are also most effective when combined with an optimized website and online content. Brokers, another channel, can deliver high-quality leads, but sales commission rates are high and take the majority of the up-front franchise fee. Some broker networks require up-front or annual fees.
Last, one of the most effective and least costly strategies for selling franchises is simply word of mouth. Happy customers and employees are often great sources for franchise leads—and they don't cost anything!
Published: November 10th, 2022
Share this Feature
Recommended Reading:
Comments:
comments powered by

Disqus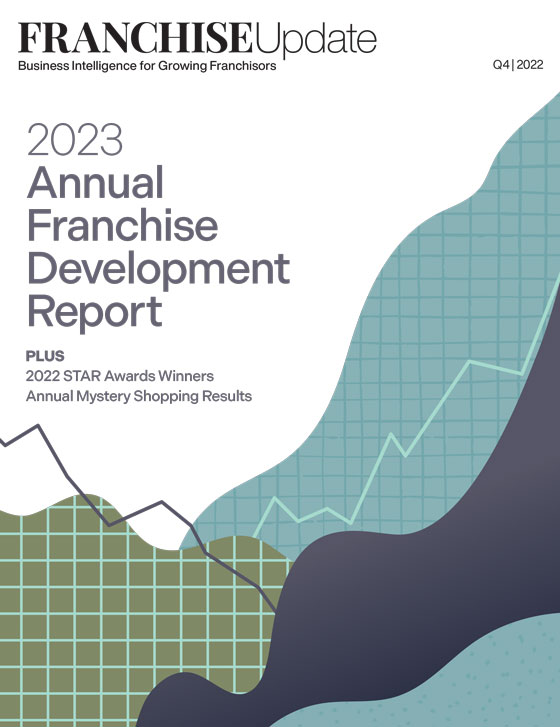 Franchise Update Magazine: Issue 4, 2022
Build a Future with the Computer Service Industry Pioneers. NerdsToGo is paving the way as innovators, entrepreneurs, franchisees, and successful...
Cash Required:
$70,000
Offering same-day service, a single low price, and a streamlined process that's simple to replicate, ZIPS is a standout in the garment care...