How's Your Industry?: Forecasting 2013's Fastest and Slowest Franchise Growth Sectors
Does recent history give us a good basis for what to expect for franchise development in 2013? Certainly there is some guidance that can be taken from the past few years. After all, we're 3½ years past the technical end of the Great Recession, and we have data for the first 2½ years of the "recovery." (We're just starting to compile the 2012 results.) So let's see what the data might suggest for 2013.
Based on a sample representing more than 70 percent of all franchised units at the end of 2011, the number of franchised units increased at a compound annual growth rate (CAGR) of 2 percent between 2005 and 2011. As we know, and as the graph clearly shows, growth significantly slowed starting in 2008, the year the financial crisis hit.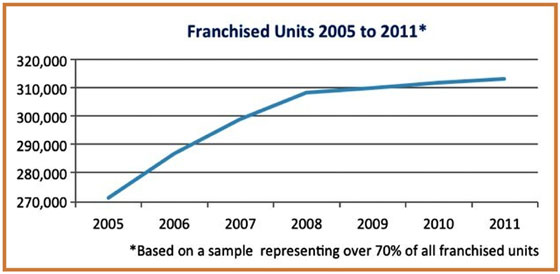 Trends from 2006 through 2011
In terms of franchised locations, food brands lead the pack. As of 2011, Subway (25,285), McDonald's (12,544), and Burger King (6,299) are the three largest franchised brands, a position they have held since 2006. Among the non-food brands, Ameriprise Financial is the largest, with 5,222 franchised locations (despite having shed about 1,000 of them since 2006). Coverall (5,219) is a close second, followed by Jackson Hewitt Tax Service (4,846). Coverall is the only brand among the three largest non-food franchise brands to have added units in the 2006 to 2011 period.
Measured by the CAGR in franchised units between 2006 and 2011, the party-related goods/services industry grew the fastest, followed by clothing and accessories, and baked goods. The growth rate for party-related goods/services was driven mainly by two brands, Plan Ahead Events and BounceU. Both are relatively young, and as of 2011 operated a combined total of 114 franchised locations.
Despite being a mature industry, baked goods, at a CAGR of 6 percent, was the fastest-growing industry over the examined period. As of 2011, there were about 8,700-plus franchised baked goods locations. Dunkin' Donuts and Tim Hortons grew impressively at a CAGR of 8 percent and 21 percent, respectively.
On the flip side, the 10 industries that lost franchised units the fastest are all non-food-related. Real estate was the obvious loser, losing franchised units every year since 2006, a clear result of the burst housing bubble. Real estate was followed by printing brands, perhaps a sign of an increasingly soft-copy dominated world. At number three, decorating and home design brands decreased their franchised units at a compound annual rate of 3 percent, likely also because of the declining housing market; as did building and construction concepts, which lost franchised units at a rate of 3 percent.
There is one food sector among the weak performers. At number nine, health fast food decreased its number of franchised units at a compound annual rate of 9 percent between 2006 and 2011. The sectors with the fastest decline were monogram stores and discount retailers, both part of the retail stores industry. Given the economic environment, the drop in discount retail stores appears counterintuitive. However, there is only one brand included in the sample, which is not representative for the sector.
A general implication for 2013 that I would observe from these data is consumer willingness to spend money on themselves for both necessary and discretionary items, even in these still difficult economic times. Their willingness to spend money on larger ticket items, however, continues to be suppressed.
Looking at the sectors within industries paints a cloudier picture that warrants a deeper analysis in a subsequent article. For forecasting purposes, if you are associated with a brand in the personal satisfaction category (in which I would include many of the fastest-growing industries), a reasonably aggressive unit growth projection is certainly possible, based on recent new unit performance. If you are associated with a brand in the larger ticket category, perhaps continued conservative expectations are in order, unless you truly are a contrarian. I'll revisit and update this analysis later in the year when 2012 data become available.
---
Darrell Johnson is president and CEO of FRANdata, an independent research company supplying information and analysis for the franchising sector since 1989. He can be reached at 703-740-4700 or djohnson@frandata.com.
Published: April 24th, 2013
Share this Feature
Recommended Reading:
Comments:
comments powered by

Disqus

Franchise Update Magazine: Issue 1, 2013
The Titus Center for Franchising, one of Palm Beach Atlantic's Centers of Excellence, offers a concentration in franchising to business students.
From lead generation to increasing sales, Hot Dish Advertising is the pro at getting your message in front of those who matter most--consumers...