In Good Company: Bill Welter Earned His Wings Working With Three Franchising Legends
As a marketing expert for a string of fast food chains, Bill Welter learned his craft under "three wonderful kingmakers" of the franchising world: Ray Kroc, Colonel Harland Sanders, and Dave Thomas. But it wasn't until Welter got inside the four walls of his own restaurant that he understood the true nature of the business and the keys to its success.

Fresh out of college, he went to work for the ad agency that did the creative work for Kentucky Fried Chicken. That was followed by a lengthy stint at DDB Needham handling the marketing for McDonald's. Finally he landed as executive vice president for marketing under Wendy's Dave Thomas. Along the way he helped make "Where's the beef?" a household phrase.

Then one day about 10 years ago, he was in Las Vegas, working on a theme restaurant concept with the magician David Copperfield (which ultimately never panned out) when he had a hankering for some buffalo wings... specifically, the kind he had grown familiar with back home in Ohio at Buffalo Wild Wings Grill & Bar.

There wasn't anything close to it in the gambling mecca. And that got him thinking.

Soon after, he inked a deal to open four franchise locations in Las Vegas. Since then, he's opened five more. The combination of the right restaurant, multiplied in the right market, has created a thriving enterprise with about $30 million in annual revenue.

But to do it right, he had to unlearn much of what he had gleaned from his long years on the marketing side. "When you're so involved in the advertising and marketing world, as I was for 27 years, you almost start to believe your own spiel," says Welter. "But the true success of a restaurant lies inside the four walls of the restaurant and learning how to treat each guest individually. Marketing and advertising is just the icing on the cake. You must have the cake baked and properly done before you put the icing on."

To really rise to the top, he says, think employees. "I firmly believe in putting our employees at the top of our organization chart," saysWelter. "We treat them the best we can, given all the realities of doing business and dealing with the regulatory side of things. We want to make them feel excited and happy to be working there. If you can do that, and create a pleasant experience, they feel loyal and don't want to go anywhere else. And they'll translate that experience right to the customers. It's a pretty simple formula." That formula must be replicated among all 450 or so employees who keep Welter's organization cooking 24 hours a day.

Welter's instincts about the potential of Buffalo Wild Wings in Las Vegas proved accurate. It may have helped that he'd watched the brand expand from the beginning. "I saw it grow, it opened in 1981. As our kids were growing up and got involved in sports, we used to take them to one of the locations in Ohio. I loved the product and the concept: fresh food, the sauces, a casual and friendly atmosphere. To me, it had a friendly, neighborhood kind of feeling. That made sense for a town like Las Vegas," he says.

But Las Vegas is a town in constant transition. "Once you develop a good, strong customer base, they keep coming back. The challenge is to use good marketing every six months or so for move-ins. You'd be surprised how many people that is here. You need to constantly replenish your pool of customers."

That task has become easier as he's increased his visibility by adding new locations. "I definitely feel that's one of the reasons for our success. We have nine restaurants in this town, and it could hold six or seven more tomorrow." But even with nine restaurants, he says you still must work to grow awareness, spending more on marketing and adding new locations for greater convenience and visibility.

This fall, Welter will make a transition to what he calls "Phase III" of his business life. He's selling his company to the corporate office. He'll stay on for a year as a consultant to make ensure a smooth transition.


After that, he says, there's time to consider a new opportunity: how a new generation of entrepreneurs who may not have a lot of money, connections, or a college degree can benefit from franchise ownership--something he would like to facilitate. "I see a huge labor pool out there of people with the desire to get into their own businesses," he says. "It's a wonderful resource."

Name: Bill Welter
Title: President and CEO
Company: BW Investment LLC
No. of units (by brand): 9 Buffalo Wild Wings Bar and Grills
PERSONAL
Age: 61
Family: Two kids, both in the business. Son Rob runs marketing and advertising and daughter Barclay runs the gaming side of things, keeping an eye on the video poker in all of the nine restaurants. My wife Pam is executive vice president.
Years in current position: 8
Years in franchising: 8

Key accomplishments: Number one is giving people the opportunity to have a significant change in their lives, letting them do something they thought they could never do. When I go into a restaurant and see a general manager who was on the street four years ago and never thought he had the ability to be more than a dishwasher, that's the most fascinating thing about this business. I know five or six stories like that.

My second greatest accomplishment is the "Where's the Beef?" campaign for Wendy's. We created this in 1983 and it was our most successful campaign for Wendy's. Average unit store volume for comp stores rose 14 percent, a record at the time. I was the driving force behind this for years. It was impossible to top.

Biggest mistake: I would say not opening more Buffalo Wild Wings in other parts of the country. If I had gotten into franchising earlier I would have expanded in the Southwest and California. I missed that opportunity.

Smartest mistake: It goes back to thinking that advertising and promotion can solve a brand's problem, versus the basics of the operation.

Work week: Seven days a week, 24 hours a day. The restaurants are open 24 hours a day, and when someone calls at 4 a.m., that has to be addressed.

Favorite activity: Spending time with my kids, social and business activities.

Exercise: Fishing and golfing with my son.

Books/magazines) recently read/recommended: A Guide for the Advanced Soul by Susan Hayward. My faith is important to me, and I've spent some time trying to understand the spirituality of my religion. I also read the Wall Street Journal, Investors Business Daily, and a couple of fishing magazines.
MANAGEMENT
Management method or style: Listening and observing.

How close are you to operations? I try to spend a third of my time in non-restaurant work, working with the accounting people, things not inside the four walls. I spend two thirds of my time in the restaurants. I like to go in and try to blend into the group. I like to be treated as a regular guest and see the operations as it's seen by my guests every day.

Greatest challenge: It has to go back to the employees, making sure that you can remain true to your objective to make them feel that it's the best place to work, and within cost, budget, and regulatory limits.

Personality: Open, honest, and forthright.

How do you hire and fire? I've really never fired anybody. People have fired themselves or let themselves go. I try to tell people when I hire them that "I'm not going to fire you, you're going to fire yourself." The hiring is very difficult to do in this market. Las Vegas is perceived as a mecca to some people for solving their problems. They come here and they think Las Vegas is the answer. They can get caught up in the lifestyle--gambling and alcohol. It's so hard to read that. People put on a good mask and that person may disappoint you.

Find good people? I find good people primarily by going into other retail situations. I once heard a manager at a Blockbuster handle a situation with an upset customer perfectly. I told him, "If you're ever interested in doing something different at a company that puts the employee first, give me a call." He called several months later.

Train them? We have a pretty sophisticated, disciplined training program for in-store training. The bar employees, because of the gaming, are trained by our own people inside the restaurant. We rely on corporate folks to put managers through a training program.

Retain them? Make them enjoy working here.

Annual revenue: $30 million

2009 goals: A couple of years ago our family decided to plan a logical exit strategy. We entered into an agreement to sell the restaurants to corporate this fall with a transition in ownership, and I will be on board for a year as a consultant. I'll also help Buffalo Wild Wings on their national advertising.
Published: January 12th, 2009
Share this Feature
Recommended Reading:
Comments:
comments powered by

Disqus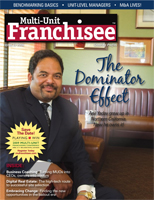 Multi-Unit Franchisee Magazine: Issue 4, 2008
With more than 250 locations (and more on the way!), MY SALON Suite is the #1 salon suites franchise opportunity in North America.
Cash Required:
$500,000
Checkers Drive-In restaurant franchises are small but efficient making our restaurants easy to operate and typically reduced overhead costs.
Cash Required:
$250,000