In-House or Out?: 5 Ways to Build Your Sales Team
Fifteen years ago, mainstream franchisors wouldn't think of contracting their recruitment selling to outside companies. Today's mindset has dramatically changed, fueled by the advent of better technology, communication, intelligence, and tracking systems. Development offices are now more commonplace for many brands, allowing franchisors to attract a larger pool of selling talent, whether as their own employees or independent sales teams.
If you are a young franchise company or in the midst of a turnaround effort, you have choices for developing a high-performance franchise sales program. I don't promote one avenue over the other, because there simply is no single "best way" for all concepts. The type of business, franchise program, corporate resources, leadership philosophies, and other extenuating circumstances will influence which road to take. Here are your choices:
Do it yourself. This is still the most popular approach, but it requires the ability to free yourself from old thinking that may no longer work in the current market. For start-up companies, I strongly recommend that the founder is coached by a franchise sales consultant, and is personally involved in the initial franchise sales process. Their success stories, burning passion, and visionary leadership often excite potential owners to be part of their ground-floor opportunities. Recruiting the first franchisees is a valuable learning experience for the founder. But this is a transitional role as the founder shifts more focus to growing organizational and support demands.
Hire an employee. Through industry referrals or franchise headhunters, there is some great talent available. Depending on your needs, concept, and budget, there are three tiers of franchise talent available at corresponding salary ranges. Be open-minded, and don't necessarily turn down a recruitment pro who doesn't want to move to your headquarters. According to the 2015 Annual Franchise Development Report (AFDR), more than half (55 percent) of franchisor respondents allowed regional and home-based offices for their sales personnel. Sometimes you may discover talent right in front of you in an existing employee who may possess skill sets that can grow into this role through professional coaching and attending some industry sales training programs.
Outsource to an independent sales professional. "Hired guns" can frequently get you off the ground much faster. There are freelance individual sales pros who take on a few franchise clients and are willing to represent them on a temporary or long-term basis. This immediately provides you with seasoned talent who should produce sales for you once they build a pipeline of prospects. You also have the flexibility to eventually bring sales in-house should circumstances prove more favorable.
Outsource your sales department. Sales development organizations can take over your entire recruitment program, from developing your recruiting materials and lead generation plan to closing franchise deals. The better firms are highly selective, so don't be surprised if you don't happen to qualify for their services. Your concept must have "legs," a good support team, Item 19 FPRs, and strong franchisee satisfaction. Recruitment budgets and goals must be reasonable, and your management must be committed to supporting the sales efforts. Sounds like a tall order, but with the right representation these professional firms could help catapult your franchise into the 2015 spotlight! Carefully check them out and require at least 10 of their franchise clients that can validate their track record.
Contract franchise sales brokers. Franchise brokers or "consultants" have successfully spurred dramatic franchise growth for new and mature concepts. These firms generate and screen qualified prospects, educate them about franchise ownership, and introduce them to your concept. If needed, many brokers will help improve your sales process so you'll be more successful in closing deals. You pay a fee only when you sell one of their client candidates--a quite hefty amount I may add, but it can be worthwhile since you risk no money up front. No deals? You don't pay a nickel. Brokers often require a vetting process and other fees as well. (Note: Franchise brands should not depend only on brokers, or you're missing out on a majority of prospects who make contact through online, print, PR, shows, and other sources).
Our franchising world offers a wealth of sales and marketing intelligence with development and staffing options that were nonexistent years ago. With a viable concept, good franchisee satisfaction, and the right resources, you can successfully grow your franchisee system. Deciding the right way to get there is always your million-dollar question!

Steve Olson is a 30-year franchise veteran specializing in development performance. He is the author of the #1 Amazon best-seller, Grow to Greatness: How to Build a World-Class Franchise System Faster, available at www.growtogreatness.net. He can be reached at OlsonandAssociates.com

.

Published: September 24th, 2015
Share this Feature
Recommended Reading:
Comments:
comments powered by

Disqus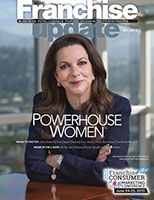 Franchise Update Magazine: Issue 1, 2015
Atmosphere TV is the world's leading cable alternative, providing free streaming TV for businesses.
Location3 Media is a digital marketing agency that delivers enterprise-level strategy with local market activation. Founded in 1999 and located in...